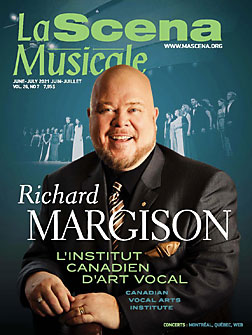 This page is also available in / Cette page est également disponible en:

Francais (French)
Name: Hélène Picard

Voice type: mezzo-soprano

From: France


Teachers: Rosemarie Landry, Catherine Sévigny


Education: Maîtrise Notre-Dame-de-Paris, Université de Montréal
Music has been in Helène Picard's life from an early age, as she was born into a musical family. As the French-born mezzo recalls: "I was in a class whose program made an allowance within its usual curriculum for added training at the conservatory, mainly in voice. I was also taught violin."
By her own admission, she did not connect with opera immediately. "I have to admit that my love for singing, like all passions in life, was a stormy one. It was a story of parting ways, only to find my way back to it. In between, I had other affairs, like literature, filmmaking and theatre, all of which I studied at one time or another. But voice is an area that requires special attention. I took the plunge, so to speak, at 24, and this is now my sole focus. Mind you, I am at a loss to explain why it took me so long to finally come to this realization. One thing I can tell you though is that I never wanted to study just opera, because I am drawn to all kinds of vocal repertoires."
Having earned university diplomas in contemporary literature and film history at the Sorbonne Paris III as well as in musicology and theatre at Paris VIII, Hélène joined the Maîtrise Notre-Dame's adult choir in that city. This experience gave her first-hand knowledge of a range of music, from Gregorian chant to new music. In 2017, she enrolled at the Université de Montréal for a master's, and is now pursuing a doctorate in performance under the guidance of Rosemarie Landry and Catherine Sévigny.
Hélène is very much looking forward to ICAV. All the more so, because she has not taken a lesson face-to-face since the outbreak of the pandemic in March 2020. She readily admits sorely missing the direct contact with others and the intensity of putting a production together. Yet, the downtime allowed her to take stock of her own abilities and further build her routines in maintaining her physical condition, voice included. In so doing, she dealt head on with certain technical issues while also keeping her mind busy with other creative pursuits, painting, writing and sewing to name a few.
What is your favourite dish and why?
 I am really into combos, as I want each meal to be an adventure in tastes, flavours, colours and textures.
If you were on a desert island and had one piece of music to listen to, what would it be?
Les nuits d'été by Berlioz.
Which would be easier for you to contend with: fluffing a high note or having on a poorly fitting costume?
If the discomfort of wearing a dress or a pair of shoes is a greater nuisance to a performance, then it's better to miss a note!
How do you see your voice evolving over the next 10 years?  
If there is one area that worries me in terms of aging, then it is the voice. I am anxious to see how it will really come into its own and the extra shadings it will acquire, so it can be a full extension of my life experiences. I have been transitioning from soprano to mezzo over the last few months and the prospect of seeing where my voice goes fascinates me.
Whom would you put on your list of ten best voices in your range? [in French]

Christa Ludwig (pour son legato et sa façon de gérer les différents registres de sa voix), Jennifer Larmore (pour son timbre et sa façon de vocaliser surtout dans les airs de Rossini), Jessye Norman (pour sa capacité à aborder tous les types de répertoire avec finesse et intelligence), Anita Rachvelishvili (c'est indescriptible… une voix qui emmène ailleurs), Joyce DiDonato (pour sa personnalité artistique, son énergie et sa dévotion à l'art du chant), Cecilia Bartoli (pour sa virtuosité, mais aussi tout le travail qu'elle fait pour revaloriser du répertoire oublié), Elīna Garanča (pour son timbre profond), Marylin Horne (pour l'étendue de sa voix), Janet Baker (pour la beauté de son timbre) et Pauline Viardot (une chanteuse du 19e siècle dont il n'existe aucun enregistrement; j'ai beaucoup lu à son sujet et sa vie est fascinante).
This page is also available in / Cette page est également disponible en:

Francais (French)