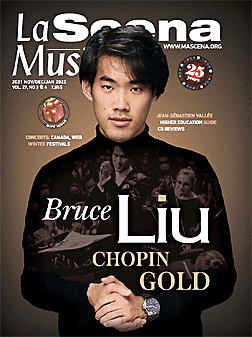 This page is also available in / Cette page est également disponible en:

Francais (French)
The appearance of oboist Albrecht Mayer and pianist Fabian Müller had to be rescheduled because of the pandemic. Now that health measures allow the public to attend events and make possible the return of international artists, this pair will open the concert society's new season. "Pieces for piano solo and others specifically for oboe or wind instrument such as Schumann's Fantasiestücke will be played in turn, and there will also be transcriptions,' explains Marie Fortin, executive and artistic director of the Club musical de Québec since 2013. "Two sonatas for violin and piano, by Mozart and Beethoven, will be played on the oboe."
The Nov. 2 concert also features a score by Louis Klemcke, a little-known 19th-century composer and arranger that Mayer promotes through his performances and recordings. The oboist, who is also a keen researcher, has chosen to interpret the Fantasy on Linda di Chamounix by Donizetti.
Established in the capital 130 years ago, the Club musical de Québec regularly welcomes artists from abroad. It is in a position to do so given that it is one of the oldest concert societies of Canada. This reputation is significant, Marie Fortin believes. "Back when artists crossed the Atlantic in ocean liners to do tours, greats like Poulenc and Ionesco were already welcomed," she added. "This was all developed over a long time, over more than one and a quarter centuries. We have online archives that offer a good search engine going back to the beginnings of the Club musical de Québec."
Having spent time since 1997 with the concert society and its then artistic director, Louise Forand-Samson, Marie Fortin was able to meet artists up close. Now executive and artistic director, she emphasizes the numerous collaborations of the Club musical de Québec with the series dedicated to Carnegie Hall's artists in residence.
"These collaborations have given rise to important things," she says. "Think of mezzo-soprano Joyce DiDonato with Yannick Nézet-Séguin from the last season. I'm also reminded of Messiaen's Quatuor pour la fin du temps performed by violinist Janine Jansen and musicians she had selected to present the concert at Carnegie Hall and then in Québec.
"Finally, there were some unusual things such as the five days in residence with the cinematographer Bruno Monsaingeon who showed his many documentaries about great performers (November 2013)." However vast memories and testimonies accumulate, the Club musical de Québec still has many pages of history to write on concert life in North America.
Translation by Karine Poznanski
This page is also available in / Cette page est également disponible en:

Francais (French)