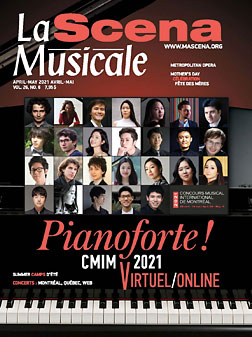 This page is also available in / Cette page est également disponible en:

Francais (French)
After an album dedicated to Jacques Hétu's piano concertos, which earned him a nomination for the 2021 Juno Awards, pianist Jean-Philippe Sylvestre is back with a new release on ATMA Classique. This virtuoso, already known for his recordings of André Mathieu and Rachmaninoff, here makes his first foray into Ravel's musical universe.
Genesis of the project
"Since we had an Érard piano at our disposal, which I really like, I thought I had to use it," he says. "I called Johanne Goyette from ATMA and spoke to my philanthropist friend [Jacques Marchand, who acquired this piano in 2018] and explained the project to them. We have something out of the ordinary that has never been done. I find this stimulating. It's also a pleasure to think that I'm playing French repertoire on a French piano."
This album dedicated to Ravel includes music composed exclusively for the piano, such as the Miroirs suite, and works also known in versions for orchestra, such as the Pavane pour une infante defunte and Le Tombeau de Couperin.
Music and Painting
Sylvestre is a pianist who likes to make connections between the arts. Ravel's music brings to mind impressionist canvases that inspire him as a performer and enrich his understanding of the music. "Every time I play Ravel, Debussy, Fauré, I imagine a painting, for example Monet's Les Nymphéas when I perform Une barque sur l'océan, a piece from Miroirs. I am inspired by paintings, but also by the orchestral version of several pieces.
"These are works for piano that Ravel himself orchestrated later. I hear the sounds of the flute and subtleties that I try to recreate on the piano to produce the same effect." Another source of inspiration is the famous Monet painting Impression, Sunrise, which is said to have given Impressionism its name.
The instrument as a means of expression
To implement his ideas Sylvestre could rely on an Érard piano from 1854. He had the chance to come to grips with this instrument during a visit to Paris in 2018 while it was being restored by the Nebout & Hamm studio. "This Érard was built not so long before the pieces on this album were composed," Sylvestre says. "It is a very sensitive, fragile and finicky piano, but in a good way.
"Not all notes sound the same. It gave me an infinite palette of sounds and allowed me to tease out unusual colours that we are not used to hearing these days. We always strive for perfection, as with modern pianos, but I realize more and more that there is also beauty to be found in imperfection." This Érard's tones may be imperfect, but according to Sylvestre, they lend a dimension of charm and soul to the music.
Sylvestre seeks not only to recreate the imagery and style of paintings by Monet, Pissarro or even Cézanne, but also to bring out all the baroque influence present in Ravel's music. This is particularly the case of Le Tombeau de Couperin, whose movements, including dances, recall this period: prélude, fugue, forlane, rigaudon, minuet and toccate. "I am a lover of Bach and the Baroque period," Sylvestre says. "I also play a lot on the harpsichord. My approach on this recording was very 'harpsichord.' There are parts that sound more detached, staccato. This is on purpose."
Sylvestre made the best use of the unique qualities of the Érard piano to achieve the effect he sought. Some of these qualities are reminiscent of a harpsichord. "The strings of this piano are parallel and not crossed like on modern pianos. When you play a note, you must wait a long time for the sound to disappear completely. It adds another dimension. At the same time, the attack is more detached."
Concerts to come
Because of the pandemic, several events on the pianist's agenda were postponed, including recording sessions with the London Symphony Orchestra. With the reopening starting March 26 of concert venues in Quebec, the horizon is brightening a little on this side of the Atlantic. Sylvestre is planning recitals in Sorel and Warwick, on April 10 and 11, respectively, and a concert with the Orchestre classique de Montréal on April 27, in which he will perform Mozart's Piano Concerto No. 23.
In September he joins the Orchestre symphonique de Laval to perform Rachmaninoff's famous Piano Concerto No. 3. "At worst, the concerts will be filmed without an audience, which is a difficult situation," Sylvestre says. "Art is communication. We give ourselves as much as possible when we are in concert and, in return, we receive energy from the audience."
This page is also available in / Cette page est également disponible en:

Francais (French)