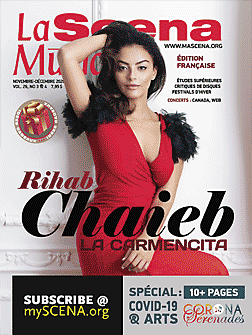 This page is also available in / Cette page est également disponible en:

Francais (French)
The challenge of returning to school is particularly complicated for opera workshops, which often include a large number of students and participants. But McGill University and the Université de Montréal, among others, are finding their way forward.
At McGill, everything is now being done online… or nearly everything. Most rehearsals and classes are being done remotely, by videoconference. These at least allow the advantage of bridging the distance between orchestra conductors and coaches in faraway countries and gathering the entire team together. The increased use of digital tools also sparked the creation of the Digital Opera Projects series, which brings together several members including Michael Hidetoshi Mori, executive and artistic director of Tapestry Opera in Toronto; Michael Shannon of the Canadian Opera Company; and Jordan de Souza of the Komische Oper in Berlin and Bregenz Festival in Austria. Patrick Hansen, director of Opera McGill, and Stephen Hargreaves, head vocal coach, are overseeing this series, whose first steps we outline here.
On Sept. 23, nearly a month after the school year began, some Opera McGill students gathered for a first rehearsal of The Old Maid and the Thief by Gian Carlo Menotti (an opera composed specifically for radio, with no stage directions). This opera in one act will be the pièce de résistance of a program that will also include various opera scenes, to be presented in November. The choice of works was made so that a maximum of three students at a time will perform on stage with piano accompaniment. The Old Maid and the Thief, for example, has only four characters. Owing to pandemic protocols, Birgid Lucey and Ingrid Johnson rehearsed in masks on Oct. 13 under Hargreaves' direction. They were also separated by a Plexiglas shield throughout the exercise (see photo). The next day, Digital Opera Projects coordinator Zach Salsburg-Franck coached singer Nicole Ross remotely for the same opera. As many around the world have found, Zoom has become a valuable work tool.
At the Université de Montréal, voice students are actively preparing the next production of their opera workshop: Venus and Adonis by John Blow. For the past five years, program director Robin Wheeler and his team have presented a Baroque opera in the fall, taking advantage of the expertise of harpsichordist Luc Beauséjour, who runs the baroque music workshop. He had performed this work with Clavecin en concert a few years ago at Bourgie Hall, with director Marie-Nathalie Lacoursière. "At the UdeM opera workshop," Wheeler recalls, "we'd already done a few Purcell operas such as Dido and Aeneas and The Fairy Queen. I love this music and that of another great British composer, Benjamin Britten, but these two great names make us forget people like John Blow. Some say that Venus and Adonis is the first English-language opera in history. We finished choosing our repertoire at the end of February – three weeks before the beginning of this crazy time we are going through. This worked out well since the work has only 45 minutes of music and, because of the pandemic, we can't work as effectively. We started almost a month late – the month of September was really challenging for all the schools and universities. Now that we are declared a Red Zone, it's even harder to work face-to-face."
This summer, the faculty of music announced that the stage in Salle Claude-Champagne would be redesigned to meet both health requirements and student needs. "It's fantastic," says Robin Wheeler. "We have a lot more space. Since the beginning of the project, in March and April, we have asked Marie-Nathalie to think about a staging that would take into account the necessary distancing between singers. It's a little odd at times, since there are love scenes, but that's the way it is. There are more important things you can't compromise on. As long as we're in the Red Zone, students will sing with a mask on throughout rehearsals. It isn't easy for them or for us, the production team."
The UdeM opera workshop must also deal with the new rules limiting rehearsals in a closed room to one hour. This is followed by a 45-minute period during which the room must be emptied and ventilated as much as possible. Fortunately, Salle Serge-Garant offers a second space. "We can alternate between the two rooms. I'm especially happy that we can resume face-to-face coaching after the month of remote coaching in September. It turns out that we did the entire run of the opera much earlier in the process than normal. It was so touching to see the students who hadn't had a chance to sing or make music for five months. Being together with them was quite an experience. We were really happy."
Translated by Isabel Garriga
The performance of Venus and Adonis will not have an audience. It is scheduled to take place during the second week of November, and an audio-video recording will be broadcast later on social media.
More information at www.musique.umontreal.ca; www.mcgill.ca/music
This page is also available in / Cette page est également disponible en:

Francais (French)