This Week in Toronto (Oct. 7 – 13)
– Joseph So
The Canadian Opera Company's fall season began auspiciously last week with La boheme and Peter Grimes. Both productions are new to Toronto audiences, with the Puccini an unalloyed hit starring fresh voices and singers who look their parts. The Britten was a musical triumph on opening night. Two performances of Boheme this week – Oct. 9 Wednesday at 7:30 pm and Oct. 12 Saturday at the rather odd time of 4:30 pm. You can catch Grimes on Tuesday Oct. 8 and Friday Oct. 11, both at 7:30 pm. All shows at the Four Seasons Centre. Ben Heppner was indisposed on opening night and did not sing, but I just got word that the Canadian did sing on Tuesday Oct. 8 and was searingly intense and heart-wrenching in his Mad Scene. Go and catch this great singer in his signature role. www.coc.ca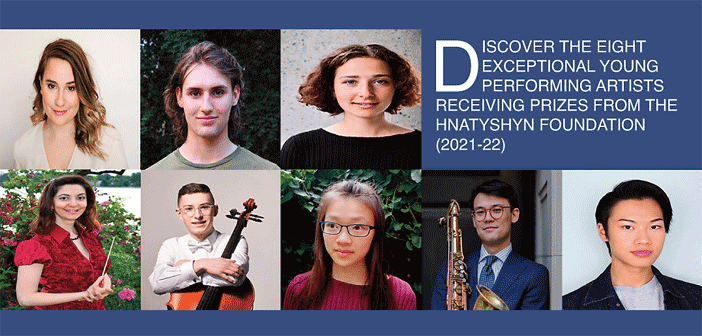 COC Ensemble Studio 2013-14 (Photo: Karen Reeves)
This being the 100th anniversary of the birth of British composer Benjamin Britten (1913- 1976), the
COC Ensemble Studio
is presenting
Poetic Echoes: A Britten Celebration
, a noon hour recital of the composer's songs. Included are The Poet's Echo, A Charm of Lullabies, Seven Sonnets of Michelangelo, and excerpts from Tit for Tat. The soloists are all new members of the Ensemble: soprano
Aviva Fortunata
, mezzo
Charlotte Burrage
, tenor
Andrew Haji
, and bass-baritone
Gordon Bintner
. At the piano are
Jenna Douglas
and
Michael Shannon
. This is a free concert at the
Richard Bradshaw Amphitheatre
, and be sure to line up an hour ahead to ensure a spot. Full program can be found at
http://files.coc.ca/pdfs/concert131009.pdf
Toronto Symphony Orchestra is bringing back violinist James Ehnes, one of the most popular and brilliant Canadian violinist, in a performance of the Britten Violin Concerto Op. 15. One of Britten's early works (composed in 1938-39 and premiered in America), it is not performed all that often. No it is decidedly not a cheery piece of music, given it was composed and premiered during wartime and with the composer in America and unable to return home. You can hear the angst in this truly heart-felt piece of music. This is a great opportunity to hear it played by the consummate Mr. Ehnes. Also on the program is Beethoven's ever-popular Symphony No. 3 "Eroica" and the Canadian premiere of Three Interludes from The Sacrifice by James MacMillan. Conductor Stephane Deneve, a frequent guest of the TSO, is at the helm. Two performances – Oct. 10 and 12 8 pm at Roy Thomson Hall. http://tso.ca/Home.aspx
James Ehnes (Photo: Benjamin Ealovega)
Now for a complete change of pace, the TSO is presenting Canadian singer/songwriter
Rufus Wainwright
in
Rufus Wainwright In Concert
, on Friday Oct. 11 8 pm. On the program are the Overtures to Acts 1 and 2 of his opera
Prima Donna
, which had a successful run at the Luminato Festival three years ago, plus other works by the composer. He will also be performing songs by Rodgers, Coots and Arlen. Joining Wainwright is soprano
Melody Moore
. Conductor
Jayce Ogren
is on the podium leading the
Toronto Symphony Orchestra
. For more information, go to
http://tso.ca/Home.aspx
Rufus Wainwright at Roy Thomson Hall
Latvian-born cellist
Mischa Maisky
and his celllist-daughter
Lily Maisky
are playing a recital at Koerner Hall on Oct. 10 8 pm. On the program are works by Schubert, de Falla, Rachmaninoff and Schostakovich. Maisky is of course a celebrated soloist as well as an avid chamber musician, having collaborated with such greats as Gidon Kremer and Martha Argerich. His appearance in Toronto is always an occasion so this is a great opportunity to catch his artistry.
http://performance.rcmusic.ca/
Cellist Mischa Maisky
Elsewhere, Tafelmusik's Baroque Austria is giving its last performance Oct 8 at 8 pm in the George Weston Recital Hall. At the helm is guest maestro Manfredo Kraemer.
Arnaldo Cohen (Photo: www.arnaldocohen.com)
Music Toronto is presenting Brazilian pianist/pedagogue Analdo Cohen in recital on October 8 8 pm at its usual venue, the Jane Mallett Theatre. He will be playing works by Bach, Beethoven, Liszt, Ravel, and Prokofiev. A well known recitalist, Cohen is also a familiar figure on the jury panel of various piano competitions, including the Montreal International Music Competition five years ago. He is on the faculty of the Jacobs School of Music in Indiana University.
http://music-toronto.com/index.html