Advertisement / Publicité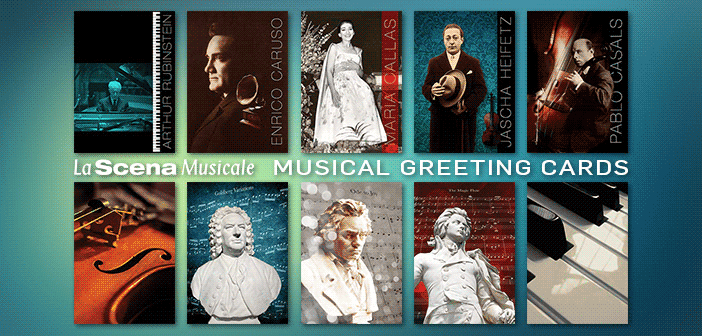 Left: COC's new production of AIDA, with Sondra Radvanovsky in the foreground (photo: Michael Cooper)
The reverberations of the COC season-opener AIDA continues unabated. I attended opening night last Saturday, and to say it polarized opinions is an understatement. It is safe to say the majority of attendees did not like the production. Take a look at the production photo I've included above – I defy anyone looking at it and guess that it is from AIDA! Having said that, the musical side of things was wonderful, particularly the singing of soprano Sondra Radvanovsky in the title role. There are eleven more performances (Oct. 6, 9, 12, 15, 18, 21, 24, 27, 30, Nov. 2, 5). Now with standing room tickets, you can see the show for as little as $12 – there is no reason not to go. Even if you don't care for the production, the chance to hear La Rad, the premiere Verdi soprano of today, is reward enough.
Elsewhere vocally and operatically, the
COC Vocal Series
, the free noon hour concert at the Four Seasons Centre's Richard Bradshaw Amphitheatre features a program of French opera, with singers from the U of T Opera Division.
Stuart Hamilton
, the doyen of Canadian opera scene and an expert on French opera, is the host. As usual, you must show up 45 minutes in advance to get a seat. Also up at York University, the retired mezzo
Catherine Robbin
is launching her new CD of Hugo Wolf's
Italienisches Liederbuch
.
Daniel Lichti
is the baritone soloist. This even takes place at the Tribute Communities Recital Hall at York University. The CD will be available for purchase. This Saturday at 1 pm, the
Met in HD
series opens with the long awaited
Das Rheingold
, the first installment of the new Met Ring Cycle by Canadian director
Robert Lepage
. The opening night reviews were good, except the stage machinery failed at the end and the rainbow bridge to Valhalla failed to materialize. Let's hope the glitches are ironed out for Saturday. Consult
http://www.cineplex.com/Events/MetOpera/Home.aspx
for more details.
The Toronto Symphony Orchestra
offers Best of Barber – that's Samuel Barber, one of the most melodically inspired and accessible of American composers. During the mid 20th century when most classical composers jumped on the serialist bandwagon, Barber stuck to his guns and composed in a tonal and romantic style. And now his music has endured with quite a number of his colleagues' works play to half-empty auditoriums. On the TSO program are his famous Adagio for Strings, his Symphony No. 1 and his violin and piano concertos. Solooists include
Jon Kimura Parker
and
Gil Shaham
.
Peter Oundjian
conducts. On Saturday Oct 9, the TS presents a slightly different program, featuring Gershwin's
Rhapsody in Blue
. For more information, go to
http://tso.ca/Concerts-And-Tickets/Events/2010-2011-Season/Best-of-Barber.aspx
.
For baroque fans, I can recommend
Tafelmusik
's
Chopin on Period Piano
. On the program is Chopin's
Piano Concerto No. 1
as well as Spohr's
Nonet in F Op. 31
. Canadian pianist
Janina Fialkowska
is the pianist. Dates are on Thursday Oct. 7 and repeated on the 8, 9, and 10. For more information and tickets, go to
http://www.tafelmusik.org/concerts/concert_Chopin.htm
.