Advertisement / Publicité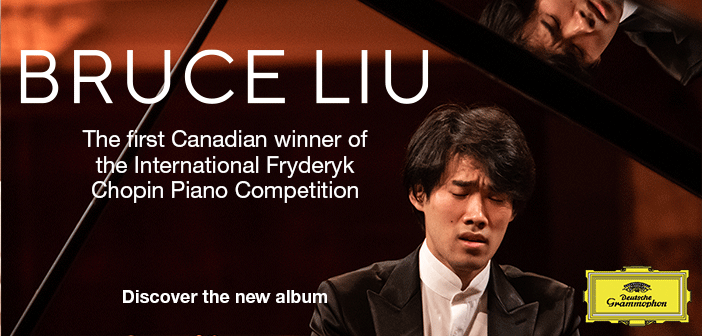 Soprano Adrianne Pieczonka (Photo: Andreas Klingberg)
The reigning Canadian prima donna,
Adrianne Pieczonka
is back home in Toronto, after having been away the last few months singing in Vienna, Tokyo, Hamburg and Berlin. She is giving a recital under the auspices of the
Women's Musical Club of Toronto
on Thursday Dec. 1 at 1:30 p.m. at Walter Hall, Faculty of Music, University of Toronto. On the program are songs by Duparc and Canadian composer John Greer. Pieczonka is also singing Tatiana's Letter Scene from Tchaikovsky's
Eugene Onegin
, as well as two Verdi arias – Ritorna vincitor from
Aida
and Ernani, involami from
Ernani.
http://www.wmct.on.ca/
On the subject of voice, an important event this week is the
Canadian Opera Company Ensemble Studio Competition.
For the first time, the process of selecting new ensemble artists is open to the public, in the form of a competition. Ten finalists have already been chosen based on an earlier selection process. On Monday Nov. 28 5:30 p.m. at the Richard Bradshaw Amphitheatre of the Four Seasons Centre, these ten young singers will strut their stuff in the hope of making the 2012-13 roster of the COC Ensemble Studio. There's also the not insignificant prize money of over $10,000. The ten finalists are
Lindsay Barrett, Claire de Sevigne, Sasha Djihanian, Rachel Fenlon, David Gibbons, Danielle MacMillan, Owen McCausland, Laura McLean, Cameron McPhail,
and
Aviva-Fortunata Wilks
. For more information, go to
http://coc.ca/Home.aspx
The
Against The Grain Theatre Company
, known for its cutting edge take on works old and new, is bringing back its re-imagining of Puccini's warhorse,
La boheme.
It received very positive notices back in May when the production was first unveiled. Now with a different cast, ATG is giving three performances at the Tranzac Club on 292 Brunswick Avenue, in the heart of the Annex full of U of T students, not an inappropriate locale given Boheme is a story about Bohemian artists in 19th century Paris. Well, this Boheme has been time and place shifted to 2011 Toronto. Stage director
Joel Ivany
has rewritten the libretto to make it relevant to the Toronto audience. The singers are placed not on stage but interspersed among the audience. Soprano
Miriam Khalil
is the seamstress Mimi, tenor
Ryan Harper
is poet Rodolfo. Others in the cast are
Justin Welch
(Marcello)
Lindsay Sutherland Boal
(Musetta),
Neil Craighead
(Colline) and
Keith Lam
(Schaunard). Dec. 1 – 3 at 8 p.m. at the Tranzac Club.
http://againstthegraintheatre.com/index/Enter.html
This week, guest conductor
Andrey Boreyko
returns to conduct the
Toronto Symphony Orchestra
in two performances of
Russian Gems
, with violinist
Leila Josefowicz
playing Stravinsky's
violin concerto
. Also on the program is Prokofiev
Symphony No. 5
, and Lindov
The Enchanted Lake.
Nov. 30 and Dec. 1 8 p.m. at Roy Thomson Hall.
http://tso.ca/Home.aspx
Tafelmusik
presents
Baroque Spendour: The Golden Age of Dresden
on Dec. 1 and 2 8 p.m. at the Trinity-St. Paul's Centre. Oboe soloist
Alfredo Bernardini
is at the helm, conducting works by Zelenka, Fasch, Pisendel, Telemann and Vivaldi. On the Tafelmusik website you can access the concert program as well as an interview with Maestro Bernardini.
http://www.tafelmusik.org/index.php
Royal Conservatory of Music's Koerner Hall has a number of exciting programs this week. British cellist Steven Isserlis gives a recital of works by Mendelssohn, Liszt, Franck and Thomas Ades on Dec. 2 8 p.m. Connie Shih is the collaborative pianist. Of course Koerner is now the venue of choice, but the old Mazzoleni Hall is still in business. This week, it hosts the RCM's student production of The Magic Flute, in abridged format. It features the voices of tomorrow – students from the Glenn Gould School. Performances on Friday Dec. 2 and Saturday Dec. 3 at 7:30 p.m. And let's not forget the free concert with the celebrated conductor Sir Roger Norrington, who according to RCM's publicity material studied violin at RCM in the 1940's (!), will be leading the RCM Orchestra in rehearsal of Brahms Symphony No. 1. This event takes place Friday Dec. 1 from 1 to 4 p.m. at Koerner Hall.
Meanwhile a few steps down Philosophers Walk is the
University of Toronto Faculty of Music
's fall showcase for it voice students – a Poulenc double-bill
La Voix Humaine/Les Mamelles de Tiresias.
I vividly recall a U of T opera program's production of
Les Mamelles
about 10 years ago and it was great fun. COC chorusmaster
Sandra Horst
, who is also on the faculty of the U of T Opera School, will conduct.
Michael Albano
and
Erik Thor
share the directing duties. Dec. 1 – 4, four performances nightly at 7:30 pm at the Macmillan Theatre.
http://rcmusic.ca/
Roy Thomson Hall's Canadian Voices Series
continues this week with bass-baritone
Daniel Okulitch
giving a recital at
Glenn Gould Studio
. The program – all contemporary and relatively unfamiliar American song repertoire – is a challenging one. Okulitch is singing three cycles –
Songs from the Underground
by Glen Roven,
Night Songs
by Lowell Liebermann and
Quiet Lives
by Ricky Ian Gordon. All have text by many writers including Yeats, Wordsworth, Whitman, Graves, and Dorothy Parker. The song recital genre has become an increasingly hard sell, which is a real shame. Where can one hear such wonderful singers in such an intimate setting? Okulitch is an outstanding young talent, with rich and ringing baritone, exemplary musicality, not to mention a handsome stage presence. In the last few years, Okulitch has wowed audiences and critics in several high profile assignments such as the world premiere of The Fly, and the lead role in
Dead Man Walking
. He doesn't sing in Toronto very often and this is a great chance to hear him. Dec. 4 at 2 p.m.
http://www.roythomson.com/calendar
Also at
Glenn Gould Studio
is pianist
Eve Egoyan
's recital on Friday Dec. 2 8 p.m. She is playing works by the late composer Ann Southam who composed these pieces with Egoyan in mind. The pianist has recorded the works in her recent CD. This performance will mark the world premiere of Southam's
Returnings II: A Meditation
.
http://www.roythomson.com/calendar