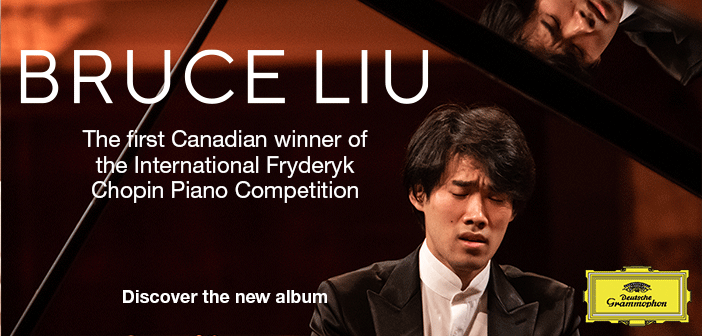 Russian pianist Yulianna Avdeeva (Photo: Christine Schneider)
The Toronto Symphony Orchestra is busy this week with several events. As part of the TSO's Bravissimo Masterworks Series, Kent Nagano and the Orchestre Symphonique de Montreal are in Toronto for an evening of music making. Opening the program with Bach / arr. by Mahler Suite for Orchestra, Harpsichord and Organ, followed by Stravinsky's Capriccio for Piano and Orchestra. The soloist is Russian pianist Yulianna Avdeeva who won First Prize at the Warsaw Chopin Competition in 2010. The centerpiece of the evening is Shostakovich Symphony No. 10.  There's a friendly rivalry between the TSO and the OSM over the years. Any time the OSM is in town, it's an occasion. Wednesday Nov. 25 8 pm at Roy Thomson Hall.  http://tso.ca/en-ca/concerts-and-tickets/2015-2016-Season/EventDetails/Orchestre-Symphonique-de-Montreal.aspx
American conductor Kent Nagano (Photo: Benjamin Ealovega)
The Toronto Symphony Orchestra is presenting the ever-popular young person's piece, Prokofiev's Peter and the Wolf with Rick Mercer as the narrator. This event is a fund raiser for the Hospital for Sick Children. Also on the program is another perennial favourite, Benjamin Britten's Young Person's Guide to the Orchestra. More virtuoso display can be found in Rachmaninoff's Rhapsody on a Theme of Paganini, featuring pianist Coco Ma. TSO Music Director Peter Oundjian is at the helm. Thursday Nov. 26 at 7:30 pm.
American conductor Ward Stare
The TSO ends the week with yet another pops concert with guest American maestro
Ward Stare
.
 The concert is billed as
Romeo and Juliet versus West Side Story.
It includes excerpts from the Prokofiev ballet and the Bernstein Broadway musical, but not the Gounod opera. Other pieces on the program include Ravel's
Tzigane
, a show piece for the violin, played by
Angelo Xiang Yu
;
Prelude to Act 3
of Wagner's
Lohengrin
; and Chausson's
Poeme for Violin and Orchestra.  
Nov. 28 at 7:30 pm and 29 at 3 pm. 
http://www.tso.ca/en-ca/concerts-and-tickets/2015-2016-Season/EventDetails/Romeo-Juliet-vs-West-Side-Story.aspx
Lucia Cervoni (Julie) and Clarence Frazer (Jean) Photo: Cylla von Tiedemann
The

Soundstreams/Canadian Stage production of Philippe Boesmans' Julie continues this week at the Bluma Appel Theatre

in

St. Lawrence Centre.

Composed in 2005, it's the third operatic adaptation of the August Strindberg play after American Ned Rorem (1965) and Brit William Alwyn (1977). This 75 minute chamber opera stars an All-Canadian cast of mezzo

Lucia Cervoni

(Lucia),

Clarence Frazer

(Jean) and

Sharleen Joynt

(Christine).

Matthew Jocelyn

directs and

Leslie Dala

conducts the chamber orchestra. I attended opening night, and found the musical values to be very high, with three fine singing actors. It's a show well worth seeing, if you're at all interested in contemporary opera.  Click on 
http://www.musicaltoronto.org/2015/11/19/scrutiny-philippe-boesmans-julie-makes-north-american-debut/  for my review.  Performances on Nov. 25, 26, 28, 29. Go to website for details –  
http://www.soundstreams.ca/Julie
Canadian pianist Andre Laplante
The Toronto Mendelssohn Choir, the premiere choral force in Canada, is presenting a program of German Romantics of Brahms, Schubert, and Liszt – never mind the last composer is Hungarian…
The pieces are all very familiar – Brahms'
Zigeunerlieder
and Schubert's
Standchen
for example, but we are used to hearing these as solo voice pieces. Here we have the full choir singing, under the direction of
Noel Edison
. The solo piano pieces, the three Petrarch Songs, are also typically sung by solo voices. Here these are played by Canadian pianist
Andre Laplante
. He'll also play Schubert's
Moment Musicales No. 1, 2, and 6
.  
http://www.rcmusic.ca/event/toronto-mendelssohn-choir-presentsbrgerman-romantics
Vienna Boys Choir (Photo: Lukas Beck)
The fabled Vienna Boys Choir is making a welcome return to Koerner Hall in Toronto on Sunday Nov. 29 at 3 pm. Coming with them is Korean conductor Bomi Kim, the first-ever female Asian conductor of the Vienna Boys Choir.
Vienna Boys Choir Conductor Bomi Kim (Photo: Credia)
The first half of the program includes works by Vivaldi, Monteverdi, Purcell, Bach, Handel, Saint-Saens, Poulenc, Mozart, and Schubert. The second half is made up of Christmas Carols from around the world – it's that time of year again! According to the Koerner Hall website, this concert is already sold out, but there are always returns, so do check with the box office.
https://performance.rcmusic.ca/event/vienna_boys_choir
Apollon Musagete Quartett
This week,
Music Toronto
is presenting yet again another chamber group in their Toronto debut – the Polish 
Apollon Musagete Quartett
playing works by Dvorak and Schubert. This group has won many awards, including the ARD Munich (2008), Rising Stars of Vienna's Musikverein (2010), BBC New Generation (2012) and Borletti- Buitoni Trust (2014).  Thursday Nov. 26  8 pm at the usual venue of
Jane Mallett Theartre
, St. Lawrence Centre.  
http://music-toronto.com/quartets/Apollon.htm