This Week in Toronto (Nov. 11 – 17)
– Joseph So
Among the concerts that caught my eye this week is Korngold's rarely heard The Silent Serenade (Die Stumme Serenade) from 1954, a late work. This composer, a child prodigy if there ever was one, penned his best works at an early age. His best known opera, Die tote Stadt, was composed when he was all of 22! His other well known opera, Das Wunder der Heliane, is a harder nut to crack, full of mysticism and dramatic ambiguity, but if you like his musical idiom, it's well worth exploring. Korngold emigrated from Austria to Hollywood in the 30's and became a successful composer of film music. After the war, he returned to Vienna but was basically ignored by his contemporaries – they felt his work as old fashioned and hopelessly out of date. He eventually returned to the US and spent his last years there. Those interested in this composer should seek out a 2003 documentary, Erich Wolfgang Korngold: Adventures of a Wunderkind, on the Arthaus label. The Silent Serenade is put on by students of the Glenn Gould School vocal program, under the direction of conductor-pianist Peter Tiefenbach. You can get a taste of it from this clip on Youtube – http://www.youtube.com/watch?v=V8s8J-kdKLE Stylistically it's indeed old-fashioned for 1954, a time of atonality. But as an operetta it has its charm. Nov. 15 and 16 7:30 pm at the Conservatory Theatre on 273 Bloor Street West. This is likely your only chance of hearing this rare piece. https://performance.rcmusic.ca/event/korngold%E2%80%99s-silent-serenade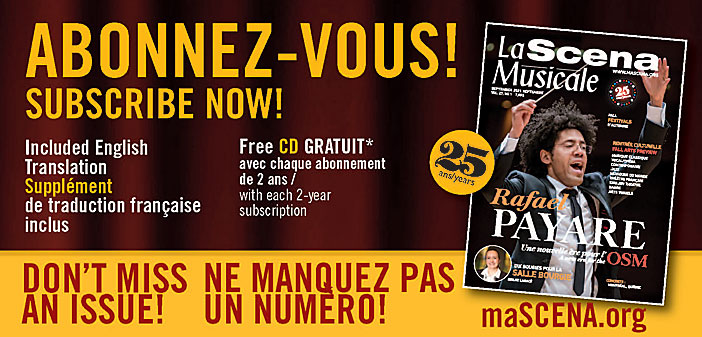 Erich Wolfgang Korngold (1897-1957)
Former COC Ensemble Studio soprano
Simone Osborne
is no stranger to Toronto opera lovers. She most recently sang Musetta at the COC's
La boheme
. She is currently on tour in Ontario with Jeunesses Musicales in a concert celebrating the late great Canadian contralto Maureen Forrester. JM concerts don't actually come to Toronto, but in this case, Simone is giving a noon hour recital of the same program at the
Richard Bradshaw Amphitheatre
on Tuesday Nov. 12. Collaborative pianist
Anne Larlee
is at the keyboard. The centerpiece is Schumann's
Frauenliebe und Leben,
plus songs by Strauss, Bellini and Renaldo Hahn. Also on the program is the premiere of two newly commissioned pieces by Canadian composer Briant Current. As with all free noon hour concerts, show up early! Program details
http://files.coc.ca/pdfs/concert131112b.pdf
More information at
http://www.coc.ca/Home.aspx
Soprano Simone Osborne
Back in March at the Canadian Music Centre, I attended a short recital given by Canadian pianist-composer
Adam Sherkin
who played a Liszt transcription of Wagner's Holy Grail music from
Parsifal
, on occasion of the visit from Bayreuth of Udo Steingraeber, the maker of Steingraeber and Sohne pianos. It was an enjoyable afternoon and I look forward to hearing him again. This week Sherkin is giving a recital,
Britten's America
, at the Jane Mallett Theatre on Saturday Nov. 16th at 8 pm. On the program are pieces by Britten and his contemporaries, in this case Canadian Colin McPhee and American Aaron Copland. Also included by two pieces by Sherkin himself. Program details at
http://www.stlc.com/1665.html
Pianist-composer Adam Sherkin (photo: Anka Czudec)
The
Aradia Ensemble
under the music direction of conductor
Kevin Mallon
is presenting
Britten's Baroque
, featuring Britten's arrangements of Purcell's music, as well as Britten's own compositions. Soprano
Johane Ansel
is the soloist. Saturday Nov. 16th 8 pm at
The Music Gallery
, on 97 John Street just north of Queen Street.
http://www.aradia.ca/
Conductor Kevin Mallon and the Aradia Ensemble
Esprit Orchestra
under the direction of
Alex Pauk
, is presenting
O Gamelan
, a concert by Evergreen Club Contemporary Gamelan <
http://www.evergreenclubgamelan.ca/info
>, of works by Jose Evangelista, Chan Ka Nin, Andre Ristic, Lou Harrison, Alex Pauk and Claude Vivier. Gamelan is a musical ensemble from Indonesia featuring instruments like xylophones and bamboo flutes not found in western ensembles. Sunday Nov. 17th 8 pm at Koerner Hall.
http://www.espritorchestra.com/buytickets/concert2.html
Off Centre Music Salon
is presenting an unusual concert, one without singers! It's
Tutti Flutti
, a recital of flute music by Telemann, Poulenc, Freedman and others. Soloists are flutists
Carol Wincenc, Nora Schulman
and
Susan Hoeppner
. The performance is at Off Centre's usual time of Sunday afternoon 2 pm at the
Glenn Gould Studio
.
http://offcentremusic.com/