Concert Picks for the Week of May 19 – 25 in Toronto
– Joseph So
Ferruccio Furlanetto as Don Quichotte (Photo: Michael Cooper)
We've come to the last week of the Canadian Opera Company's 2013-14 presentations. The spring season is arguably the strongest that I've seen at the COC, and I go back to 1972! There is one last performance of Roberto Devereux (May 21st), and it will likely sell out. Wanting to see it a second t ime, I lined up for a rush seat last Thursday, and it was well worth the effort. This Donizetti in my opinion is the crowning jewel of the COC season, thanks to the stunning Elisabetta of soprano Sondra Radvanovsky. There are three remaining performances of Don Quichotte on May 20, 22, and 24 starring the great Italian bass Ferruccio Furlanetto in his Canadian debut. I've written a full review of this show at http://blog.scena.org/2014/05/don-quichotte-brilliant-end-to.html. A complete review of the COC spring season will appear in a future issue of Opera (UK).
Sasha Djihanian at Richard Bradshaw Amphitheatre (Photo: Dragonfly Imagery)
With the end of the COC season comes the end of another year for the Ensemble Studio. Three artists will be "graduating" from the Ensemble – soprano Sasha Djihanian, baritone Cameron McPhail, and pianist Michael Shannon. They will be giving one final concert, Les Adieux, at noon on Tuesday May 20 at the Richard Bradshaw Amphitheatre. For the last two seasons, these three have entertained us with their artistry and now they are ready to strike out on their own. Hopefully all of them will return to the COC as free lancers in the future. Djihanian will sing songs by Dvorak and Debussy, plus two Armenian songs. She ends with "Meine Lippen, sie kussen so heis" from the operetta Giuditta. With Djihanian's bubbly personality and stage allure, she will for sure bring the house down. McPhail will sing song cycles by Francis Poulenc and American composer Lee Hoiby. Michael Shannon will be at the keyboard. Be sure to show up an hour early to ensure a seat. Program details at http://files.coc.ca/pdfs/concert140520.pdf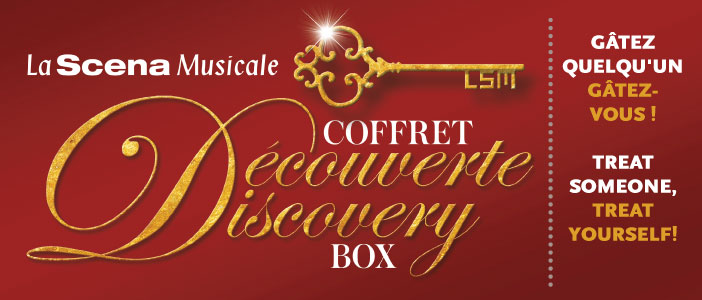 Baritone Cameron McPhail
The Thursday (May 22) noon hour concert is a little different. Lawyer and curator of the Stratton Collection of vocal recordings Stephen R. Clarke will give a talk on Feodor Chaliapin: A Portrait in Recordings. Chaliapin was simply the greatest Russian bass in opera. (Well, some may argue that he shares this honour with another great Russian, Alexander Kipnis) Given that the COC is currently staging Don Quichotte, what better time to re-acquaint ourselves with the art of Chaliapin? Clarke is a regular lecturer on historical recordings and is Chair of the Board of Directors of Opera Canada magazine. Among the selections Clarke will play are scenes and arias from Boris Godunov, Sadko, Ruslan and Ludmilla and Mefistofele. Don Quichotte was also a signature role of Chaliapin, but due to the length of the death scene, Clarke will play a selection from Ibert rather than Massenet. If you are interested in historical singers, this is not to be missed. Again, be sure to show up early! http://files.coc.ca/pdfs/concert140522.pdf http://coc.ca/Home.aspx
21 C Music Featival at the Royal Conservatory of Music
An interesting event this week is
21C – the 21st Century Music Festival
, presented by the
Royal Conservatory of Music
. It is a showcase of contemporary works. In a span of five days, there will be 8 concerts and 20 premieres. Of particular interest to voice fans is the appearance of mezzo
Wallis Giunta
in a piece by
Louis Andriessen
based on the diaries of
Anais Nin
. The program also features works by Canadians
Christos Hatzis, Brian Current
, and
R Murray Schafer
. Thursday May 22 8 pm at
Koerner Hall.
http://performance.rcmusic.ca/event/21c-faster-still-ana%C3%AFs-nin Also of interest on Saturday March 24 is the appearance of the great Canadian virtuoso pianist Marc Andre Hamelin in a program of works by John Cage, Leo Ornstein and Jennifer Higdon. Joshua Hopkins joins the Pacifica Quartet in Higdon's Dooryard Bloom (Canadian premiere), based on text by Walt Whitman. For more details, visit
http://www.rcmusic.ca/ and read this press release –
http://www.rcmusic.ca/media/news-releases/21c-music-festival
This is "Pop Week" at the Toronto Symphony Orchestra. TSO pops conductor Steven Reineke conducts three performances (May 20 eve, May 21 matinee and eve.) of Lerner and Loewe Broadway classics (My Fair Lady, Camelot, Brigadoon etc.) with soloists (soprano Amy Wallis, tenor David Curry and baritone Jonathan Estabrooks) and the Toronto Mendelssohn Choir. On Friday May 23 and Saturday May 24, Reineke leads Rajaton, a Finnish a capella ensemble, in The Music of ABBA. http://tso.ca/en-ca/Home.aspx