Advertisement / Publicité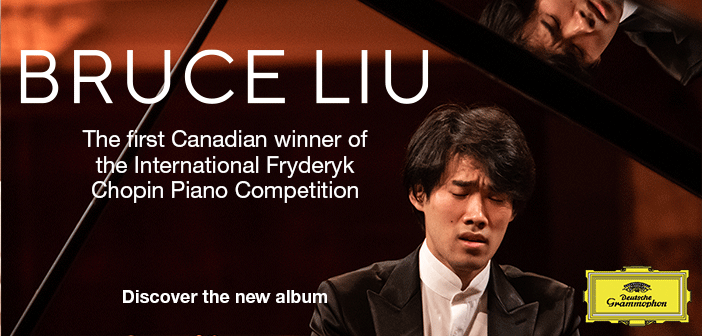 Pianist Tamas Erdi
Violinist Itzhak Perlman
Two artists who are playing in Toronto this week and next are great examples of the triumph of the human spirit over life's adversities. Most music lovers are aware that violinist
Itzhak Perlman
suffered from childhood polio. He recovered well enough to be able to walk with crutches, and he continued on to become a great violinist and an inspiration to many. He made his Carnegie Hall debut in 1963 and won the famous Leventritt Competition the following year. Now almost fifty years later, Perlman is still in front of the public and making beautiful music. Anyone who has seen and heard him can't help but be inspired. Perlman will appear on Saturday May 21 8 pm with the
Toronto Symphony Orchestra
as violinist and as conductor – in two Mozart works where he is the violin soloist, and leading the TSO in Dvorak Symphony No. 9 "New World" and Mozart Symphony No. 25. This is a single performance and not to be missed. For those interested in big band music in the tradition of Duke Ellington and Cab Calloway, the TSO is presenting
A Night at the Cotton Club
for three performances – Tuesday May 17 at 8 pm, and Wednesday May 18 at 2 and 8 pm.
http://tso.ca/Home.aspx
Perhaps less familiar to music lovers compared to Perlman is 31 year old
Tamas Erdi
, the blind Hungarian pianist. Erdi lost his sight due to oxygen overdose from a defective incubator right after he was born. He started learning to play the piano at 5 and had his first public performance 8. He was accepted in the conservatory in Vienna at 10 and later studied with Tamas Vasary. Erdi won an international piano competition in Moscow at 17. Leon Fleisher offered Erdi a scholarship at the
Royal Conservatory of Music
in Toronto where Erdi finished his studies. Erdi competed in the Van Cliburn Competition in Fort Worth, receiving the praise of audience and critics alike. Incidentally, that same year the competition was won by another blind pianist, Japanese Nobuyuki Tsujii. Erdi will play a solo recital of works by Chopin and Liszt on Tuesday May 24 at Mazzoleni Hall. OK, I know I am jumping the gun on Erdi by two days, but I want to talk about these two artists together….
http://performance.rcmusic.ca/
The
Canadian Opera Company
continues with its three highly praised productions this week. Performances of
Ariadne auf Naxos
are on May 18 and 21;
La cenerentola
on May 19 and 22; and
Orfeo ed Euridice
on May 20. I honestly don't recall ever encountering a COC season in the past with the kind of musical qualities as the current one. By sheer coincidence, several of the COC offerings are also on the stage of the Met, and I must say our productions stand up well against the Met with their huge resources. This is a vintage year for opera in Toronto. The Free Concert Series at the Richard Bradshaw Amphitheatre continues with Beethoven and Golijov: A Vision of Eternity. Osvaldo Golijov is one of the best of current composers for voice. Here the
Tokai Quartet
is pairing Beethoven's
String Quartet No. 14
with Golijov's
Tenebrae
, which requires a soprano soloist. I recall hearing this with American soprano Dawn Upshaw, who is a champion of Golijov's music. The soloist here is COC Ensemble soprano
Jacqueline Woodley
, who sounds deceptively like a young Upshaw. If you are at all interested in contemporary composers, this is well worth trotting down to the FSC in the rain for it! Be sure to show up one hour early for a seat.
http://coc.ca/Home.aspx
Tafelmusik
is presenting a single performance of
Italianissimo
, a mixed program of Mozart plus Italian Baroque conducted by violinist-maestro
Stefano Montanari
at Weston Hall, Toronto Centre for Performing Arts at North York. This program was given four times last week at Trinity St. Paul's Centre, the regular venue of Tafelmusik. If you missed it, you have one more chance to catch it on Tuesday at 8 pm.
http://www.tafelmusik.org/index.php