Baritone Christian Gerhaher gives a Liederabend at Koerner Hall on May 16
Art song lovers rejoice! German baritone Christian Gerhaher, a great Lieder singers of the current generation, is on a recital tour in North America that takes him to Philadelphia, Carnegie Hall in New York, Vancouver and Toronto. It's a huge program that opens with Beethoven's An die ferne Geliebte and Schumann's Lieder und Gesange aus Wilhelm Meister, plus Schumann's wonderful song cycle Dichterliebe. Partnering him on the piano is none other than another great artist, Andras Schiff. They perform at Koerner Hall on Sunday May 16 at 8 p.m. http://performance.rcmusic.ca/event/christian-gerhaher-andras-schiff
While on the subject of Lieder, Canadian baritone Adrian Kramer is giving a noon hour farewell concert at the Richard Bradshaw Amphitheatre on Thursday May 17. He is graduating from the COC Ensemble after a highly successful two-year tenure. His compact, well focused, beautiful baritone was heard to advantage in a number of roles at the COC, but particularly memorable was his Papageno in the COC Ensemble performance of The Magic Flute. Kramer will sing Schubert's Die schone Mullerin, with Christopher Mokrzewski at the piano. http://coc.ca/Home.aspx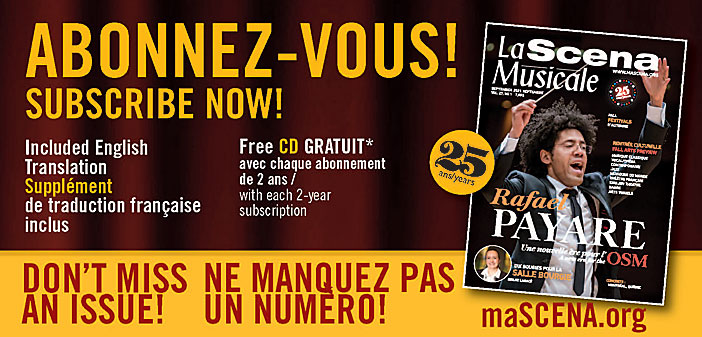 Russian pianist Evgeny Kissin makes a welcome return to the Toronto Symphony Orchestra for two performances, on May 17 and 19 8 p.m. at Roy Thomson Hall. Taking a break from his COC assignment, Conductor Laureate Sir Andrew Davis is at the helm. On the program are two Strauss pieces – Suite from Der Rosenkavalier, and Don Juan. Kissin is the soloist in the Grieg Piano Concerto.
A very high profile event this week is the 125th anniversary celebration of the Royal Conservatory of Music. Canadian soprano Measha Brueggergosman and singer-songwriter Feist will be named Honorary Fellows. They will also perform, as well as the RCM's students and faculty members. There will be a post performance reception sponsored by Labatt Brewing Company, complete with live music. A limited number of tickets are available at $125. Tuesday May 15 9 p.m. at Koerner Hall. http://rcmusic.ca/
The spring season of the Canadian Opera Company continues this week, with performances of the Zemlinsky-Puccini double-bill on May 15, 18, and 20; and performances of Handel's Semele on May 16 and 19; and a final performance of Hoffmann on May 14.