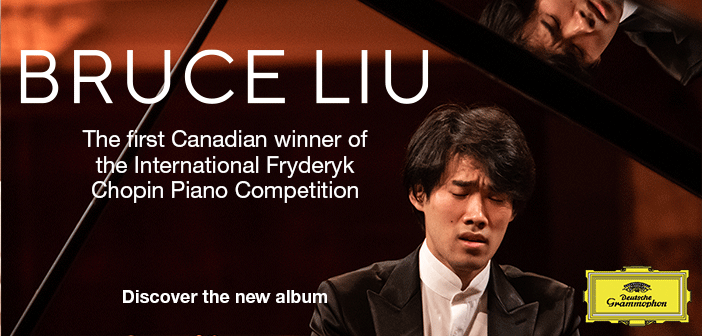 2012-13 COC Ensemble Studio members (top l. to r. Neil Craighead, Jenna Douglas, Mireille Asselin, Claire de Sevigny, Owen McCausland; bottom l. to r. Rihab Chaieb, Timothy Cheung, Ambur Braid, Cameron McPhail, Sasha Djihanian. Absent: Christopher Enns) Photo: Chris Hutcheson
There are plenty of exciting events this week for voice fans. The
Christina and Louis Quilico Awards
takes place on Monday May 13 5:30 – 7:30 pm at the
Richard Bradshaw Amphitheatre
in the
Four Seasons Centre
. Pianist Christina Petrowska Quilico established this award to honour the memory of her late husband, the great Canadian baritone Louis Quilico. This award is designed to recognize, support and encourage young singers, pianists and composers for voice. Since its first competition in 2003, many of the recipients have gone on to flourishing careers. The Monday competition will be the 5th edition. Candidates are members of the
COC Ensemble Studio
. Out of a submitted list of three pieces by each contestant, each will sing one aria of his/her choice, plus one chosen by the jury panel. The Ensemble lineup this year is particularly strong, so we can look forward to an exciting event. Current Ensemble member pianists
Timothy Cheung
and
Jenna Douglas
will be at the keyboard. Members of the jury includes COC Director
Alexander Neef
, mezzo-soprano and former Ensemble member
Janet Stubbs
, and pianist/vocal coach
Stuart Hamilton
. Given the special nature of this free event, be sure to show up at least an hour ahead of time to ensure a seat. Details of the participants and their submitted repertoires is at
http://the-coc.s3.amazonaws.com/pdfs/concert130513.pdf
Judith Forst as Madame de Croissy (Photo: Michael Cooper)
I attended the opening night performance of
Dialogues of the Carmelites
last Wednesday, the last of the three
Canadian Opera Company
's spring season productions to open. It completely blew me away. Even since I saw the opera for the first time at the Met in 1977, it has become one of my very favorite operas and I regularly travel to other houses to catch this. The astounding
Robert Carsen
production, previously seen at Nederlandse Opera and Lyric Opera of Chicago, is austere, cutting through all the trappings of conventional grand opera straight to the emotional core of the work. It has just been announced that the Carsen production will be staged at Covent Garden next season. Whether Catholic or atheist, I dare say this piece will not leave one unmoved. For me, the outstanding performance on May 8th was the Madame de Croissy of Canadian mezzo
Judith Forst
. I saw her galvanizing Croissy six years ago at the Vancouver Opera, and this time around, it's even more intense and gut-wrenching, if that's possible. I feel so privileged to have experienced her great artistry once again. The rest of the cast was equally strong, with
Isabel Bayrakdarian
reprising her Blanche from Chicago, and
Adrianne Pieczonka
singing her first Lidoine. I was also very impressed by the plangent tenor of
Frederic Antoun
(a fabulous Tamino here three seasons ago) as the Chevalier. And one mustn't forget the warm stage presence and crystalline tones of Quebec soprano
Helene Guilmette
as a most sympathetic Constance, a role I saw her sing so beautifully in Munich two years ago in a very Regie-driven production. To be honest, I enjoyed the Carsen production much better. On Wednesday, the chorus under
Sandra Horst
was great and the sound coming out of the orchestra under
Johannes Debus
was glorious. For me this
Dialogues
, together with the
Tristan
, are the two crowning achievements of this season. Three performances this week, on May 14, 17 and 19. If you haven't seen
Atom Egoyan
's take on
Salome
, you can catch it on Thursday May 16. We have a brand new Jochanaan in American bass-baritone
Alan Held
who has taken over from Martin Gantner.
Lucia di Lammermoor
can be seen this week on May 15 and 18.
http://www.coc.ca/Home.aspx
One of the most interesting singers' training programs is
COSI
, short for
Centre for Opera Studies in Italy.
Under the direction of Professor
Darryl Edwards
, this summer program in Sulmona Italy gives the opportunity for aspiring singers to learn their craft and experience another culture. On Tuesday May 14 and Wednesday May 15 at the Heliconian Hall in Yorkville, COSI is launching a new initiative, the
COSI Connection
, with the world premiere of a new opera by
Andrew Ager
, T
he Wings of the Dove.
Directed by Michael Patrick Albano, the opera features COSI participants, all with fresh, youthful voices, and with the composer himself at the piano. For more information, go to
http://www.co-si.com/
Pianist Kirill Gerstein (photo:www.kirillgerstein.com)
The
Toronto Symphony Orchestra
is presenting three performances this week of Tchaikovsky
Piano Concerto No. 1
, with guest soloist
Kirill Gerstein
and guest conductor
Giancarlo Guerrero
. The performance Wednesday is part of the "Afterworks" series, meaning a shortened program (75 minutes), early start (6:30 pm) and no intermission. The other piece on the program is Rimsky-Korsakov's
Russian Easter Festival Overture
. Performances on May 16 and 18 8 pm at
Roy Thomson Hall
are regular length, with the addition of Bartok's
Concerto for Orchestra
.
http://tso.ca/
Soprano Miriam Khalil (photo: Nikola Novak)
After the highly praised double-bill of Janacek and Kurtag, the cutting-edge
Against the Grain Theatre
is once again pushing the artistic envelope, this time with
Figaro's Wedding
, a re-imagined version of
Le nozz di Figaro
featuring Mozart's score but with a rewritten libretto by
Joel Ivany
, as I understand re-situated to Toronto! The opening is May 29, but we can get a sneak preview on Thursday noon May 16 at the
Richard Bradshaw Amphitheatre
. There's no orchestra, instead it's piano with
Christopher Mokrzewski
, and a string quartet. In keeping with the unorthodox style of ATG, the casting is highly unusual. It stars former COC Ensemble Studio soprano
Miriam Khalil
as Susanna while a lighter-voiced soprano (
Lisa diMaria
) is the Contessa.
Stephen Hegedus
is Figaro and a high soprano (
Teiya Kasahara
) is Cherubino. Baritone
Alexander Dobson
sings "Alberto", a character that doesn't exist in the original. I am assuming it replaces the Count? We'll find out soon enough! Be sure to show up an hour ahead for a seat to this free event.
http://www.againstthegraintheatre.com/index/Figaros_Wedding.html
Noel Edison (Photo: www.tmchoir.org)
The august
Toronto Mendelssohn Choir
is presenting one of the most sublime of oratorios, Beethoven's
Missa Solemnis
, on Wednesday May 15 7:30 pm at
Koerner Hall
. The quartet of soloists are soprano
Shannon Mercer
, mezzo
Krisztina Szabo
, tenor
Michael Colvin
and baritone
Michael Adair.
Noel Edison
conducts the choir and the orchestra. This is one oratorio that is performed quite frequently – the last time I saw it was with soprano Christine Brewer at the San Francisco Symphony two years ago. It's time for a revisit!
http://tmchoir.org/default.cfm
– Joseph So