This is a particularly rich week for opera/voice lovers. The two productions of Canadian Opera Company's winter season continue at the Four Seasons Centre.  You have two more chances to catch Siegfried, the hit of the season,on Feb. 11 and 14.  Great singing, memorable production, and magnificent orchestra – what more can one possibly want? I have a friend who is going to all seven of the performances – that's a bit too compulsive for me, but if I had the energy, I would go to at least one more!  Stefan Vinke and Christine Goerke are just simply amazing. We are so blessed in Toronto to have these two. Vinke is going to sing this in Bayreuth, and I understand Goerke is going to be the Brunnhilde in a new Ring in Bayreuth in 2020!

Marriage of Figaro opened on Feb. 4 in a fresh take on this standard repertoire masterpiece by Claus Guth. I found myself enjoying it a great deal, and wrote a review for Musical Toronto that appeared on the weekend. I can't pretend it's my favourite production, but it's growing on me!  I will see it at least once more, the Ensemble performance on Feb. 22. The singing on opening night was spectacular, particularly Josef Wagner (Figaro), Russell Braun (Count), Erin Wall (Countess), Jane Archibald (Susanna), and Emily Fons (Cherubino). Debus conducted beautifully, and the orchestra didn't have any residual heaviness from a steady diet of Wagner!  Performances of the Mozart opera this week on Feb. 9 and 13.  COC Music Director Johannes Debus conducts both operas. http://www.coc.ca/Home.aspx
There are three important noon hour vocal recitals at the Richard Bradshaw Amphitheatre this week. British bass-baritone Christopher Purves, in town to sing Alberich in Siegfried, gives a recital on Tuesday Feb. 9 of songs by Handel and Duparc, plus the centerpiece, Songs and Dances of Death by Mussorgsky. The pianist is Liz Upchurch.
Austrian bass-baritone Josef Wagner, the Figaro in the COC's The Marriage of Figaro, is singing the Mount Everest of song cycles, Schubert's Winterreise on Thursday Feb. 11. The 75 minute work of 24 songs is seen by many as the ultimate recital program.  I interviewed Mr.Wagner two weeks ago, and he told me he has been working on this cycle since he was 20, and he's now 40! He has sung it three times, all from memory, which is quite a feat given the amount of text. His pianist is Rachel Andrist.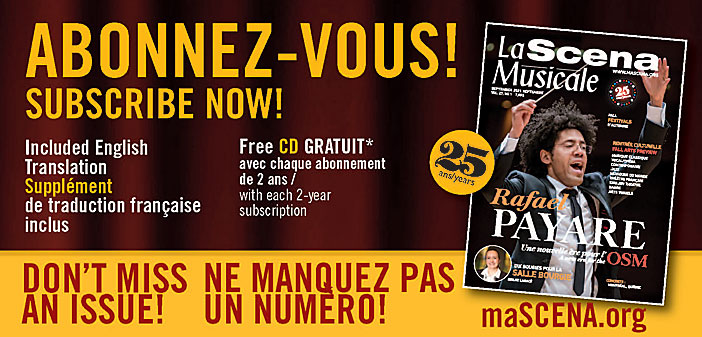 The third noon hour concert is given by members of the COC Ensemble Studio on Wednesday Feb. 10. On the program are highlights from Marriage of Figaro, which they will be singing on Feb. 22. This is a great opportunity to hear a preview. I can tell you that bass-baritone Gordon Bintner was fantastic as the Count at the dress rehearsal, deputizing for an indisposed Russell Braun.  The pdf file of the program on the COC website is not available, but I imagine the whole cast will be there – Iain MacNeil (Figaro), Karine Boucher (Susanna), Aviva Fortunata (Countess), Robert Pomakov (Bartolo), Jacqueline Woodley (Cherubiino), Gordon Bintner (Count), Jean-Philippe Fortier-Lazure (Don Basilio), Megan Latham (Marcellina), Doug MacNaughton (Antonio), Aaron Sheppard (Don Curzio), and Sasha Djihanian (Barbarina).  All three concerts are free. To make sure that you get in, show up an hour ahead to line up. http://www.coc.ca/PerformancesAndTickets/FreeConcertSeries/February.aspx
The Toronto Symphony Orchestra is presenting The Year of the Monkey: A Chinese New Year Celebration, on Feb. 13 7:30 p.m. at Roy Thomson Hall. Chinese conductor Long Yu is at the helm. On the program are selections from Romeo and Juliet, and selections from Peking Opera.  Russian violinist Maxim Vengerov is the soloist in Butterfly Lovers Violin Concerto, a very famous Chinese classical music piece that practically any Chinese music lover will know.
As if COC Music Director Johannes Debus isn't busy enough these days, he is leading the Royal Conservatory Orchestra in a concert on Feb. 12 8 p.m. at Koerner Hall.  On the program are Rimsky- Korsakov's Scheherazade and Tchaikovsky Piano Concerto No. 1, with pianist Edward Zhou. http://performance.rcmusic.ca/event/rco3_2016
The Toronto Consort, a chamber group specializing in Early Music, is presenting an intriguing program called Way of the Pilgrim, marking the re-release of their CD which is now on the Marquis label. On the program are pilgrim songs, crusaders' laments and dances from Spain, France and Germany. The concert takes place on Feb. 12 8 p.m.at the Trinity-St. Paul's Centre, at 427 Bloor St. West. There is a pre-concert talk an hour earlier. This concert is repeated on Feb. 13. http://torontoconsort.org/concerts-tickets/2015-16-season/the-way-of-the-pilgrim/
To commemorate the 400th anniversary of the death of Shakespeare, Musicians in Ordinary is presenting a series of concerts. On Feb. 13th 8 p.m. at the Heliconian Hall in Yorkville, they are presenting  Sweet Swan of Avon: Words and Music. This particular concert focuses on Shakespeare's Lives of Girls and Women, with readings from Hamlet, Richard III, Taming of the Shrew and other works.  Music by Campion, Byrd, Dowland and other Tudor and Stuart composers are on the program. Artists are soprano Hallie Fishel, lutenist John Edwards and reader Ruby Joy. Christopher Verrette conducts. http://www.musiciansinordinary.ca/