Advertisement / Publicité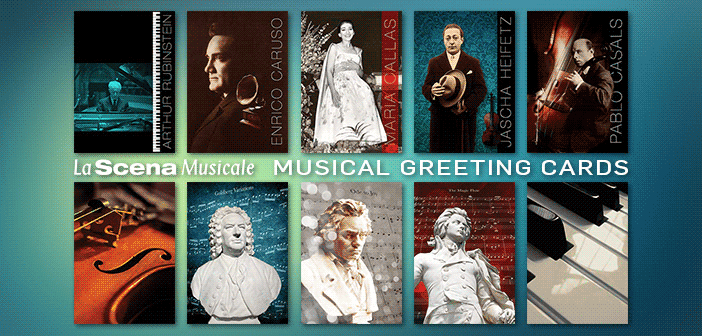 The Toronto Symphony Orchestra is presenting its annual New Creations Festival.  It's a cluster of concerts dedicated to new music, featuring both Canadian and international composers and performing artists.  As a classical music lover who has been attending live performances for over fifty years, I admit that I love my warhorses. But I totally recognize that for classical music to survive and thrive into the future, we need new works that reflect 21st century aesthetics and audience sensibilities. Just last season, I heard a striking work presented by the TSO New Creations Festival, the concert performance of  British composer George Benjamin's opera, Written On Skin.  This season from March 5 to 12, the TSO is putting on three performances of six premieres, co-curated by TSO Music Director Peter Oundjian and Australian composer Brett Dean. On Saturday March 5th 8 pm at Roy Thomson Hall, we'll hear composer Anthony Pateras' Fragile Absolute, a work of wind instruments, percussion, electronics and celeste.  Also Brett Dean's Viola Concerto where the composer is the soloist. Canadian composer Kevin Lau's intriguing Concerto Grosso for Orchestra, String Quartet and Turntables (!) – the DJ is Skratch Bastid. The fourth item on the program is Gyorgy Kurtag's The Answered Unanswered Question. The only Kurtag I've heard is his interesting and very intense Kafka Fragments staged by Against the Grain two seasons ago. There will be pre-concert, intermission and post-concert chats.  https://www.tso.ca/concert/fragile-absolute
If Baroque (and Classical) is more your thing, be sure to attend a concert of works by Vivaldi, Paganini, Rossini and Haydn, featuring TSO musicians, a nice counterbalance to a week of new music. TSO Music Director Peter Oundjian shares conducting duties with RBC Resident Conductor Earl Lee. Soloists are concertmaster/violinist Jonathan Crow. Teng Li (viola), Joseph Johnson (cello), James Gardiner (trumpet), Steven Woomert (trumpet), Michael Sweeney (bassoon) and Sarah Jeffrey (oboe). https://www.tso.ca/concert/vivaldi-concerto-two-trumpets
I remember my disappointment when Norwegian violinist Vilde Frang cancelled her TSO dates last season, although she was brilliantly replaced by Jonathan Crow.  Hopefully this time she's going to show up for a recital with pianist Michail Lifits at Koerner Hall on Wednesday March 2nd 8 p.m. On the program are works by Schubert, Faure, and Witold Lutoslawski. http://performance.rcmusic.ca/event/frang_lifits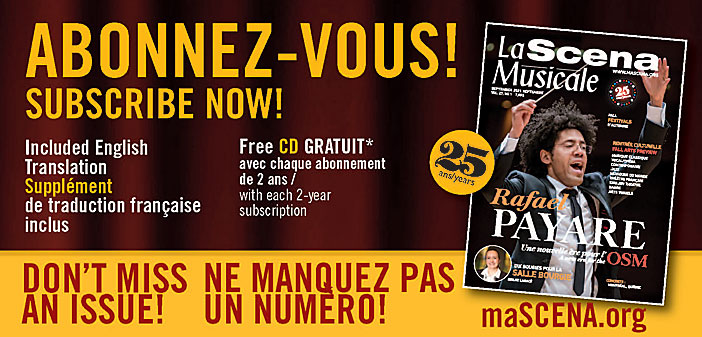 Music Toronto brought Scottish pianist Steven Osborne to Toronto for his debut back in 2007. He's back once again for a recital on March 1st 8 p.m. at the Jane Mallett Theatre. He is playing Schubert, Debussy and Rachmaninoff on this occasion. http://music-toronto.com/piano/Osborne.htm
Another interesting chamber recital at Koerner Hall features Canadian violinist Karen Gomyo, with cellist Christian Poltera and pianist Juho Pohjonen on Friday March 4th 8 p.m.  They are playing Haydn's Piano Trio in E Major, plus works by Janacek and Dvorak. Go to this link for details – http://performance.rcmusic.ca/event/gomyo_poltera_pohjonen
Canadian pianist and composer Adam Sherkin is giving a noon hour recital on March 3rd at the Lower Bluma Lobby of the St. Lawrence Centre. The recital is called Preludes of the North, in which Sherkin plays excerpts of Rachmaninoff's Preludes Op. 32, plus his own composition, Postludes from Adlivun (2014).  http://www.stlc.com/event/rachmaninoff-preludes-of-the-north-2/
Canadian tenor Benjamin Butterfield is making a rare recital appearance in Toronto on Monday Feb. 29th 7:30 p.m. at Walter Hall on the campus of the University of Toronto. He is singing the great Schubert song cycle Die schone Mullerin, with collaborative pianist Steven Philcox. Butterfield teaches voice at the University of Victoria. It's been ages since I last heard the lyric tenor – I think the last time was in Janacek's Cunning Little Vixen at the COC over ten years ago.  I look forward to hearing him.  https://music.utoronto.ca/concerts-events.php?eid=549
An interesting recital for voice fans is Le travail de peintre, a concert that's part of the Royal Conservatory of Music Glenn Gould School's Mazzoleni Masters Series. It features soprano Mireille Asselin, baritone Brett Polegato, and pianists Peter Tiefenbach and Rachel Andrist. On the program are works by Poulenc, Debussy, Faure, Wolf and others, centered around the theme of music inspired by paintings and painters. This recital series is curated by GGS faculty soprano Monica Whicher and pianist Rachel Andrist. Concert takes place on Sunday March 6th 2 p.m. at the Mazzoleni Hall, Royal Conservatory of Music. http://performance.rcmusic.ca/event/songmasters_2
On March 1st and 2nd  8 p.m. at the Trinity St. Paul's Centre, Talisker Players is presenting Spirit Dreaming, a program that features the music of 20th century composers inspired by native cultures around the world.  Works sampled include those by Ravel, Somers, Beckwith, Villa-Lobos and others. Soloists are soprano Ilana Zarankin and mezzo Laura McAlpine, as well as actor/director Andrew Moodie who will be reading tales of creation myths from various indigenous cultures. For details, go to http://www.taliskerplayers.ca/spiritdreaming.html
The 119th season of the Women's Musical Club of Toronto continues with the Daedalus Quartet on March 3rd 1:30 p.m. at Walter Hall. I am told that there's going to be an announcement of the 2016-17 season before the start of the concert!  I'm looking forward to finding out what delights WMCT is bringing to its loyal audiences. The Daedalus Quartet is made up of violinists Min-Young Kim and Matilda Kaul, violist Jessica Thompson, and cellist Thomas Kraines. They will be playing a program of Jean Sibelius, Johannes Brahms and James MacMillan.  More details at their website – http://www.daedalusquartet.com/index.php
Very intriguing is this concert by the Orpheus Choir on Sunday March 6th 4:30 p.m. at the Metropolitan United Church.  Bach's B Minor Mass is paired with The Sound of Eternity, the Canadian premiere of a film by Bastian Cleve that interprets the Bach's work. According to Orpheus Choir's website, "Cleve's 27 short episodes move from Alpine mountains to glaciers to peaceful valleys and pulsating metropolitan cities…..this breathtaking choral and cinematic tour-de-force offers a powerful meditation on the circle of life."  Soloists are soprano Jennifer Krabbe, mezzo Anita Krause, tenor Charles Sy and baritone Geoff Sirett. Orpheus Choir is joined by Chorus Niagara and the Talisker Players.
The COC winter season may be over, but there are still plenty of operas in town, albeit smaller in scale. Opera York is presenting Don Pasquale on March 3rd and 5th 7:30 p.m. at the Richmond Hill Performing Arts Centre. Michael Robert Broder sings the title role. Anne Marie Ramos is Norina, Dion Mazerolle is Dr. Malatesta, and Jonathan MacArthur sings Ernesto. Geoffrey Butler conducts and Renee Salewski is the stage director. http://www.operayork.com/springseason.html
Toronto City Opera's two productions that opened last week continue this week. L'Elisir d'amore is on March 3 & 5 7:30 p.m., and Die Fledermaus on March 6 at 2 p.m. at the Bickford Centre. http://www.torontocityopera.com/
Opera By Request is presenting La traviata on March 4th 7:30 p.m. with three well known soloists – soprano Allison Arends is Violetta, Ryan Harper sings Alfredo and Andrew Tees is Germont, plus soloists and chorus of the University of Toronto Scarborough Concert Choir, Lenard Whiting, director. William Shookhoff, music director of OBR, is at the piano. The concert takes place at the Trinity Presbyterian Church in York Mills, 2737 Bayview Avenue. Phone 416 455-2365 for reservations and information.