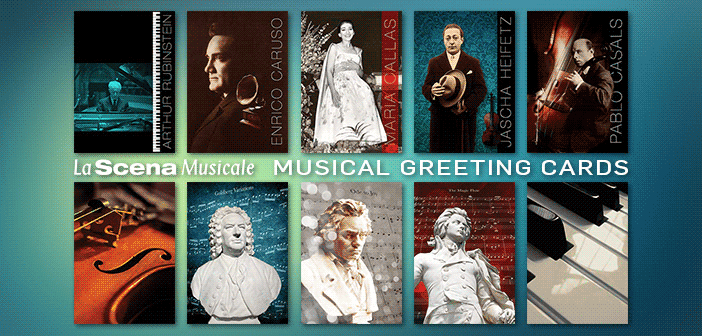 Toronto Concert Picks for the Week of February 23 to March 1
– Joseph So
Even with the Canadian Opera Company's winter season consigned to history, there are still plenty of worthwhile events for voice fans. Soprano Barbara Hannigan returns to Toronto for several concerts this week and next. The Nova Scotia born, Amsterdam-based Hannigan studied voice with Mary Morrison at University of Toronto and went on to become the queen of contemporary music. A number of composers have created works with Hannigan in mind. She is in town for the Toronto Symphony Orchestra's annual New Creations Festival, which is showcasing the works of composer George Benjamin, among others. The event kicks off with A Mind of Winter, a program featuring Benjamin's setting of The Snowman, a poem by Wallace Stevens, with Hannigan as soloist. Also on the program is a new Violin Concerto by Vivian Fung, commissioned by the TSO for Concertmaster Jonathan Crow. Rounding out the program are works by Japanese composer Dai Fujikura and French composer Henri Dutilleux. Peter Oundjian shared conducting duties with George Benjamin. Performance on Saturday Feb. 28 8 pm at Roy Thomson Hall. Given these pieces will be unfamiliar, it would be wise to attend the pre-curtain, intermission, and post-performance events the TSO has scheduled. http://tso.ca/en-ca/new-creations-festival/pre-and-post-concert-events.aspx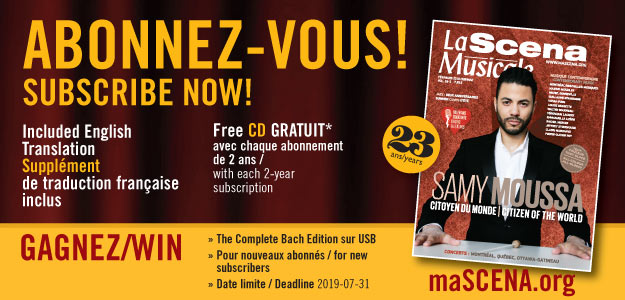 Soprano Barbara Hannigan (Photo: Raphael Brand)
Fans of Hannigan and New Music can hear her earlier this week in a chamber recital on Tuesday Feb. 24 5:30 to 6:30 pm at the
Richard Bradshaw Amphitheatre
. TSO chamber soloists
Jonathan Crow
(violinist and concertmaster),
Peter Seminovs
(violin),
Teng Li
(viola) and
Joe Johnson
(cello) and COC Ensemble Studio head
Liz Upchurch
(piano) will join Hannigan in
Rapture
, a recital featuring Chausson's
Chanson perpetuelle
, and Schoenberg's
String Quartet No. 2 in F-sharp minor
. Full program details at
http://files.coc.ca/pdfs/concert150224.pdf
Pianist Gerold Huber ad baritone Christian Gerhaher
Lieder fans should be out in force to welcome back German baritone Christian Gerhaher to Toronto, this time in Schubert's greatest song cycle, Winterreise. With him is collaborative pianist Gerold Huber. In an interview for the New York Times, Gerhaher talks about his philosophy of lieder singing, best described as a "less is more" approach/ He does not believe in emotional excesses, trendy stage directions, props, use of projections and other devices that have become popular in recent years in recitals. Gerhaher feels everything an audience needs is already in the music and the text. Here is that very interesting article – http://www.nytimes.com/2015/02/22/arts/music/christian-gerhaher-sings-winterreise-without-all-the-frills.html?_r=0 Performance at Koerner Hall on Thursday Feb. 26 at 8 pm. https://performance.rcmusic.ca/event/gerhaher_huber
Pianist Marc Andre Hamelin
The great Quebec pianist Marc-Andre Hamelin returns to Toronto in a recital of Schubert, Debussy, John Field, as well as Hamelin's own composition, Pavane Variee. Sunday March 1st 3 pm at Koerner Hall. https://performance.rcmusic.ca/event/hamelin2015
A very intriguing event this week is the Canadian premiere of David Lang's The Whisper Opera, presented by Soundstreams, from Feb. 26 to Mar. 1 at The Theatre Centre on 1115 Queen Street West. The concept of this project is so unusual that the best way to explain it is by quoting verbatim the material on Soundstreams' website –
Using a libretto compiled from search-engine responses to such prompts as "When I think of you, I think of…," Pulitzer Prize-winning composer David Lang explores the tension between our private and online selves in a work that demands the most intimate live performance possible. Reprising their successes at Lincoln Center and Chicago's Museum of Contemporary Art, soprano Tony Arnold and New York's International Contemporary Ensemble (ICE)—hailed by The New York Times as "one of the most adventurous and accomplished groups in new music"—make their Canadian debuts in an opera so quiet, so delicate, that it can be experienced by just 52 people at a time.
On the Soundstreams website is a video clip where David Lang talks about the concept of this work – http://www.soundstreams.ca/The-Whisper-Opera See website for performance times. The audience capacity is limited to 52 per show, and an important component of the presentation is the post-performance chat.
The Gryphon Trio ( violinist Annalee Patipatanakoon, cellist Roman Borys, pianist James Parker)
Music Toronto is presenting The Gryphon Trio on Feb. 26 8 pm at the Jane Mallett Theatre. The program consists of works by Haydn. Schubert, Dinuk Wijeratne, and works from the Young Composer Project at the Claude Watson Arts program at the Earl Haig Secondary School. The ensemble is celebrating their 20th season. http://music-toronto.com/quartets/Gryphon_2.htm
The Toronto City Opera's Un ballo in maschera continues this week at the Bickford Centre on Feb. 27 and Mar. 1. It's paired with Don Giovanni, which can be seen on Feb. 25 and 28. Singers are a mix of professionals and amateurs, and all shows have piano accompaniment. http://www.torontocityopera.com/
Opera by Request is presenting a work that's rarely staged, Boito's Mefistofele on Feb. 27th 7:30 pm at the College Street United Church. http://operabyrequest.ca/wordpress/