Advertisement / Publicité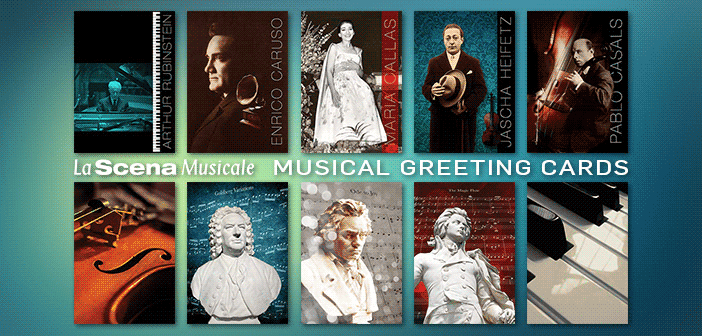 The Toronto Symphony Orchestra is presenting a real "heart of the repertoire" program this week, opening with Beethoven's Leonore Overture No. 2, followed by  Mendelssohn's Piano Concerto No. 1 with Canadian pianist Marc-Andre Hamelin. The centerpiece is the Schumann Symphony No. 4, with French conductor Louis Langree at the helm. Performances on Thursday Feb. 25 and Saturday Feb. 27 8 p.m. at Roy Thomson Hall. https://www.tso.ca/concert/schumann-symphony-4
This is the final week of the Canadian Opera Company's winter season.  Siegfried has already been consigned to history, and only four performances of The Marriage of Figaro remaining. On Feb. 22 is the special COC Ensemble Studio Performance.  I attended a preview of it last week at noon at the RBA, and I can honestly say the audience is in for a treat!  The young singers are simply wonderful, with not a weak link.  Gordon Bintner (Count), Iain MacNeil (Figaro), Karine Boucher (Susanna), Aviva Fortunata (Countess), Jean-Philippe Fortier-Lazure (Basilio), Aaron Sheppard (Curzio) are joined by former Ensemble sopranos Sasha Djihanian (Barbarina) and Jacqueline Woodley (Cherubino) plus guest artist Megan Latham (Marcellina).  Johannes Debus conducts. http://www.coc.ca/PerformancesAndTickets/1516Season/TheMarriageofFigaro.aspx
In the meantime, there are three final performances of the regular cast Marriage of Figaro this week – Feb. 23, 25, and 27.  Josef Wagner sings the title role, with Jane Archibald (Susanna), Erin Wall (Countess), Russell Braun (Count), Emily Fons (Cherubino), Helene Schneiderman (Marcellina), Robert Pomakov (Bartolo), Sasha Djihanian (Barbarina) and Doug MacNaughton (Antonio). Uli Kirsch plays the silent role of the Cherubim. It took me awhile but I've warmed up to Claus Guth's vision. COC Assistant Conductor Jordan de Souza takes over for Feb. 23 and 25, with Johannes Debus wrapping up the run on Feb. 27.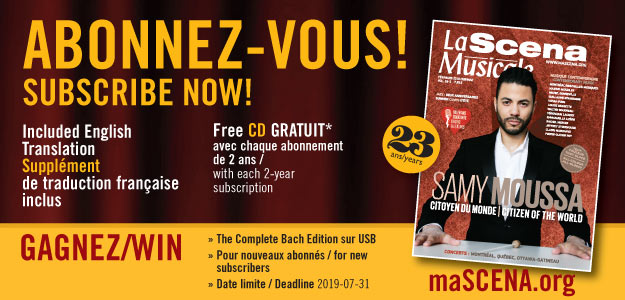 The brilliant violinist Christian Tetzlaff is joined by his sister, cellist Tanja Tetzlaff and pianist Lars Vogt in a chamber recital of Piano Trios of Schumann, Dvorak and Brahms on Feb. 26 8 p.m. at Koerner Hall.  http://performance.rcmusic.ca/event/tetzlaff_vogt
As part of the Emerging Artists Concerts presented by Desjardins in partnership with Jeunesses Musicales du Canada, French Canadian pianist Charles Richard-Hamelin, Second Prize Winner of the Chopin International Piano Competition in Warsaw last fall, is giving a recital of the Chopin Piano Sonata No. 3 on Tuesday, Feb. 23rd  noon at the Richard Bradshaw Amphitheatre, Four Seasons Centre. This is a free concert, so be sure to show up an hour early to ensure a seat. http://www.coc.ca/PerformancesAndTickets/FreeConcertSeries/February.aspx
Hungarian pianist Andras Schiff is in town for a recital of the Final Piano Sonatas of Haydn, Beethoven, Mozart, and Schubert. Any performance by Sir Andras is an occasion. Toronto audiences obviously agree, as the recital on Feb. 28 3 p.m. at Koerner Hall is completely sold out. But it doesn't hurt to call the box office to see if there are returns http://performance.rcmusic.ca/event/andras_shiff2016
Tafelmusik Baroque Orchestra is presenting The Best of Mozart, in other words a program of warhorses!  Top on the list is Eine kleine Nachtmusik, a piece that even the most casual classical music fan would know, as well as Symphony No. 40 and Sinfonia concertante, with violinist Julia Wedman and violist Stefano Marcocchi . Romanian violinist Mira Glodeanu is the guest director. Four performances Feb. 25 to 28 at the Trinity St. Paul's Centre. http://www.tafelmusik.org/
Toronto City Opera,
formerly Toronto Opera Repertoire, is a community-based, largely non-professional opera company offering fully-staged productions of standard repertoire with piano accompaniment.  As TOR, it was under the directorship of its long-time founder Giuseppe Macina. After his retirement a few years ago, the group was taken over by mezzo Beatrice Carpino and pianist Adolfo De Santis as co-directors and the named changed to Toronto City Opera. The format and the venue remain essentially the same. This season, Toronto City Opera is presenting
Die Fledermaus
and
L'Elisir d'amore
at the
Bickford Centre
. Performances of the Strauss operetta on Feb. 25 and 27, and the Donizetti opera on Feb. 26 and 28. 
http://www.torontocityopera.com/