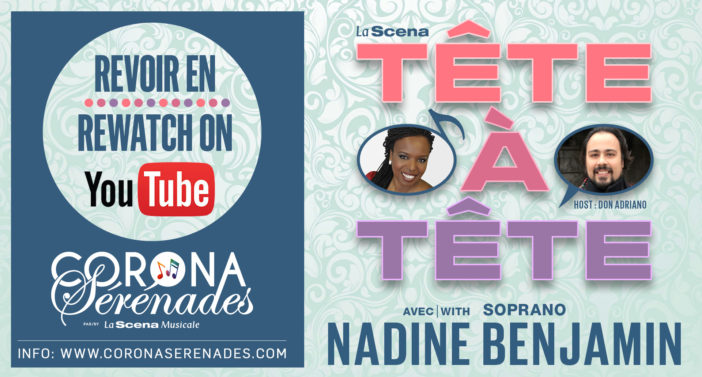 This Week in Toronto (Dec. 9 – 15)
– Joseph So
When it was reported in Le Figaro in early 2012 that French diva Natalie Dessay said she would give up singing opera, there was incredulity and sadness among her opera fans. At 48, she is at an age when many opera singers are still in vocal prime. As a high coloratura, she has been doing her vocal high-wire act for some two decades, and undeniably the voice has become less reliable in recent years. She had a widely reported vocal rest in 2003, and after vocal cord surgery she made a comeback (see an interview she gave to La Scena Musicale in 2005 http://www.scena.org/lsm/sm10-8/Natalie-Dessay.htm ) Given the taboo subject of a vocal crisis, singers are loathe to talk about it. But not Dessay. She even made a video documentary of her vocal crisis and surgery – must be a first in the history of classical singers! An extremely courageous thing to do for which she deserves applause. I heard her quite a few times over the years, as a coloratura (Koenigin der Nacht, Lucia, Sonnambula, Violetta, Manon) and a lyric soprano (Pamina) as well as in recitals, and she always gave 100% on stage. In a more recent interview in Le Figaro two months ago, she announced that her Manon in Theatre du Capitole (Toulouse) on October 15 would be her operatic farewell. Since she started in Toulouse, her career has come full circle. Now she is going to devote her energies to the song repertoire (pop and classical) as well as acting. Right now she is on a tour with French songwriter legend Michel Legrand, and she has dates in Montreal and Toronto. This will be her TO debut – an event not to be missed. Sunday Dec. 15 7 pm at Koerner Hall. http://www.rcmusic.ca/
Soprano Natalie Dessay (Photo: Simon Fowler)
Given this is December, there'll be many presentations of Messiah big and small. One of the first ones off the block is Against the Grain Theatre's re-imagining of this Handel oratorio. As a cutting-edge company, AtG never does anything conventionally and it has built up a loyal following in a short few years. According to information from the AtG website, there are no cuts to the music ("the score remains intact…"). Notice that it's advertised as AtG's Messiah rather than Handel's. Joel Ivany directs, and Jennifer Nichols is the choreographer. Based on the production photos on the website, it is going to be semi-staged. Soloists are soprano Jacqueline Woodley, mezzo Krisztina Szabo, tenor Isaiah Bell and baritone Geoffrey Sirett. AtG music director Christopher Mokrzewski conducts the AtG orchestra and chorus. Venue is the Opera House at 735 Queen Street East. This is billed as "a 19+ event" so be prepared for some nudity. Tickets apparently are going fast so call first! http://www.againstthegraintheatre.com/shows/messiah
Against the Grain's Messiah (Photo: www.againstthegraintheatre.com)
Canadian heldentenor and CBC's Saturday Afternoon at the Opera host Ben Heppner is making a comparatively rare appearance in Toronto, with the Toronto Mendelssohn Choir in a Festival of Carols. Noel Edison leads the venerable TMC. It is at the Yorkminster Park Baptist Church on 1585 Yonge Street on December 11 7:30 pm.
Tenor Ben Heppner at his CBC controls
Speaking of tenors – I don't ever remember two of Canada's best known tenors, Ben Heppner and
Richard Margison
, appearing in Toronto in the same week. Well, it is happening! Margison is joining
Marco Parisotto
of the
Ontario Philharmonic
in
Nessun Dorma
, an evening of opera and song, featuring the works of Puccini, Verdi, Rossini, Ponchielli, Cilea, Leoncavallo and di Capua. Since for years 'Nessun dorma' is Margison's calling card, he is ending the concert with this aria. December 10 8 pm at
Koerner Hall
.
http://www.ontariophil.ca/index.php?ID=1#subscript
Tenor Richard Margison
The
Toronto Symphony Orchestra
is presenting its annual
Christmas Pops
concert, led by
Seven Reineke
with soprano
Ashley Brown
as soloist. On the program are all the popular pieces from Jingle Bell Rock to O Holy Night – it'll put you in the Christmas spirit! Three performances in
Roy Thomson Hall
, Dec. 10 at 8 pm, and Dec. 11 2 and 8 pm.
http://tso.ca/en-ca/Home.aspx