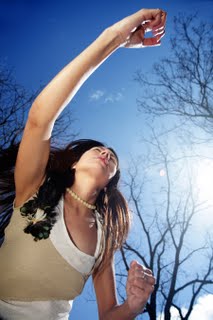 Image from Giiwedin, a First Nations opera by Spy Denomme-Welch and Catherine Magowan
My first choice this week is the premiere of
Giiwedin
, a First Nations opera by
Spy Donomme-Welch
and
Catherine Magowan
. It tells the story of Noodin-Kwe, a 150 year old native woman fighting for her land. I wrote the cover story in the new issue of The Music Scene, which you can access at
http://www.scena.org/tms/tmspdfindex.html
It stars First Nations mezzo-soprano
Marion Newman
in the role of Noodin-Kwe. The preview is on April 6, 8 pm at the Theatre Passe Muraille. The show opens on April 8, 8 pm. Performances continue to April 24. For details and ticket information, go to
http://nativeearth.ca/en/index.php?option=com_content&view=article&id=11&Itemid=11
The composers are being interviewed by
Alexa Petrenko
at 3 pm, on
Alexa's Oasis
, at the New Classical 96.3 FM. You can listen online!
On the piano front, the big news this week is the appearance of Lang Lang with the Schleswig Holstein Festival Orchestra and Christoph Eschenbach at the Roy Thomson Hall on Tuesday, 8 pm. Lang Lang is playing Mozart Piano Concerto No. 17, an interesting change from his usual repertoire lately. Also on the program is Prokofiev Symphony No. 1 and Beethoven Symphony No. 7. Tickets are hard to come by, so act fast! On April 11 at the rather odd time of 3 pm at Koerner Hall of the Royal Conservatory of Music, Louis Lortie plays a program of Chopin. Last time I heard him was at Roy Thomson Hall playing the Ravel Piano Concerto. Any appearance by Lortie is an eagerly anticipated event. On April 7 at noon, at the Richard Bradshaw Amphitheatre, Four Seasons Centre for the Performing Arts, pianist Linda Ippolito gives a recital, Frites with Salsa, a program of Latin music. On the program are pieces by Poulenc and Ginastera – a most interesting combination! Remember to show up 45 minutes in advance for a seat at this free event.
On April 7, 6 pm
Tafelmusik
presents
Forces of Nature,
with works by Vivaldi, Rameau, Haydn, Telemann and others, with
Jeanne Lamon
at Trinity St. Paul's Centre. Additional performances on April 8, 9, 10, 11. Go to
http://www.tafelmusik.org/concerts/earthday.htm
for details.
The Toronto Symphony Orchestra presents Bach's B Minor Mass on April 8 and 10 at Roy Thomson Hall. Noted conductor Helmuth Rilling leads a quartet of soloists (soprano Emily Hindrichs, mezzo Ingeborg Danz, tenor Lawrence Wiliford, and baritone Andrew Foster-Williams) together with the University of Toronto Macmillan Singers. This magnificent oratorio is not to be missed.
On April 9 2 pm at the Glenn Gould Studio,
Sinfonia Toronto
presents
Favourite
Fireworks!
– an eclectic program of orchestral pieces by Mozart, Saint Saens, Waxman, Schmidt, Piazzolla and Shostakovich featuring violinist
Xiaohan Guo
and pianist
Heather Schmidt.
Finally, the
Off Centre Music Salon
under the co-directorship of
Inna and Boris Zarankin
presents
Klezmer On the Roof!
– a program of "Jewish Music", with soprano
Joni Henson
, mezzo
Annamaria Popescu
, accordionist
Joseph Macerollo
and the
David Buchbinder Ensemble.
For details and tickets, go to
http://www.offcentremusic.com/