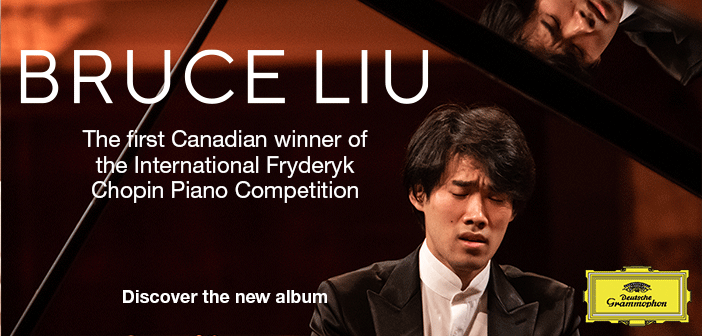 Stephane Deneve conducts all French program at TSO
Stephane Deneve, the maestro with the wild hair, is back with the Toronto Symphony Orchestra, this time in three performances of an all-French program – Poulenc's Concerto for Two Pianos, Debussy's familiar Prelude a l'apres-midi d'une faune, and the even more popular Symphonie fantastique by Berlioz. Pianists are Frank Braley and Eric LeSage. May 1, 2, and 4 8 pm at Roy Thomson Hall.
Mezzo Krisztina Szabo (photo: Bo Huang)
As part of the
Canadian Opera Company's Free Concert Series
, the
Queen of Puddings Music Theatre
, under the co-direction of
Dairine Ni Mheadhra
and
John Hess
, will present
Inspired by Lorca.
It features
La Selva de los relojes (The Forest of Clocks)
, a new vocal chamber work by composer
Chris Paul Harman
, based on poetry by Spaniard Frederico Garcia Lorca. The soloist is mezzo
Krisztina Szabo
. This concert marks the final offering by the Queen of Puddings Music Theatre's twenty-year run. The company officially concludes operations on August 31. In a press release, the co-artistic directors explains: "With Queen of Puddings, we've achieved what we set out to do, which was to commission and produce original Canadian opera to a high artistic standard, and to develop an international profile for this work. In this current season the company is thriving…We want to conclude in a year like this, which is full of artistic pleasure, highlights, and fulfillment of our goals…" Any time a performing arts group bids farewell, it is always with some sadness. So supporters of Queen of Puddings should do well to show up in force on Tuesday April 30. The other presentation of the COC Free Concert Series this week is
Serenade Francaise
, on Thursday. The
COC Ensemble Studio
members sing songs by Ravel, Poulenc and Milhaud. No program details at the moment so I don't know who are actually singing. Several of the Ensemble singers are graduating this spring so watch out for their farewell concerts in May. Given that these shows are free and highly popular, be sure to line up an hour ahead for a seat. Both concerts at the Richard Bradshaw Amphitheatre, Four Seasons Centre.
http://www.coc.ca/PerformancesAndTickets/FreeConcertSeries/May.aspx
Tenor Stephen Costello is Edgardo in COC's Lucia di Lammermoor (Photo: www.stephencostellotenor.com)
If you haven't already, be sure to catch the two
Canadian Opera Company
productions currently onstage at the
Four Seasons Centre.
I attended the third performance of
Lucia di Lammermoor
on Friday and was totally blown away by the Edgardo of American tenor
Stephen Costello
. I had actually seen his Edgardo once before, four years ago at Opera de Montreal. He was indisposed at the time so we didn't get to hear him at his best. This time around he's amazing – what a voice! Fabulous, ringing tone, great high notes, and handsome stage presence. His Edgardo is a bit on the scruffy side, deliberately I am sure to go with the Alden "concept" production. Performance on Tuesday April 30 at 7:30 pm.
Salome
is scheduled for May 1 and 4.
http://www.coc.ca/Home.aspx
Soprano Sophie Daneman (Photo: Askonas Holt)
The very lovely voice of soprano
Sophie Daneman
is the soloist (sharing the stage with tenor and Tafelmusik audience favourite
Rufus Muller
) in Tafelmusik's
A Handel Celebration
this week.
Ivars Taurins
leads the
Tafelmusik Baroque Orchestra
forces in arias from
Solomon, Esther, Judas Maccabeus, Theodora, Semele, Hercules
and others. Five performances May 1 to 5 at the
Trinity-St. Paul's Centre
. There will be one performance at the
George Weston Recital Hall
in North York on May 7.
http://www.tafelmusik.org/concert-calendar
Violinist James Ehnes (photo: Benjamin Ealovega)
One of the most beloved of Canadian classical musicians, violinist
James Ehnes
, will be the soloist in the 115th Anniversary Concert of the
Women's Musical Club of Toronto
on May 2 at
Koerner Hall
. I think this is the oldest concert presenter in Toronto, if not in Canada. Ehnes is joined by another Canadian icon, baritone
Russell Braun
and his wife, collaborative pianist
Carolyn Maule
. Together they will perform music of Bach, Beethoven, Paganini, Vaughan Williams, Butterworth and Barber. Also there will be a world premiere of a work by John Estacio. This is an important event of the spring season. Over the years, WMCT has presented many wonderful artists and it remains a vital force in the musical life of our city.
http://www.wmct.on.ca/
Baritone Russell
Braun and pianist Carolyn Maule (Photo: www.russellbraun.com)
The
Canadian Children's Opera Company
, under the artistic direction of Ann Cooper Gay, is reviving
Laura's Cow: the Legend of Laura Secord
, by
Errol Gay
and
Michael Patrick Albano
. This work received its premiere as part of last year's Luminato Festival in Toronto. I saw it then and found it enormously entertaining, suitable for the young and the young-at-heart. This time around, it will be given two performances on May 3 and 5 7:30 pm at the
Enwave Theatre
at Harbourfront.
Ann Cooper Gay
conducts and
Michael Patrick Albano
directs.
http://www.canadianchildrensopera.com/
Offenbach fans can look forward to the
Toronto Operetta Theatre'
s presentation of
La vie Parisienne
on April 30 8 pm at the
Jane Mallett Theatre
. It's very unlikely that this frothy piece will get a staged production around these quarters any time soon – never mind it is a staple in the repertoire in France and the Germanic countries – so this is an opportunity to experience its magic. It stars soprano
Elizabeth DeGrazia
, mezzo
Lauren Segal
, and tenor
Christopher Mayell
.
Larry Beckwith
conducts, and the director as usual is
Guillermo Silva-Marin
. Additional performances on May 2, 3, 4, 5, the last one a matinee.
http://www.torontooperetta.com/index.htm
The artists-driven
Opera by Request
is presenting Janacek's masterpiece,
Jenufa
on Sunday May 5th at 2 pm. During the time of Richard Bradshaw, the COC regularly presented works of the Czech composer. Productions such as
Jenufa, Makropoulos Case, Katya Kabanova, Cunning Little Vixen
and
From the House of the Dead
(this last one Bradshaw did not live to conduct it) were artistic triumphs even if not always box office successes. Given that Janacek is no longer high on the repertoire list at the COC, here is a chance to hear this beautiful opera.
College Street United Church
(at College and Bathurst).
http://operabyrequest.ca/wordpress/