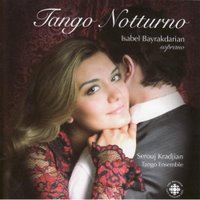 Isabel Bayrakdarian, soprano, Serouj Kradjian, piano; Fabian Carbone, bandoneon; Marie Berard, violin; Roman Borys, cello; Roberto Occhipinti, bass; Shalom Bard, clarinet; Daiel Bolshoy, guitar; Levon Ichkhanian, oud
CBC Records MVCD 1176 (70 m 15 s)
***** $$$
Arguably more than any other musical genre, the tango epitomizes romance – or should I say desire – in all its varieties. Though Latin in origin, tango is really an international genre, as this CD amply demonstrates. Prominently featured are of course the magical pieces by the famous Argentinean tango masters Carlos Gardel and Astor Piazolla. But equally important are the works by Danish, German, Egyptian and Armenian composers featured on this disc. In fact, one of the most popular of all tango melodies, "Jalousie", was written by Jacob Gade, a Dane; and the more adventurous minded should seek out a highly enjoyable disc sung by, of all people, the great basso profundo Matti Salminen in a delicious selections of Finnish tango music!
This new disc from CBC Records stars soprano Isabel Bayrakdarian. Her affinity to the Latin genre is well known, witness her Azulao disc on CBC, and in particular her lovely interpretation of Villas-Lobos' Bachianas brasileiras No. 5. While her lyric instrument is a departure from what one is used to hearing in these sultry songs, Bayrakdarian's stylish singing here is a marvel. She combines a beautiful voice, solid technique, innate musicality, not to mention immaculate diction and great attention to textual nuance. A true vocal chameleon, one is struck by the variety of timbres and accents she employs, from an innocently girlish sound in some of the pieces to a highly dramatic and world-weary timbre in Piazolla's "Rinacerò", the last selection on the disc. She is beautifully supported by the Tango Ensemble on this recording, led by the collaborative piano of Bayrakdarian's husband, Serouj Kradjian, an accomplished pianist in his own right. Playing no small part is the idiomatic bandoneón of Fabián Carbone. Also deserving of mention is Canadian Opera Company concertmaster Marie Bérard, for her lovely violin solo in "Jalousie". Kudos to the CBC engineers for a most atmospheric recording, a few overdone reverbs notwithstanding. On balance, this disc has my vote as the best "World Music" album by a Canadian classical artist in 2007.
-Joseph K. So