Advertisement / Publicité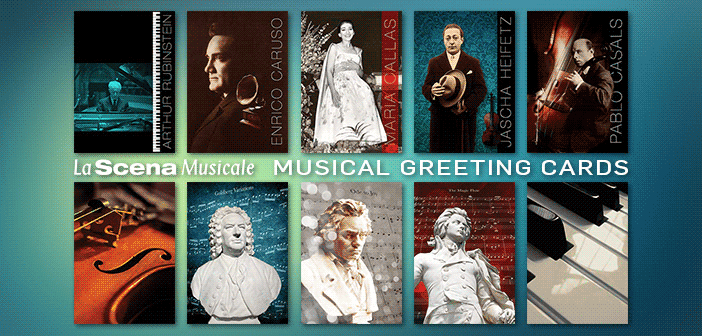 Sondra Radvanovsky at Koerner Hall the Vocal Highlight of the 2015-16 Season 
Koerner Hall, Toronto, December 4th 2015
Sondra Radvanovsky, soprano
Anthony Manoli, piano
Show One Productions
Vivaldi: Sposa son disprezzata – Bajazet
Bellini: Per pieta, bell'idol mio / La ricordanza / Ma rendi pur contento
Strauss: Allerseelen / Befreit / Morgen / Heimliche Aufforderung
Liszt: Petrarch Songs
Barber: Hermit Songs
Giordano: La mamma morta – Andrea Chenier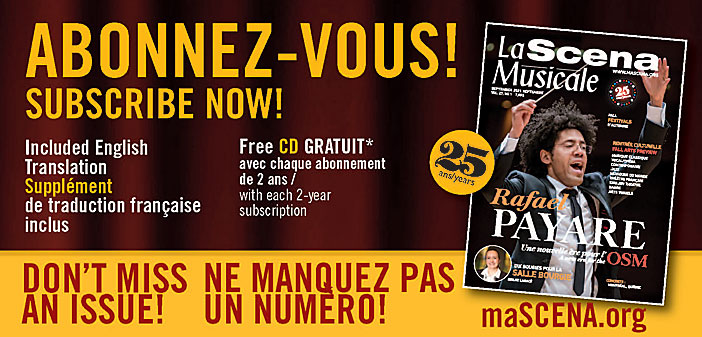 Encores: Song to the Moon / Beneath the Lights of Home / Pace, pace mio Dio / O mio babbino caro
Soprano Sondra Radvanovsky and pianist Anthony Manoli (Photo: Joseph So)
Opera fans are fond of giving their favourite divas endearing nicknames.  La Divina was of course the one and only Maria Callas. The moment you hear the voice of the great Dame Joan Sutherland, you'll understand why she was La Stupenda to her fans. To me, the apt moniker for soprano Sondra Radvanovsky is La Favolosa, or "Sondra The Fabulous".  The American-born Radvanovsky is clearly the Diva of the 21st Century. And how lucky we Toronto opera fans are, to have her living only a stone's throw from our fair city.
Although she's been living here for a decade or so, she only started singing in Toronto not that long ago. To my knowledge, the first appearance was in the LUNA concert in the first year of Luminato Festival. Then it was her COC debut in the title role of Aida, plus a noon hour concert at the Richard Bradshaw Amphitheatre. She sang a joint concert of Verdi Arias with Russian baritone Dmitri Hvorostovsky under the auspices of Show One Productions. Torontonians also got to hear her first-ever Vier letsze Lieder with the Toronto Symphony Orchestra. The undisputed "Bel Canto Queen" of the 21st century, Radvanovsky sang Roberto Devereux with the COC a couple of seasons back, and it's a bit of an open secret that she'll be Norma here very soon, not to mention further projects down the road.
Radvanovsky and Manoli (Photo: Joseph So)
In the meantime, we can whet our appetite with her various appearances in town. Earlier this week, she was the "master" in the Riki Turofsky Masterclass at the University of Toronto Faculty of Music. Though it was in the middle of a workweek afternoon, Walter Hall was the fullest I've witnessed for a masterclass. She was an amazing teacher, but I digress!   Last evening, she gave a recital at Koerner Hall that clearly showed to the audience that she was indeed La favolosa, combining magnificent vocalism with an exuberant stage persona. It was the vocal highlight of the young 2015-16 season, in my mind beating out even the great Renee Fleming back in October.
Radvanovsky overwhelmed by the tremendous audience accolades (Photo: Joseph So)
She opened with the gorgeous aria from Vivaldi's Bajazet, sung with exemplary legato, rock solid control and endless breath supply, a stunning start to the concert. Then it was three Bellini songs that amply demonstrated why she's considered the finest Bel Canto soprano of our time, pace Edita Gruberova and Mariella Devia groupies! Rarely do we encounter a singer with Radvanovsky's full palette of tone colours and the level of vocal control.  Her pianissimi are particularly astonishing, and I am old enough to say I've heard Montserrat Caballe in her prime, and also Leyla Gencer at the tail end of her career. Radvanovsky does not take a back seat to those two ladies.  When it comes to forte, Sondra has both of them beat in the decibels department.  Of course great singing is more than volume, and Radvanovsky is an extremely sensitive musician and everything was sung with a surfeit of expression, even if there wasn't the "word pointing" that one sometimes encounters in Lieder recitals given by singers, often with more modest instruments. Her long-time collaborative pianist Anthony Manoli was extraordinarily sensitive and supportive, taking a very slow tempo, obviously favoured by the singer.  Despite the slowness, it did not drag, and he held everything together admirably.
Before her Strauss group, the soprano told the audience it was her first try-out, and she used the score on a music stand. Her German was good if rather Italianate, with some suppression of the consonants and a rather subdued |u| vowel. All the pieces were taken very slowly, but hey, if you have the breath, why not… I loved all four Strauss pieces, but particularly Befreit and Morgen. Heimliche Aufferoderung is usually a "man's song" given it requires a big sound to do it justice.  Well, Ms. Radvanovsky sang it with such volume and beauty of tone that my ears were ringing. After intermission, she was back on familiar ground with the Liszt songs, with a particularly exquisite Oh! Quand je dors, among the very best I've heard in near 50 years of concert-going. For a change of pace, it's the Hermit Songs by Samuel Barber, a beautiful cycle composed for Leontyne Price, a favourite singer of Radvanovsky. She told the audience that James Levine introduced Sondra to the great Leontyne as "Leontyne, meet Sondra, the new you."  Price's reply was suitably priceless – "Don't be the New Me, but be the one and only New You!"  Perfect!
"Here's a tiny bit more of an encore"  (Photo: Joseph So)
Radvanovsky ended the formal part of the program with an opera aria, Maddalena's La mamma morta from Andrea Chenier. This verismo piece suited her perfectly, and the high B at the end was suitably ecstatic.  Interestingly she took the traditional, low option to end, rather than singing an octave higher like most sopranos with the easy top. The audience waited the whole evening for some opera and this piece certainly put them into a frenzy. Thunderous applause and repeated standing ovations led to the encore of Song to the Moon.  Marie, my concert companion last evening, is Czech, and she was brought to tears by her Rusalka. Marie also said the soprano's Czech diction was absolutely perfect – it helps that Radvanovsky's late father was Czech!  Sadly, he didn't live long enough to see his daughter onstage…
A second encore was a surprise to many – Canadian born Hollywood star Deanna Durbin's "Beneath the Lights of Home" from her movie, Nice Girl. Radvanovsky actually sang this at her concert at 96.3 FM nearly six years ago. (Here's my interview with her after the radio show back in March 2010 –  http://blog.scena.org/2010/03/interview-sondra-radvanovsky-at-new.html  )  The soprano sang this sentimental song as beautifully as one possibly can. Then it's back to 'meat and potatoes' opera arias, with Pace, pace mio Dio from Forza. Well, with her volume of sound in the fortissimo ending, I swear the walls shook.  Three encores are standard these days, but the audience would not let her go. So she rewarded everyone with a little bit more – the 2 minute "O mio babbino caro."  I am sure we won't ever get to hear the huge-voiced Sondra sing the soubrette role of Lauretta on stage in our lifetime, but the soprano gamely dished out oodles of girlish charm to convince her father that if she doesn't marry Rincuccio, she'll jump into the Ponte Vecchio.  You know what – I almost believed her! It was a delicious end to a magnificent recital, definitely the vocal highlight of the still-young 2015-16 season.