Advertisement / Publicité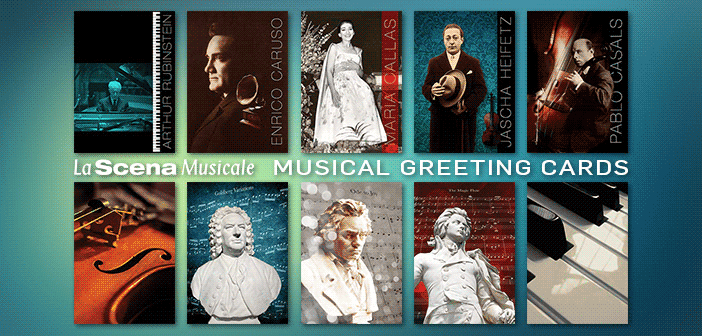 Sondra Radvanovsky Offers Spectacular Toronto Summer Music Recital (Review)
– Joseph So
Koerner Hall / Thursday July 31st 2014 7:30 pm
Sondra Radvanovsky, soprano
Anthony Manoli, piano
Beethoven / Ah! Perfido
Verdi / In solitaria stanza; Perduta ho la pace; Stornello
Rachmaninoff / A Dream; Oh, never sing to me again; How Fair this Spot; Spring Waters
Cilea / Io son l'umile ancella
Duparc / Chanson triste; Extase; Au pays ou se fait la guerre
Massenet / Pleurez, pleurez mes yeux
Copland / Simple gifts; Long time ago; At the river
Verdi / Pace, pace mio Dio
Encores: O mio babbino caro; I could have danced all night
Radvanovsky and Manoli at Koerner Hall
One of the most anticipated events of the 2014 edition of the TSMF is the appearance of soprano Sondra Radvanovsky in recital. The Illinois-born soprano is arguably the greatest gift America has given to Canadian opera fans – an artist with an exceptional voice, a surfeit of dramatic acuity, abundant musicality and powerful stage presence. At one point in the evening, she revealed to the audience that she's been living in Canada, not far from Toronto, for the last 14 years, as she's married to a Canadian. Yet her appearances here had been rare in the first ten of those years – I could only recall a guest appearance in Luna, the opera gala at Roy Thomson Hall that was part of the Luminato Festival in 2007. If memory serves, she sang a terrific "Casta Diva" on that occasion. There was also a duo recital with Russian baritone Dmitri Hvorostovsky about three or four years ago. Her first big splash locally was Aida at the Canadian Opera Company in fall of 2010. It really gave Toronto opera fans a true taste of her voice. This past spring, she sang her first Vier letzte Lieder with the Toronto Symphony Orchestra.
Radvanovsky's voice is comparatively rare among sopranos. It's a genuine lirico-spinto, with excellent agility and dramatic soprano aspirations for the future, as a voice typically darkens with age. The timbre is beautiful, particularly in the quieter moments, plus a great reserve for the climaxes. When high drama is called for, she can outsing anyone in pure decibels. Her technique is absolutely rock solid – there's never any fear that she might not make a high note. It's a huge voice, yet capable of the most delicate pianissimi that rival the legendary Zinka Milanov and Montserrat Caballe. I first heard Radvanovsky in La traviata at Santa Fe Opera around 2002. The voice then was much lighter, more lyrical compared to now. I believe Violetta is no longer in her active repertoire, having been replaced by other great Verdi heroines the likes of the Trovatore Leonora, Elisabetta in Don Carlo, Amelia in Ballo, Elena (Vespri), Aida, Puccini's Tosca, as well as the bel canto roles like Norma and the Donizetti's Three Queens. In fact, it was her Elisabetta from Roberto Devereux earlier this year that gave Radvanovsky the complete triumph in Toronto that she so deserved. (Her Aida four years ago was superbly sung, but that nearly universally disliked production did her no favours.) In the intervening years, her voice has gotten darker while losing none of its flexibility, making her ideal in the heavier Verdi and Bel Canto operas. At the time of her COC Aida, I had the pleasure of interviewing Radvanovsky when she appeared for a noon hour concert at 96.3 FM, the interview of which is archived at http://blog.scena.org/2010/03/interview-sondra-radvanovsky-at-new.html
It was a real coup for Toronto Summer Music to bring her on board for a concert on July 31. With her was her long time collaborator and coach, pianist Anthony Manoli. Koerner Hall was nearly sold out with only the odd empty seat here and there. There was palpable excitement in the air, a kind of buzz that's reserved for the great divas and divos. She began with Beethoven's great concert aria "Ah! Perfido." Taken very slowly – especially the Adagio section – she brought out all the nuances of the music, making the expansive lines sounding almost like the cantilena in a Bellini aria. Even at this slow tempo, the very long slow section held together well, thanks to the excellent work of pianist Anthony Manoli. This was followed by three Verdi songs, all very well known, especially "Stornello." In these songs you can hear snippets of melodies which Verdi later recycled, with modifications, for his operas. The four Rachmaninoff songs were from his Six Romances Op. 8 and Twelve Romances Op. 14 and 21, including two of my favourites, 'Ne poy krasavitsa' ("Do not sing to me again") and 'Spring Waters.' Radvanovsky sang the 'Ne poy' with a ravishing half voice. On the other hand, 'Spring Waters' requires plenty of volume and an ecstatic quality in the delivery. The soprano had plenty of both, using her huge voice and exuberant personality to let it rip and the effect was stunning. Kudos to Manoli for his fabulous virtuoso piano in what is arguably the flashiest of piano accompaniments. The first half ended with 'Io son l'umile ancella' from Adriana Lecouvreur. I grew up listening to Tebaldi singing this, so in my mind the bar is set very high. Radvanovsky sang with great dynamic shading just as it's intended by Cilea. It was a hugely satisfying reading of this beautiful aria.
The second half opened with three Duparc melodies, all very familiar to the song enthusiast. These are delicate pieces and perhaps more suitable for smaller voices, but Radvanovsky sensibly scaled everything down so as not to overwhelm these gems. Then came for me the highlight of the evening, "Pleurez, pleurez mes yeux" from Massenet's Le Cid, an absolutely gorgeous aria, sung with refulgent tone, veritably dripping with pathos. I've always loved Caballe in this, and also the French soprano Francoise Pollet in her 1989 Erato recording. For me, Radvanovsky surpassed both ladies in this performance. As a nod to her American roots, Radvanovsky sa
ng three of the most popular "Old American Songs" by Aaron Copland, often performed by the likes of Thomas Hampson, Marilyn Horne and Frederica von Stade. The Shaker hymn "Simple Gifts" is set to very moving text by Elder Joseph. The soprano got all teary eyed singing "Long Time Ago." The formal part of the concert ended with a powerhouse rendition of "Pace, pace, mio Dio." The opening line was sung as Verdi intended – beginning with the softest attack, swelling on a big crescendo and followed with a diminuendo, a very sustained line that requires a lot of breath and steady intonation. For her it was a piece of cake. The long aria ended in a shattering climactic high B natural that brought down the house. After many standing ovations, the soprano rewarded the audience with "O mio babbino caro" – personally I would have preferred something meatier, but it was beautiful just the same. Still the audience would not let her go. She then sang "I Could Have Danced All Night" from My Fair Lady, complete with an interpolated high C at the end. I think the only diva who used to do that was Birgit Nilsson, notably in the party scene of the Decca 1960 Karajan recording of Die Fledermaus. Well, now there are two of them!
The audience went home happy.