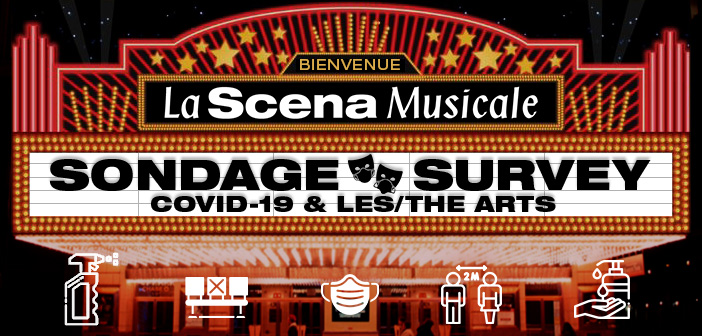 Soprano Miriam Khalil (Mimi) and tenor Roger Honeywell (Rodolfo)
Soprano Miriam Khalil as Mimi in Opera Hamilton's
La boheme
(Photo: Peter Oleskevitch)
Miriam Khalil: Artist In Focus
Joseph K. So
They say that the first love is the sweetest, to quote lyrics by hiphop artist Drake. This is certainly true with soprano Miriam Khalil.
No, it's not a comment on her romantic life but rather her artistic life. It seems that Khalil's very first live opera experience was La boheme and she fell instantly in love with the heroine Mimi. "The music took me to another world. I can easily relate to her character. She is not complicated at all and so loving…it makes her that much more approachable as a person. Her music has these moments of soaring beauty," explains Khalil in a recent conversation. By all accounts, her Mimi for Opera Hamilton last season was lovely, combining womanly warmth and vulnerability with gleaming vocalism. I ask her if she listens to recordings of Mimi in her preparation for the role – " I do – my favourite is Mirella Freni, and I also listen to Anna Netrebko for a different perspective. I like to see what different people bring to the role, but once I start to prepare it vocally, I don't listen to anyone."
Sadly I wasn't able to experience her Mimi due to an out of town assignment. The good news is that she is now bringing it to Toronto, in a revival of the freshly unorthodox La boheme for the Against the Grain Theatre, seen for the first time last Spring. In fact, Khalil was scheduled to sing it but when she got the call to go to the Glyndebourne Festival to appear as Almirena in Handel's Rinaldo, it was an opportunity too good to pass up.
This summer was her third at Glyndebourne. In 2009, she was recommended to Glyndebourne by artist manager Deborah Sanders of IMG as a cover for Danielle di Niese in the role of Cleopatra in Handel's Giulio Cesare. As luck would have it, di Niese became ill in the middle of a performance on June 10, and in the best tradition of "the show must go on", Khalil stepped in. "I sang from the side in Act 2 and I went on in costume for Act 3." Her ability to step in and did a nice job got her rehired the following year as a cover for Zerlina in Don Giovanni. She didn't get to go on, but it was a great experience just the same. It isn't every day that a young singer still in the early years of a career gets to have European exposure at such a prestigious house. This past summer, covering Almirena, Khalil was called upon to sing one performance, an important step in her career development.
Equally important in her young career was a first place at the Great Lakes Regionals of the 2007 Met Auditions. It led to her being invited to New York with the possibility to be in the Finals. If you look carefully, you will see her appearing briefly in the documentary, The Audition, that was part of the Met in HD series a couple of years ago. In the end, Khalil wasn't selected to be the final ten, but it was another important learning experience. "It was a slightly surreal and overwhelming experience to be on that stage, thinking that hopefully one day I will get to sing there," Khalil recalls. She is smart enough to know that as an artist, one never stops perfecting one's art. Over the years, she's been under the tutelage of several voice teachers – Jean McPhail (who also taught Isabel Bayrakdarian), Timothy Noble, Diana Soviero, and most recently Canadian soprano Wendy Nielsen. With maturity and training, the Khalil soprano has gained in strength, substance, and technical ease. Looking into the future, Khalil aims to stay focused on her core repertoire of Mozart and the Baroque masters, trying to keep the voice appropriately light and airy, so important in this repertoire. Future engagements, in addition to a number of concerts, will be Frasquita in a Pacific Opera Victoria Carmen later this season.
Against The Grain Theatre's La boheme
Based on performance statistics from 2005 to 2010, Puccini's La boheme at 447 performances is the fourth most popular opera in the world, just behind Die Zauberfloete, La traviata and Carmen, but ahead of such warhorses as Tosca, Don Giovanni and Madama Butterly. Its perennial appeal is easy to understand – perhaps more than any other opera, its story is about youth, love and life. Few operas resonate in the hearts of a contemporary audience like La boheme. In that spirit of a contemporary take on an old classic, the Against The Grain Theatre production is conceptualized by the creative team of director Joel Ivany, designer Camellia Koo and lighting designer Jason Hand. This team won third prize in the European Stage Directing Prize for their concept production of Bellini's I Capuleti e i Montecchi earlier this year.
The opera will be sung in English, and I understand that the newly rewritten libretto by Joel Ivany will be full of local references. In keeping with a 2011 take on the Puccini masterpiece, Ivany's unexpurgated libretto will be provocative. The performing space is equally unorthodox, to take place in the bare-bones environs of the Tranzac Club in the Annex, an appropriately Bohemian neighborhood full of University of Toronto students. Instead of taking place on a stage, the performers will be interspersed among the audience, giving the proceedings a sense of immediacy and realism. This concept production follows a long tradition of updating this most "updatable" of operas. In the early 90s, the Opera Australia production by Baz Luhrmann had a thoroughly modern
Boheme
, with an extremely photogenic tenor David Hobson as Rodolfo opposite the lovely Cheryl Barker as Mimi. Luhrmann has since brought his concept to Broadway with spectacular success. Recently I saw a
Boheme
telecast on Swiss TV where the opera takes place in a high-rise! Updating is always a tricky business, and any conceptual re-imagining will not please everyone. The best way is to decide for yourself. There will be three performances, on Dec. 1 -3 at 8 p.m. at the Tranzac Club, 292 Brunswick Avenue in the Annex area of downtown Toronto. Cast includes Miriam Khalil (Mimi), Ryan Harper (Rodolfo), Justin Welsh (Marcello), Lindsay Sutherland Boal (Musetta), Neil Craighead (Colline) and Keith Lam, plus a full chorus.
http://againstthegraintheatre.com/index/Home.html