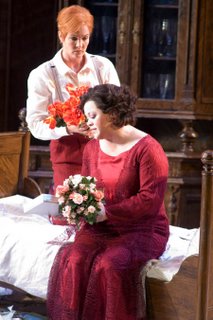 Marlis Petersen (Zdenka) and Pamela Armstrong (Arabella)
Photo credit: Wilfrid Hoesl
My operatic feast here in Munich began last night with a performance of Arabella. We arrived at the theatre and found a dreaded white strip of paper in the program, signaling a cancellation. Soprano Anja Harteros was indisposed and Pamela Armstrong, an American, replaced her. I was so looking forward to hearing the much celebrated Harteros, a German soprano of Greek parentage and a Cardiff Singer of the World winner a few years ago. She sung to great success at the Met in recent seasons but I have not managed to catch her live. As for Armstrong, I only knew her as the Nozze Contessa and Rosalinda from Fledermaus – a well schooled, stylish singer with a beautiful sound.
The company has retired the 1977 production of Arabella, the one I was familiar with during the Dietrich Fischer-Dieskau-Julia Varady era. The "new" 2001 production is more symbolic than representational, more in keeping with modern-day theatre design and direction sensibilities. Call me a traditionalist – while I found that it had its moments, it didn't touch the heart like the old production.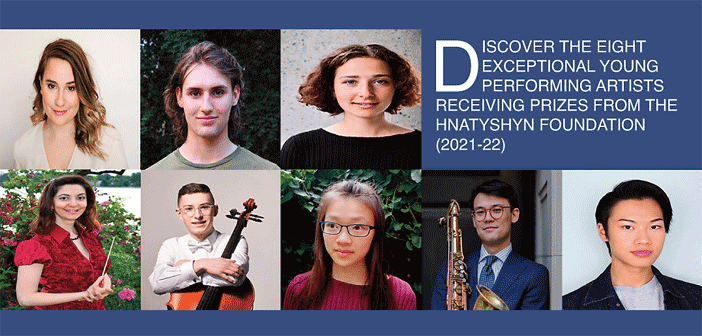 The curtain opened to what looked like an attic. The stage floor was severely raked and covered in papers (unpaid bills!). An auctioneer began appraising the furnishings and workmen took pieces off stage. A quirk in the direction: the Adelaide-Fortune Teller scene had Arabella onstage observing the proceedings, something I'd never seen before. The Fortune Teller was costumed more like a "lady of the evening" than your conventional gypsy fortune teller. I am sorry to report that as Arabella, Armstrong sounded underpowered in the middle and lower registers and tentative in her delivery. I was in the 10th row, but I had trouble hearing her middle and lower registers. But she got stronger as the evening went along, in the end delivering a beautiful last act aria. Physically she is not ideal as the heroine, especially in this production. She has gained weight since the last time I saw her, a bit plump and short, looking rather matronly, especially compared to the tall and willowy Harteros. Physically Armstrong and Marlis Petersen (Zdenka) aren't the best match. Armstrong's voice sounded smaller than the fabulous Marlis Peterson as Zdenka, resulting in a musically unbalanced Act One duet Aber der Richtige. The conductor (Stefan Soltesz) stopped the orchestra afterwards for applause but there was none.
I don't want to give the impression that Armstrong was a bad Arabella. She is a fine singer with a lovely voice perfect for Strauss in the Schwarzkopf mode. But at least on this occasion, it lacked impact in the theatre, and her overall portrayal was under-energized. To her credit, she got better and better, and her finest moment was Das war sehr gut at the end. She opened the aria with really lovely, pure tones which finally won me over. But perhaps for some of the more critical members of the audience, it was too little, too late.
To my eyes, the unit set did not work all that well for Act One and lacked grandeur for Act Two. A bed was left in stage center. I suppose in post-modern deconstructionist discourse, Arabella is all about sex, but do we really need a constant reminder? Mandryka was Bavarian evergreen Wolfgang Brendel. I first heard him in the 1980s at the Met; he was in possession of one of the most beautiful baritone voices at the time. Now well into his third decade of singing, the voice is still in good shape, but inevitably it has lost a certain amount of vocal sheen and richness. His technique didn't have quite the freedom of the past, and his vocal production is a little stentorian, lacking a full palette of tone colours. But given the nature of Mandryka's character, I thought Brendel did well. Unfortunately, the audience didn't agree with me, and he was greeted with some boos. More shocking was the persistent booing of Pamela Armstrong, who didn't deserve such boorish behaviour from a small segment of the audience. She is a lovely singer and there was much to enjoy in her performance. Perhaps an announcement before the show would have curbed some of the boo-birds – afterall, she stepped in with a couple of days' notice to save the performance, and Arabellas don't grow on trees!
The rest of the cast was exceptionally strong, notably Alfred Kuhn as a wonderfully dotty Graf Waldner. His voice is typical of a comprimario, but it is steady and without the wobble one often encounters in superannuated house singers. And what acting! He pretty much stole the show. Marlis Peterson made a totally believable boy, and her soubrette sound was ideal as Zdenka. A strange quirk in the direction by Andreas Homoki: in the first encounter between Zdenko (Zdenka) and Matteo, he/she has her hands all over Matteo's body and he doesn't bat an eye. Perhaps this is the director's way of introducing a homoerotic element to the story? As Matteo, Will Hartmann, whom I only know from his Tamino, hit all the high notes. He sang everything without having to yell in his ridiculous Strauss tenor role. The other suitors (Elemer, Dominik and Lamoral) were all fine, as was the silly role of Fiakermili, sung with great flair by Sine Bundgaard.
The best part of the performance was the wonderful orchestral sound under the firm direction of Stefan Soltesz. The overall performance, though not quite up to festival standards, was good and I am glad I saw it.
Joseph So
Munich