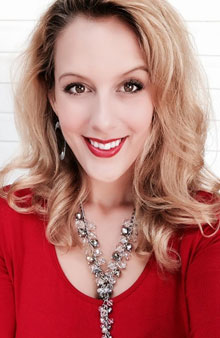 Quebec City soprano Karine Boucher won First and the Public Prize at the 2013 Canadian Opera Company Ensemble Studio Competition. In reviewing the competition, LSM's Joseph So wrote: "Hers is a rich, full lyric voice of quality and volume, the kind of voice that is always in short supply. Boucher's performance of Marietta's Lied from Die Tote Stadt was lovely, with her rich tone just perfect in this music, although one would have liked a more developed high piano that is absolutely essential in this piece. Boucher has an impressive instrument and she has the stately look of a mature artist on stage. She would be a fine Contessa in Nozze, for example."
A student of Jacqueline Martel Cistellini at the Conservatoire de musique de Québec since age 13, the 25-year-old Boucher spent three years apprenticing with the Atelier lyrique of the Opéra de Montréal, and this season joins the COC Ensemble Studio in Toronto.
Her recording of French melodies by Ernest Chausson, Pierre Onfroy de Bréville and Gilles Auger with pianist Jérémie Pelletier has just been released on Espace 21 and will be included as one of the Discovery CDs of the Week for October.