Holiday Potpourri

Pleasures of my 2015 Holiday Season?  Friends and Family, Eat, Drink and be Merry. Good Reads, and of course some Wonderful Music.

~ Joseph So
While I'm not exactly a cold-weather fan, December remains a favourite time of year for me. All the trappings of the Holiday Season, main thoroughfares of Toronto like Bloor and Yonge brilliantly lit by twinkling Christmas lights, not to mention the excuse to indulge guilt-free (relatively) all the food and drink meant for this time of year. And above all, it's the opportunity to reconnect with family and friends from near and far. December is incomplete for me if I don't attend a Messiah or two. As usual this year, it was the Toronto Symphony Orchestra's mega version with big-voiced soloists and huge forces of the Toronto Mendelssohn Choir. Tt was followed the next day by the unconventional vision of Against the Grain Theatre's staged version. I ended up liking both. The well loved TSO version will always be dear to my heart, but I also see the merits in AtG's much  more intimate approach with its spontaneous and heart-felt qualities. Here's a link to my review – http://blog.scena.org/2015/12/a-tales-of-two-messiahs-toronto.html
Columbus Circle looking North, New York, Christmas 2015 (Photo: Joseph So)
I traveled to New York for a quickie pre-Christmas family visit. If Toronto in December is beautiful with all the Christmas decorations, the Big Apple is positively spectacular.  Of course the magnificent tree in the Rockerfeller Centre is a highlight. As I walked north on Columbus Circle towards the Metropolitan Opera, the decorated trees were breathtaking. The Die Fledermaus I saw was typical Holiday fare at the Met – easy entertainment, beautiful sets and costumes, nothing too challenging for an audience set on enjoying the seasonal festivities. This smart-looking two-year old production epitomizes what used to be the standard aesthetic at the Met, an old fashioned opulence that the conservative segment of the audience finds endearing.  Sung in English together with newly written English dialogue, I almost felt like I was seeing a Broadway show. I was told that in this revival, the dialogue have already been cut, but it still lasted three hours and forty-five minutes with two intermissions – and Met intermissions are typically 30 minutes each.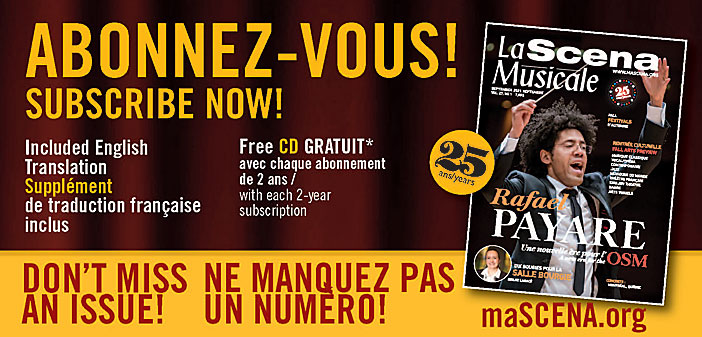 Metropolitan Opera at Night (Photo: Joseph So)
Stage director Jeremy Sams and dialogue writer Douglas Carter Beane tried their best to make it funny, but the humour is a bit on the heavy side.  Part of the problem is the huge size of the house (3,800 seat plus 200 standing room)  – when you can't see the facial expressions of the actors, doing comedy becomes problematic. The Frosch routine in Act 3 was only intermittently funny, and often off-colour. The set and costumes by Robert Jones are gorgeous, particularly Act Two. The Dec. 18 performance I saw had fine singing. I particularly liked the Adele of British soprano Lucy Crowe, who sang with lovely tone and she acted up a storm. (Incidentally, Crowe was ill late in the rehearsal period and opening night was sung by Canadian soprano Mireille Asselin, who scored a huge success.) Paulo Szot was excellent as Falke. I am more used to a baritone Eisenstein, but British tenor Toby Spence was very good. American soprano Susanna Philips acted well and sang beautifully as Rosalinda except for her strained top register. As a result her Csardas wasn't what it could have been. Given the huge amount of dialogue, the singers didn't have an easy time trying to project their speaking voice into the 4000 capacity house.  James Levine conducted from his specially designed motorized chair, and he didn't come onstage for curtain calls. On this evening, he conducted a spirited overture, and with plenty of oomph the rest of the long evening, giving no hint that he's now in frail health. Over all, an enjoyable if predictable evening at the opera.
Die Fledermaus curtain call
The Toronto Operetta Theatre's holiday offering this year is Sigmund Romberg's The Student Prince. Staged on the small stage of the Jane Mallett Theatre, it's not on a grand scale, but it's never less than engaging, with pretty costumes, deft directing and fine singing, led by tenor Ernesto Ramirez as Prince Karl Franz and soprano Jennifer Taverner as the barmaid Kathie. Here's my review of the opening matinee performance –  http://www.musicaltoronto.org/2015/12/28/scrutiny/
TOT Student Prince Curtain Call (Photo: Joseph So)
Even though this December has been unseasonably warm, cold weather is coming as I write this – we had freezing rain last evening in Toronto and today is really too unpleasant to do much outside. Perfect time to curl up next to the fire with a book.  I have to confess I read a lot less than I used to these days, and what I do read usually is connected with music journalism. However, this book did catch my eye – Primates of Park Avenue by Wednesday Martin (New York: Simon & Schuster 2015). I first read a positive review of it in the New York Times that piqued my interest. Martin has a doctorate in primatology, a subfield of anthropology.  As a retired academic with a 35 year career in anthropology, I admit I was really curious about this book. Martin uses the anthropological (more specifically the primate behavioural) paradigm to deconstruct her experience as a newcomer to the circle of rich child-bearing women of the Manhattan Upper East Side, and she did it well. For a piece of light reading, it's very readable and quite funny in places. Perhaps not for everybody, but her keen observation on the female of the species is in many ways spot on and amusing.
Cover of Primates of Park Avenue
Lots of great movies this month. No, I haven't seen Star Wars, but then I am not really into this genre. I did see The Danish Girl however.  Eddie Redmayne gives a stupendous performance, and I wouldn't be surprised if he wins another Oscar. But as a movie, I find it strangely unsatisfying. Based on a book by David Ebershoff who in turn based it on the lives of two Danish painters Lili Elbe and Gerda Wegener, there's a lot about the lives of these two people that are left out of the movie. There were some objections to the casting of Redmayne from the transgender community, but given that he has done such a tremendous acting job, the complaints seem to be muted. More serious is the various facts and inaccuracies about the life and death of Lili Elbe. Here's the article from Wikipedia –   https://en.wikipedia.org/wiki/The_Danish_Girl_(film)
Poster of new movie The Danish Girl
I rarely venture into anything that's non-classical, but this Christmas I was given a gift of a CD Single,  a cute, newly produced song called Now It's Christmas, composed and sung by two Canadian musicians, vocalist Sidney Fontaine and lyricist Charlie Gallium. I understand they are classically trained musicians. The song has a nice, catchy tune, with a pronounced beat in the arrangements (all three versions), well delivered by Ms. Fontaine, who has a nice pop voice. The lyrics is a bit sad but it's not really reflected in the music itself. There's a bonus track on the CD called There Goes My Happy, arranged and sung by Fontaine.  This content is available on iTunes.
Now It's Christmas (CD Single) (Photo: Sidney Fontaine)
I am now looking forward to two more musical events to round out my Holiday season. On New Year's Eve is the operatic concert, Bravissimo! at Roy Thomson Hall. It's produced by Canadian impresario Attila Glatz of Attila Glatz Concert Productions who's also responsible for Salute to Vienna on New Year's Day. I've been going to these concerts from the very beginning – light entertainment with a program of warhorses, delivered by good singers and a pick-up orchestra. All a bit predictable, but always enjoyable. Once in awhile you get to hear famous soloists you don't get to hear in the opera houses on this side of the pond. An example was Wagnerian tenor Andreas Schager last year. He is a big name in Berlin and a Barenboim protegee, with Tristan and Parsifal in his repertoire!  This year, we have two famous Canadian women, soprano Karina Gauvin and mezzo Krisztina Szabo, both at the top of their careers. I have no idea of what's on the program, but I am willing to bet that there's going to be some Handel and Mozart (Gauvin's specialty), and it will likely end with 'Libiamo, libiamo' from La traviata. The maestro is Italian Marco Guidarini. http://www.roythomson.com/
Mezzo Krisztina Szabo (Photo: Bo Huang)
If you are not tired out from partying all night, by all means to to Salute to Vienna, an afternoon divertissement of ballet and operetta Viennese style. Hungarian maestro Imre Kollar is at the helm leading the Strauss Symphony of Canada, another pick-up band. Polish soprano Katarzyna Dondalska and Austrian tenor Franz Gurtelschmied are the soloists. Joining them are dancers from the Hungarian National Ballet and the International Champion Ballroom Dancers. This popular event is invariably sold out, so do give the box office a call or go  to their website. http://www.roythomson.com/eventdetail/Salute2016
Salute to Vienna (Photo courtesy of Attila Glatz Concert Productions)