Advertisement / Publicité
During Christmas and the holidays, it's nice to get out the trusty old classics – not just  Handel's Messiah. It's good to think outside the box and have a few musical surprises during the festive season. Here are some listening suggestions to shake things up while staying in the holiday spirit, along with our favourite recordings.
Oratorio de Noël, op. 12.
Camille Saint-Saëns (1835-1921)
Vocal Ensemble Rastatt. Les Favorites. Holger Speck, direction. Carus. 2006. 83.352.
A young Saint-Saëns composed this beautiful piece at 25, but it's still relatively unknown here. The French composer drew his inspiration from J. S. Bach, choosing very gentle instrumental textures like the harp and the organ, which are omnipresent in this work. A small string ensemble and a few moderate voices — and it's Christmas magic at work. Superb.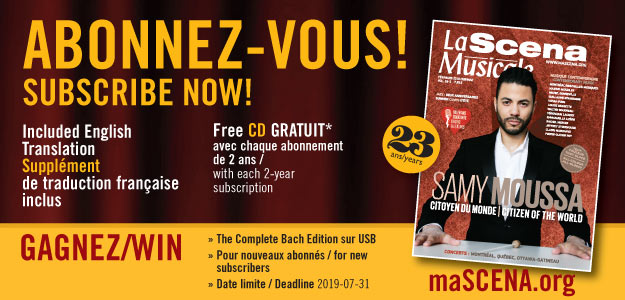 Requiem  and Magnificat.
John Rutter (b. 1945)
Cambridge Singers. John Rutter, conductor. Collegium Records. 1986 and 1990. CSCD 504
At first glance, a mass for the dead may not seem like good Christmas music. But this, Rutter's best-known work, is full of sounds that evoke the holiday spirit from first listen. The British conductor and founder of the Cambridge Singers followed the tradition of Gabriel Fauré by offering a very sweet, gentle Requiem. Pastoral ambiences (a sublime Pie Jesu) colour this work and create a feeling of watching Nativity scenes. This Requiem serves as a year-end homage to all those who have left us. Comforting.
Motets
Karl Jenkins (b. 1944)
Polyphony Choir. Stephen Layton, conductor. Decca. 2014.
This ex-member of the '70s prog-rock band Soft Machine has become quite a respectable composer, especially of choral music. Like that of Arvo Pärt, the music of Jenkins is less austere, very accessible, and often movingly beautiful. These a capella motets stay close to the English choral tradition but are subtly harmonised to suit modern tastes. The evocative titles of several pieces fit very well with the Christmas spirit. These very beautiful hymns are a continual wonder. Anyone who allows themselves to be lulled by this music will find a balm for the soul. Magnificent.
Japanese Children's Songs
Shoka
Diana Damrau, soprano; Orchestre Symphonique de Montréal; Kent Nagano, conductor. Analekta. 2014. AN2 9130
These Japanese songs may discuss cherry blossoms in the spring, rivers flowing from mountains, and the moon beneath the stars, but the charming melodies for children with their bright tones are reminiscent of Christmas. The beautiful Montreal Children's Choir does its part, while Damrau's amazingly simple voice and fine orchestration from French composer Jean-Pascal Beintus make this charming album a lovely surprise.
See Joseph So's reveiw of this album here.
Jazz Suites nos 1 and 2
Dimitri Shostakovitch (1906-1975)
National Symphony Orchestra of Ukraine; Theodore Kuchar, conductor. Brillant Classics. 2006. 8480
There's almost nothing "jazzy" about these suites, apart from their instrumentation, which calls for a "variety orchestra". In principle, this festive music doesn't evoke Christmas, but after midnight mass, the real party begins! And what better way to celebrate the winter solstice than with traditional polkas, waltzes, and foxtrots? In this entertaining music, Shostakovich found a release from his turmoil under a regime of terror. Waltz no 2 is the best-known movement. Irresistible for its energy and inspiration, this piece alone takes us far from the year's problems! Extraordinary recording quality.
Waltzes
Johann Strauss (1825-1899)
Wiener Philharmoniker. Willi Boskovsky, conductor. London/Decca. 1994. 2 cd. 443473-2.
The famous New Year's concert at Vienna's Musikverein has for decades been a well-established tradition. Conductor Willi Boskovsky was the concert's most frequent conductor between 1955 and 1979. Of course, Strauss waltzes always feature on the program. For half a century, this anthology has been the best choice to celebrate the end of one year and ringing in another. With lively rhythms and biting beats, these waltzes have lost none of their youthful vigour. Irresistible.
A conversant music lover and collector, René-François Auclair shares his musical picks on his blog, Le Parnasse Musical, which hosts over 200 CD reviews. You can visit the blog to hear excerpts from each of the works mentioned above. www.leparnassemusical.com
Translation: Rebecca Anne Clark