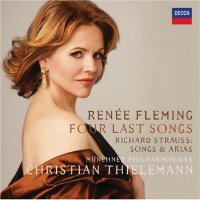 Renée Fleming, soprano; Münichen Philharmoniker / Christian Thielemann
Decca 4780647 (56 min 16 s)
**** $$$
Renée Fleming recorded Vier letzte Lieder for the first time for RCA in 1995, with Christoph Eschenbach leading the Houston forces. This recording is still in the catalogue for good reason – it is one of the most glorious pieces of singing of this song cycle one is likely to encounter. Now we have a second version from Ms. Fleming, with Christian Thielemann and the Munich forces. However fine the Houston Symphony under Eschenbach is, it cannot seriously challenge the supremacy of the Münchner Philharmoniker in this repertoire, especially with Thielemann at the helm. Fleming is in great form – her rich, opulent voice with an impressive top is beautifully captured on microphone. Now with years of experience performing this cycle, all the stars are seemingly aligned for a desert-island Four Last Songs. So I am sorry to say that her second Four Last Songs consists of beautiful singing marred by some self-indulgent mannerisms. The lovely legato in "Fruhling" is compromised by her impulse to emphasize certain words, such as a ludicrous "zittert." When she refrains from over-acting, the singing is wonderful, as in "Beim Schlafengehen" and "Im Abendrot." "Ein Schönes war" is truly gorgeous but "Es gibt ein Reich" from Ariadne is too low for her. More congenial is the high tessitura of "Zweite Brautnacht" from Die Aegyptische Helena, rising to a C sharp. These quibbles aside, this disc will prove highly enjoyable for her legions of fans.
– Joseph K. So