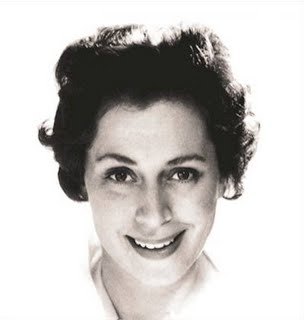 An early portrait from 1957 of Swedish soprano Elisabeth Soderstrom


Remembering Elisabeth Soderstrom (May 7, 1927 – November 20, 2009)
With the recent passing of Swedish soprano Elisabeth Soderstrom, the opera world has lost one of the most beloved artists of the latter half of the 20th century, a singer celebrated for her beauty of voice, uncommon musicality, dramatic acuity and luminous stage presence, attributes she brought to all her performances spanning a remarkable 52 years.
Born Elisabeth Anna Soderstrom in Stockholm, she studied at the Swedish Royal Academy of Music and made her stage debut in 1947 at the Drottningholm Court Theatrre. She joined the Royal Swedish Opera two years later, and began appearing internationally in the 1950's, including the Metropolitan Opera where she debuted in 1959. From the mid 60's to the mid 70's, she restricted her appearances to opera houses and concert stages closer to her home in Sweden, where she raised her three sons with her husband Sverker Olow, a naval officer. She returned to North America in the mid 70's with a new repertoire, most notable for her portrayals of the Janacek heroines, often under the baton of conductor and Janacek specialist Charles Mackerras. Soderstrom also returned to the Met in 1983, singing Leonore, the Countess and the Marschallin, the last role many thought would be her farewell at the Met in 1987. But she surprised and delighted her fans when she came out of retirement in 1999 to appear as the Old Countess in Tchaikovsky's
Pique Dame
, her last complete operatic role. In the 1990's, Soderstrom focused on stage direction and frequently appeared on Swedish television. From 1993 to 1996, she served as the director of the Drottningholm Court Theatre where she made her debut almost fifty years earlier.
Soderstrom began her career as a light lyric soprano – an ideal Susanna, Adina, Marguerite, Musetta, Sophie, and Melisande. With the passage of time, the voice darkened and she took on full lyric roles such as the Countess and Butterfly. Her slim figure also made her highly believable in trouser roles and she was in demand as Octavian. In fact, she was one of the few sopranos who sang all three female principal roles in
Der Rosenkavalier.
By the mid 1970s, her venture into the Slavic roles was met with great acclaim. She became a celebrated Jenufa, Katya Kabanova, and Emilia Marty, all of these roles were committed to disc for Decca with conductor Mackerras. Soderstrom even took on Leonore in Beethoven's
Fidelio
in the later years of her career. This role taxed her essentially lyric instrument, but the intensity and commitment of her portrayal was memorable.
On a personal level, I had the great good fortune of catching Soderstrom many times, including a wonderful concert Tatiana from Eugene Onegin, an alluring Hanna Glawari from Merry Widow for the Canadian Opera, and two recitals of Rachmaninoff and Tchaikovsky songs. I remember vividly one time at a recital at St. Andrew's Church in Toronto, she forgot the words to one of the songs. Instead of getting flustered, she charmed the audience when she quipped – "the last time I sang this, I couldn't remember it either!" I also recall her
Four Last Songs
in Paris in 1986 – perhaps not note-perfect as she was past her best vocally, but her artistry remained intact. The most unforgettable Soderstrom experience was her Marschallin opposite the Octavian of Frederica von Stade and the Sophie of Kathleen Battle with the Met on tour in Cleveland. Her warm and highly nuanced portrayal as the Princess of Wurtemberg will remain forever be etched in memory. The last time I heard her was as the Countess in
Le nozze di Figaro
at the Met in 1987, when the voice was not what it used to be but I found her interpretation extremely moving. Soderstrom died on November 20 from complications following a stroke. She is survived by her husband Sverker Olow and their three sons.