Simone Osborne Makes Surprise Women's Musical Club of Toronto Debut 
Les nuits d'ete / Berlioz
Zueignung / Allerseelen / Morgen / Strauss
Love's Philosophy / Quilter
Silent Moon / Vaughan Williams
Simple Gifts / Copland
Beautiful Dreamer / Foster
When I have sung my songs to you / Charles
Encore: Song to the Moon / Dvorak
Simone Osborne, soprano
John Arida, piano
Walter Hall / Thursday Nov. 19 2015 1:30 pm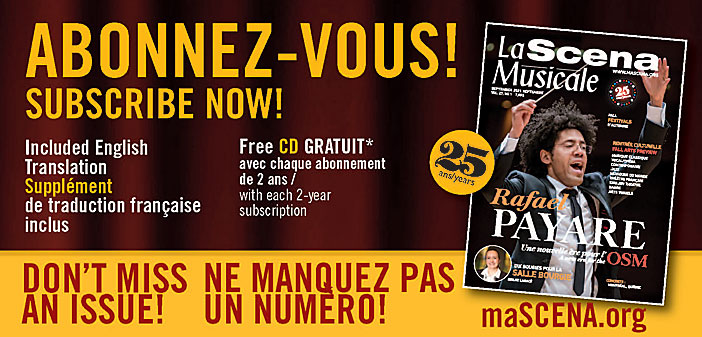 A happy Simone Osborne receiving audience applause (Photo: Joseph So)
As audience members. we are not really aware of just how much planning – and often nail-biting – that goes into concert programming.  From the signing of the contract to the actual event, a lot of stars have to be aligned for a smooth execution. I'm talking about finances, logistics, weather, venue issues, possible conflicts with competing events, etc, etc. The biggest fly in the ointment is often the health of the artist in question.
Such was the case with this week's recital featuring star American mezzo Isabel Leonard.  The originally scheduled pianist Vlad Iftinca bowed out due to commitments in Europe, and he was replaced by John Arida. Then barely thirty hours before the recital, Isabel Leonard cancelled due to illness. Usually this sort of eleventh hour cancellation is deadly for the organizers – how do you find a replacement on such short notice? Fortunately Canadian soprano Simone Osborne was available, and even better, she had worked extensively with Mr. Arida when both were young artists at the Academy of the West. So a program was quickly put together for her debut with WMCT. When she came out wearing her sensational low-cut gown and her  trademark big smile, her first words to the audience was not from "Villanelle" the first song of Berlioz' Les nuits d'ete –  but "Surprise!"
And the audience was indeed pleasantly surprised – by Osborne deputizing so brilliantly for the ailing Isabel Leonard. She began with the aforementioned, very familiar Berlioz cycle. She mentioned to the audience that Mr. Arida had not played this cycle before in public. That said, I didn't really detect any tentativeness on his part or that of the soprano. Even though she had the music on a stand, she didn't refer to it throughout. It's a cycle of six quite lengthy songs, with multiple changes of moods and dynamics. Osborne's bright and vibrant soprano resonated nicely in the intimate space of Walter Hall. I had just heard her the previous week, as soloist with the Toronto Symphony in Mahler 4th. The cavernous Roy Thomson Hall proved less than ideal for her compact-sized instrument, but Walter Hall was perfect.  If I were to quibble, it would be nice if the piano would be just a bit softer (especially in the Berlioz). Osborne observed the dynamic markings and changes of moods faithfully, a few minor pitch issues aside. Perhaps a softer piano would have allowed more of a palette of tone colours from the singer, and freed her from having to work hard at the climaxes.
Soprano Simone Osborne and pianist John Arida (Photo: Joseph So)
After the intermission, Osborne sang three Richard Strauss songs, all chestnuts, and all affectingly sung. It's interesting that she programmed "Zueignung" to start and "Morgen" to end, while most singers would have preferred to start soft and end with a flourish. Here Mr. Arida's softer touch complemented the singer very well. The same was true with the five English-American songs that ended the formal part of the recital. To my ears, Osborne was at her best in these songs, offering a surfeit of expression and beautiful tone, not to mention admirable diction. It was so nice to hear Aaron Copland's "Simple Gifts" from Appalachain Spring, a truly lovely song, given American Thanksgiving is just around the corner.  I also loved her "Beautiful Dreamer" by Stephen Foster.  I understand this is Osborne's mentor, American mezzo Marilyn Horne's favourite song – well, the soprano certainly learned it from the master! She ended the formal program with "When I've sung my songs" by Ernest Charles, a gem that's not performed much these days. Perhaps in our cynical 21st century, it's considered a maudlin parlour song, but it'a still a terrific song! The last time I heard this live was sung by Ben Heppner quite some years ago now. The audience gave the artists multiple ovations, and they were rewarded by an encore – Song to the Moon from Rusalka.  I had just heard Osborne sing this with the TSO, but I think she outdid herself this afternoon, beautifully rendered and capped with a marvelous final high B. It was a truly auspicious WMCT debut.