28 Young Musicians Chosen for Toronto Summer Music Academy
For Immediate Release: May 19, 2015
Twenty-eight exceptional young musicians chosen for one-of-a-kind
opportunity at 2015 Toronto Summer Music Academy
TORONTO…Twenty-eight young chamber musicians and singers (18 – 35 years old) have been awarded full scholarships to the 2015 Toronto Summer Music Academy. These exceptionally gifted musicians on the threshold of a professional career were chosen through a rigorous selection process by an international jury panel of specialists led by TSM Artistic Director Douglas McNabney. This year, twenty-four of the musicians selected for the Academy are Canadian. Academy Fellows, as the program participants are named, study with international faculty of the highest quality and reputation, known as TSM Mentors in one of the following programs: The Chamber Music Institute (July 13 to August 8) for piano and strings, or The Art of Song Program for singers and pianists (July 12 to 25).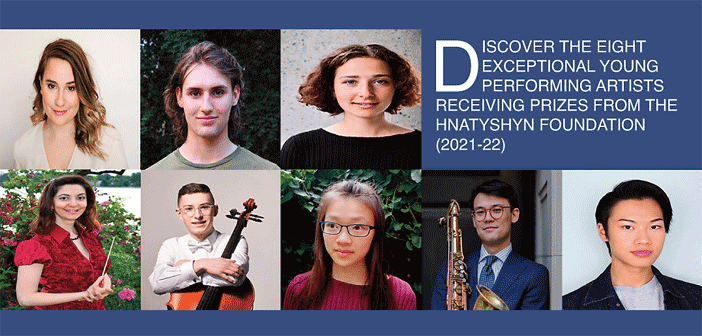 The 2015 TSM Academy Fellows in The Art of Song program are: Voice: Carolyn Beaudoin (Canada), Samuel Chan (Canada), Clare Demer (USA, Italy), Marcel d'Entremont (Canada), Danika Lorèn (Canada), Ema Nikolovoska (Canada), Elizabeth Polese (Canada), Erik Van Heyningen (USA); Piano: Maria Hwa Yeong Jung (Canada), Jérémie Pelletier (Canada), Melisande Sinsoulier (Canada), and Andrea Van Pelt (Canada). Upon completion of the intensive training program, participants perform in the Art of Song Recitals at Walter Hall on July 24 at Noon and 4:30 p.m. as part of the 2015 Toronto Summer Music Festival.
The 2015 TSM Academy Fellows in The Chamber Music Institute program are: Violin: Alicia Choi (USA), Daniel Fuchs (Canada), Meredith Riley (Canada), Elizabeth Skinner (Canada), Aysel Taghi-Zada (Canada), Teresa Wang (Canada); Viola: Catherine Chen (Canada), Ryan Davis (Canada), Laurence Schaufele (Canada); Cello: Cameron Crozman (Canada), Sarah Gans (Canada), Daniel Lim (USA), Emma Schmiedecke (USA); Piano: Qiao Yi Miao Mu (Canada), Alexey Pudinov (Germany), and Todd Yaniw (Canada). As part of the Academy experience these young musicians are integrated into the Toronto Summer Music Festival's performance schedule and have the opportunity to play in eight of the festival's twenty-four concerts along with their mentors.
"It's certainly an extraordinary experience for students, but it is also invigorating and inspiring for the mentors to be performing with talented young artists who are thrilled to be learning the repertoire for the first time," says McNabney, who chooses mentors for the Academy who are skilled both as performers and teachers.
The 2015 TSM Mentors include: Violin: Martin Beaver, Jonathan Crow, Mark Fewer, Ernst Kovacic, Harumi Rhodes, Axel Strauss; Viola: Paul Coletti, Steven Dann, Eric Nowlin; Cello: Henrik Brendstrup, Denise Djokic, Mark Kosower; Soprano: Soile Isokoski; Piano: Martin Katz, Pedja Muzijevic, John Novacek, Steven Philcox, and Huw Watkins.
The Mentors & Fellows concerts at Walter Hall feature artist mentors and festival guest artists sharing the stage with TSM Chamber Music Institute Fellows at 4 p.m. and 7:30 p.m.:
July 18 – Mark Fewer, Axel Strauss, Paul Coletti, Denise Djokic, and John Novacek
July 25 – Ernst Kovacic, Jonathan Crow, Steven Dann, Henrik Brendstrup, and Huw Watkins
August 1 – Martin Beaver, Harumi Rhodes, Eric Nowlin, Mark Kosower, and Pedja Muzijevic
August 8 – Aaron Schwebel, Shane Kim, Eric Nowlin, Sarah Jeffrey, Emmanuelle Beaulieu-Bergeron, and James Anagnoson
Academy Fellows are also showcased in a series of free concerts performing with guest artists at the festival. The first TSM Academy Concert is July 17 at 2 p.m. at the AGO, followed by performances at Heliconian Hall (35 Hazelton Avenue) starting at Noon on July 22, 23, 30, 31, August 6 and 7.
Toronto Summer Music gratefully acknowledges the support of TD Bank, BMO Financial Group and the RBC Emerging Artists Project.
About the 2015 Toronto Summer Music Festival
Celebrating its 10th Anniversary, Toronto Summer Music Festival (July 16 – August 9) features over 20 mainstage concerts performed by renowned Canadian and international artists at Koerner Hall and Walter Hall, plus masterclasses, lectures, interviews, workshops, and free outreach concerts. The 2015 Festival theme, The New World, pays homage to the Pan Am Games and explores the rise to pre-eminence of American culture in the 20th century. The festival encompasses the dizzying multitude of genres and new musical forms that emerged and celebrates the great composers of the Americas, as well as those composers whose works were inspired by the Americas. With a line-up of international stars including pianistsGarrick Ohlsson and Ingrid Fliter, soprano Karita Mattila, jazzman Danilo Pérez, the Danish and Borromeo String Quartets, a Broadway musical and a gala Tango concert – the 2015 Toronto Summer Music Festival is an apt reflection of culture and music in the Americas today. For information on all 2015 Toronto Summer Music Festival activities call 416-408-0208 or visit www.torontosummermusic.com .
Labels: Toronto Summer Music Academy and Festival
Share on Facebook • Digg This! • Save to del.icio.us • Technorati Links
posted by Joseph So at 16:37
0 Comments:
Post a Comment
Subscribe to Post Comments [Atom]
<$I18N$LinksToThisPost>:
Create a Link
<< Home Sponsored Links