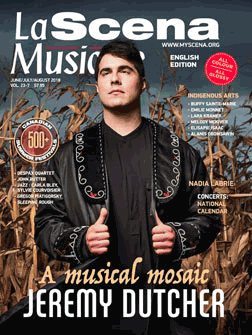 This page is also available in / Cette page est également disponible en:

Francais (French)
Contemporary Indigenous culture has been flourishing in Montreal of late. Theatre is by no means an exception to the rule. Émilie Monnet is one of several actor-performers at the forefront of this revival. The work she does has shed much light on a host of artistic practices, both locally and beyond. Among other things, she has encouraged artists active in different communities to meet and work together. She contends that the future of Indigenous art is promising because Montreal is becoming "a real hub," one that draws artists from all fields like a magnet.
Nowadays, Monnet directs Productions Onishka, a company she founded in 2011. Its mandate is to produce works from First Nations artists in an array of fields and from all corners of the world. "One purpose behind this mandate," she points out, "is to change attitudes and question established perceptions on the one hand, while instilling fruitful, and at times unconventional, exchanges between communities on the other."
In that spirit, she created the SCA (Scène contemporaine autochtone, i.e. Indigenous contemporary scene) in 2016 to serve as a platform for the dissemination of artistic activities, performances and installations. In the last five days of May, a round of indigenous artist meetings took place during the FTA (Festival TransAmériques). Twenty participants, both anglophone and francophone, were on hand to reflect first on issues of presentation and self-representation and to consider ways of dealing with what was at stake. Capping off that week, on June 1 and 2, the SCA staged a set of performances as well as a round-table discussion, all attended by Victoria Hunt, a Maori artist who acted as choreographer of the performance part. "They are one up on us over there," notes Monnet. "Their awareness is much greater, so they have better resources at their disposal, like more venues to present Indigenous people's works."
Daughter of an Anishinaabe mother and a French father, Monnet has ferried her way between the Outaouais region and Brittany in France all her life, which gives her, by her own admission, something of a "double identity." Monnet's current activism stems from a lengthy involvement in First Nations causes, chiefly with Canadian and Latin American people. She contends that "art is an extension of all the work I've done with women in the Americas."
Yet she does not consider herself to be an ambassador of the arts, nor of Indigenous culture, even less of their rights. "I am an artist first and foremost," Monnet says. "On matters relevant to me, I do share my views with those in my entourage and create opportunities for people to talk, if not inspire each other, even find other models to work and create with."
She is candid about her intentions because she sees art as her way to change society's perceptions regarding Indigenous culture and a means to question its history and impact, both in our time and in the future.
Monnet, however, does not buy into the notion of a resurgence in Indigenous art. It's more contingent on the current output and greater visibility given to it, as well as public acceptance.
"In the 1980s, there was a revival, right after the Oka Crisis, so it's kind of interesting that history comes around full circle," she says. "Sparks often fly, and that's the impression now, yet Indigenous artists have remained steadily active and creative over the years. It's simply a question of giving them more opportunities to have their work seen, to make it more accessible and to be considered accordingly, even through the use of technologies that allow their voices to be heard."
Monnet is convinced that recognition of Indigenous art rests on the audience, but not in a passive way. "They have to engage in this process, which means, to educate themselves, to attend exhibits, conferences and read up on the subject."
Monnet has taken another important career step by landing a two-year residency at the Théâtre d'Aujourd'hui. This arrangement allows her to use all its facilities – hall and equipment – to stage two productions per annum over the next three years. "I can put together all elements needed for a show in this space, ideal for me, given my multidisciplinary approach," she says.
The first collaboration, now in the works, is a piece written, staged and even performed by Monnet. Titled Okinum, it will incorporate sound and video within the storyline, partly based on a folk tale, partly on symbols taken from a dream. "It is inspired by my great-great-grand-mother and the oral tradition handed down from one generation of women to the next," Monnet says. "Parallel to that is the dream of a beaver I had, one which came to me three times over a short period, and which I'm trying to figure out. In any event, the whole thing is about basic things like transmission, heredity and identity."
The artist delves here into her artistic and spiritual heritage and gives a voice to Indigenous women, all too often left out in historical accounts. Monnet offers a personal take on the world with the help of new technologies and ancestral memories alike, all for the sake of giving Indigenous artists their rightful place.
Translation by Marc Chénard
Okinum plays at the Théâtre d'Aujourd'hui (Jean-Claude-German auditorium) from Oct. 2 to 20, 2018.
www.onishka.org
This page is also available in / Cette page est également disponible en:

Francais (French)