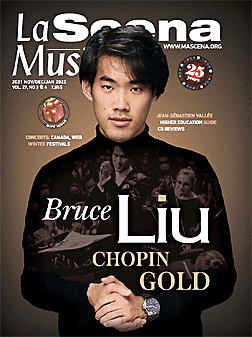 This page is also available in / Cette page est également disponible en:

Francais (French)
Last year, Canadian universities had to organize courses around the challenges of the pandemic. One year later, most of the music ­faculties we spoke to are rethinking their curricula. Almost all are emphasizing the professionalizing angle of how to equip students for their chosen profession in a changing world.
University of British Columbia
The University of British Columbia faculty of music is welcoming new members this year. David Fung will join the faculty as a new piano professor starting in January. This Steinway artist is originally from ­Australia. In addition to Fung, the faculty will welcome an Indigenous faculty member in the summer, Dylan Robinson. Robinson comes from Queen's University, where he was a Canadian Research Chair. He is at UBC under the President's Academic Excellence Initiative. He is best known for ­research into Indigenous relationships to classical music and how university music programs engage with Indigenous traditions.
To take advantage of the artists touring in the Vancouver area, the faculty will be partnering more closely with the Chan Centre for the Performing Arts and making new connections with music presenters. Thus the acclaimed artists performing at the Chan Centre will also give masterclasses to UBC students.
The faculty is also embarking on a diversity initiative, starting with an audit of their many diversity and inclusion activities. They are now in the process of trying to articulate how to move forward in a diverse environment.
Western University
As of Aug. 1, the Don Wright ­Faculty of Music of Western ­University welcomed its new dean and professor of piano, Michael Kim, who was previously director and professor at the University of Minnesota in Minneapolis. Two new faculty members were also hired this year. Tracy Wong, DMA of the University of Toronto and formerly assistant professor at McMaster University, will be the new assistant professor of choral studies. Kyung Kim, DMA of the University of Wisconsin at Madison and formerly chair
of the keyboard division and ­associate professor of piano at the University of Minnesota in Minneapolis will be a new associate professor of piano.
Pending final approvals, the Don Wright Faculty of Music is preparing to launch a new interdisciplinary undergraduate degree program, offered in collaboration with the Faculties of Arts and Humanities and Information and Media studies called Creative Arts and Production. Working independently and ­collaboratively, students will learn about arts sectors, discover and evaluate ways of being creative, and explore creative and production processes along with relevant social and political issues.
An additional collaborative ­venture is with Western's Schulich School of Medicine & Dentistry. As part of the new MD+ program, medical students can combine their studies with musical performance studies. Medical students with ­interests in music performance now have new artist diploma opportunities to explore.
Don Wright Faculty of Music members Sharon Wei and Angela Park – co-founders of ­Ensemble Made in Canada who met while studying at Western – won the JUNO Award for best Classical Album of the Year: Solo or Chamber for their Mosaïque project. The Ensemble Made in Canada have been artists in residence at Western since 2014.
Université de Montréal
The faculty of music of the Université de Montréal has implemented a major in jazz performance and world music, which is already very ­popular among students. There is also a new minor in jazz composition and arrangement. In addition, the faculty has just finalized a new ­doctorate in performance which, with its open angle, will better suit the diversity of the student body by taking into consideration that doctoral students may already have careers.
Increasingly, the faculty is transforming programs in an effort ­toward personalized support so that students feel accompanied in their project. In terms of student follow-up, the faculty now has two one-stop study management advisors, a situation that makes it possible to raise a flag as soon as a student is in difficulty, whether academic, ­economic or psychological. The faculty has also set up a peer helper office, which consists of an office run by students to listen to other ­students. A mentoring system between students from different cycles of study has also been established.
Université de Sherbrooke
The Faculty of Music at the Université de Sherbrooke is continuing its professionalizing formula. It is still the only university to offer this ­profile in music. The faculty has completed the implementation of applied ­theory courses through projects and now works regularly with physiotherapists, occupational therapists, a team that helps with mental preparation, stress management, etc. The entrepreneurial approach is more present than ever in their projects, which are oriented towards self-production such as learning sound recording and broadcasting methods.
In terms of special events for the year, the faculty will offer several master classes. It will welcome, among other artists, Jean-Michel Dubé in classical piano, Gora Kripovarik in classical guitar, and Ariel Posen in pop/jazz guitar. There will also be a series of workshops for film and video game composition students with Norman Ludwin, an orchestrator who has collaborated with John Williams, and conferences with Inon Zur, the composer of such acclaimed video games as Fallout, Syberia and Prince of Persia.
Morningside Music Bridge
Morningside Music Bridge 2021 was held online owing to the COVID-19 pandemic. However, the program is planning a full return to in-­person learning in 2022. Morningside Music Bridge will celebrate its 26th year with a summer program taking place July 7 to 30, 2022 at the New England Conservatory in Boston.
University of Calgary
Jani Parsons has joined the School of Creative and Performing Arts at ­University of Calgary as assistant professor and head of the piano ­program. She is a founding member and executive director of Latitude 49, a mixed chamber ensemble ­recently in residence at Princeton University, and the pianist of the Lumina Duo alongside oboist Merideth Hite Estévez.
Starting in the 2021-2022 academic year, the University of ­Calgary Music Division will begin ­offering performance study in jazz, including studio lessons, jazz combos, big band and other associated courses in jazz, with the option of pursuing a ­performance major in focusing on jazz. Interested students are ­encouraged to audition for jazz in the following studios: drums, piano, guitar, bass, voice, saxophone, trumpet and trombone.
This page is also available in / Cette page est également disponible en:

Francais (French)