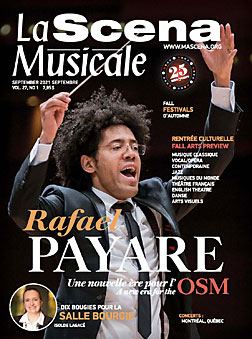 This page is also available in / Cette page est également disponible en:

Francais (French)
Marc-André Hamelin
Pianist Marc-André Hamelin will perform on Sept. 25 at the Lensic Performing Arts Centre in Santa Fe, NM. His program includes works by C.P.E. Bach, Prokofiev, Scriabin and Beethoven. www.marcandrehamelin.com
Yannick Nézet-Séguin
Yannick Nézet-Séguin leads the Philadelphia Orchestra in 20 concerts this fall, opening with a digital stage concert on Sept. 8 and 15 titled "Yannick and Mozart." Other highlights include the premieres of Robin Holcomb's Paradise on Oct. 15, 16, 17, Wynton Marsalis's Tuba Concerto on Dec. 9, 10, 12 and Gabriela Lena Frank's Pachamama Meets an Ode on Dec. 31.
Nézet-Séguin conducts the Met's opening night on Sept. 27 (repeats Oct. 1, 4, 13, 16, 19 and 23) with the premiere of Fire Shut Up in My Bones by Terence Blanchard. This is the first Met performance of an opera by a Black composer. YNS will also conduct Puccini's Tosca and Matthew Aucoin's Eurydice. www.yannicknezetseguin.com
James Ehnes
Violinist James Ehnes is touring Europe beginning in Switzerland at the Collegio Papio in Ascona on Sept. 24, 25 and 26. He will be in Spain at the Auditoria National de Musica in Madrid on Oct. 1, 2 and 3 before heading to the UK for two concerts in Birmingham at Symphony Hall on Oct. 6 and 7. His other UK dates in include Manchester on Oct. 12, 14 and 17; and Sheffield on Oct. 15. He then plays in the Queen Elisabeth Hall in Antwerp, Belgium on Oct. 22 and at De Bijloke in Ghent on Oct. 23, before ending his tour in Norway at the Oslo Konserthus on Nov. 25. www.jamesehnes.com
Jan Lisiecki
Pianist Jan Lisiecki will be performing Schumann's Piano Concerto with the London Philharmonic Orchestra under Edward Gardner starting in London on Nov. 10 and continuing in Stuttgart at the Liederhalle (Nov. 13), Munich at the Isarphilharmonie (Nov. 14), at Frankfurt at the Alte Oper (Nov. 16), Cologne at the Kölner Philharmonie (Nov. 1)7, Essen at the Philharmonie (Nov. 19) and finally Hamburg at the Elbphilharmonie
(Nov. 20). www.janlisiecki.com
Florie Valiquette
Soprano Florie Valiquette makes her debut as Susanna in Mozart's The Marriage of Figaro at the Opéra Royal de Versailles on Nov. 27, 28, 30 and Dec. 1. Then she takes the role of Gabrielle in La Vie Parisienne at the Théatre des Champs Élysées on Dec. 22, 25, 28, 30 and Jan. 2, 5, 7, 9. www.florievaliquette.com
Louis Lortie
Pianist Louis Lortie will perform Chausson's Concert for violin, piano and string quartet in Monaco at the Auditorium Rainier III on Sept. 18. He then plays the Saint-Saëns Concerto No. 5 with the Philharmonique de Nice at the Opéra Nice Côte d'Azur on Oct. 1 and 2. www.louislortie.com
This page is also available in / Cette page est également disponible en:

Francais (French)