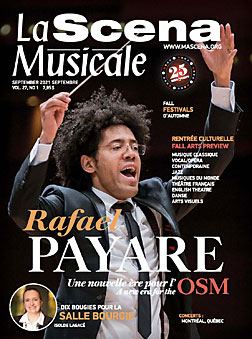 This page is also available in / Cette page est également disponible en:

Francais (French)
First is the Cameroonian vocalist and ethnomusicologist Gino Sitson. His performance, which opens the hall's "Odyssées" series, will draw on various musical genres, from African song to jazz and Western chamber music. (Oct. 28, 8 p.m.) 
 In the New Year, the Naghash Ensemble is invited to perform a program of music inspired by the Armenian folk tradition. The concert is called Chants d'Exil. (Feb. 2, 7:30 p.m.)
The season also marks the return of one of Ireland's most prominent groups, Lúnas, with the show The Wild Coast of Ireland (Feb. 17, 8 p.m.).
Music of the Orient will be in the spotlight with oudist Nazih Borish and his Roots of strings concert, presented in partnership with the Centre des musiciens du monde (March 16, 7:30 p.m.).
Two months later, musicians stemming from different cultures come together in an evening entitled À la croisée de l'Europe et du Japon. The concert will comprise works from the Baroque to the Renaissance, with a few hints of sounds from the Far East added to the mix. (Apr. 6, 7:30 p.m.)
With the return of spring, Syrian-born clarinetist Kinan Azmeh returns to the city with his New York Ensemble for a concert melding jazz and Eastern music. (Apr. 28, 8 p.m.)
Bourgie Hall Special
This page is also available in / Cette page est également disponible en:

Francais (French)