This page is also available in / Cette page est également disponible en:

Francais (French)
In 1996, two young university graduates, Pierre Goulet and his wife France L'Écuyer, launched the Sainte-Dorothée Music Academy in Laval. Their passionate desire to bring winds of change to musical instruction in Québec has proven a success. The family-operated academy has trained more than five thousand students in practical and theoretical musical subjects since its founding.
"Our decision to use the term 'Academy' reflected our ambition to change conceptions not only of how music lessons play out, but also of the atmosphere in which this learning takes place," says Pierre Goulet. He highlights the welcoming ambiance and the warm atmosphere that characterize the rapport between students, teachers, and the school's administration. Goulet is convinced that it's important to give children (as young as 4), teenagers, and adults of all ages an "enchanting setting" in which to experience the pleasure of developing their musical abilities in personalized instrument and singing classes of half an hour to an hour. 
Music Therapy and Self-Esteem
Theoretical and practical courses range from an introduction to the basics of music all the way up to instruction in the most advanced techniques. Every year, the academy presents several candidates wishing to obtain a diploma of music recognized by the Ministry of Education. Additionally, students of the school may write the exams of the Académie de musique du Québec.
"Several of our students have distinguished themselves in these areas, being ranked among the best in their categories across Québec," notes the administration, which makes a professional recording studio and cutting-edge technology available to its students.
Goulet mentions the special care the school takes to organize its end-of-year concerts, which allow its students to distinguish themselves as musicians.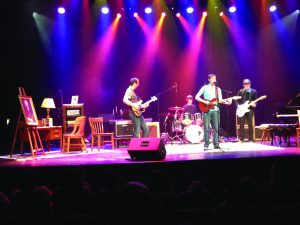 On that note, he stresses the tremendous impact that music can have on personal development and self-esteem. With great emotion, he emphasizes the benefits of the academy's musical therapy program for students with motor and learning difficulties. "We really see the impact of musical therapy on these students' sense of accomplishment and self-esteem in these final concerts," he says. "It brings tears to our eyes!"
Translation by Janessa Culliford
www.academiedemusiquestedorothee.com
This page is also available in / Cette page est également disponible en:

Francais (French)