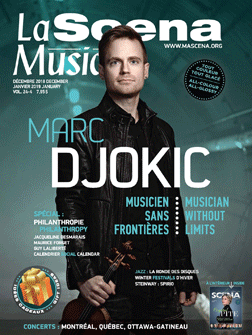 This page is also available in / Cette page est également disponible en:

Francais (French)
With the release of My Spanish Heart, pianist Katarzyna Musial follows up on her previous recording Come Dance. Widely acclaimed, that album encouraged this native of Poland now residing in Canada to revel in the artistic and cultural splendors of the Iberian peninsula. "You don't have to be born in a culture to be enamoured with it," she explains. In fact, her love affair with Spain first began as a child, when, at five years old, she simply fell in love with the country upon a visit with her parents.
"My album is a musical journey through Spain," Musial explains. "I selected a repertoire of pieces that span a wide range of musical colours and sounds, all drenched in the modes and scales of that music."
The pianist, it must be noted, is one who stands out from the crowd. The Chicago Classical Review has hailed her as a pianist "blessed with an outstanding technique and an interpretive panache." For this project, she went out of her way by learning how to dance flamenco to get a better feel of the music and its spirit. This enabled her to put her stamp on her chosen repertoire and infuse it with such grace as to warrant the following epithets from the New York Concert Review: "a pure delight…wonderfully evocative…vividly detailed."
For the benefit of the listener, Musial delves deeply into the piano literature of its brilliant composers. From Isaac Albéniz she has selected Córdoba and Seguidillas, the latter from the folk-inspired Suite española No. 1 Op. 47. This work that inspires her so much is like "a musical trip through Spain, so lyrical yet so rhythmically charged by dances that you could imagine seeing in country inns and dancehalls."
Also included are pieces by Enrique Granados. This composer absorbed so much traditional lore in his works, full of polyrhythms and characteristic modes that are so reminiscent of Andalusia, as to defy the ages. Under the pianist's hands, Manuel de Falla's La Danza del molinero (Dance of the Miller) is simply ravishing.
Musial finds further sustenance in the music of Frederic Mompou, a composer drawn as much to Chopin, Debussy, Fauré and Satie (the latter to no small degree) as to the Catalan folk tradition of its capital Barcelona, a city much favoured by the Spaniard.
Musial can also claim a few more feathers in her cap, one being her Steinway Artist sponsorship, others being her many personal awards such as her first prize at the International Bradshaw & Buono Piano Competition in New York, the Alban Berg Prize of excellence in Vienna and, in Montreal, the Philip Cohen Prize for outstanding performance. Aside from her stage work, Musial acts as artistic director of an event she founded, the Stella Music Festival, devoted to the promotion of women in music.
Translation by Marc Chénard
The fifth edition of the Stella Musica Festival takes place on March 21 and 22, 2019.
www.pianist.pl                       www.stellamusica.org
This page is also available in / Cette page est également disponible en:

Francais (French)