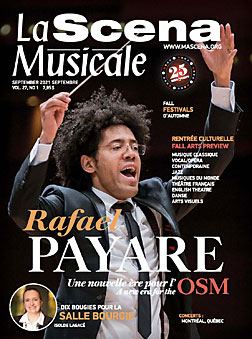 This page is also available in / Cette page est également disponible en:

Francais (French)
After a long absence caused by the pandemic, the stalwarts of Musica Camerata Montreal are showing their immense satisfaction at being able to resume public performances. The ensemble, which is celebrating its 52nd anniversary, begins its 2021-22 season on Oct. 2 at the Chapelle historique du Bon-Pasteur with a program including works by Bach, Beethoven and Fauré.
"It was a difficult year from an emotional, psychological and financial standpoint," says Luis Grinhauz, artistic director and co-founder of the ensemble. To preserve the mental health of the team and above all to keep in touch with its audience, Musica Camerata showed
its fortitude by broadcasting three virtual concerts, which were a great success. "And this without any aid from the government and other public bodies," he says with regret. Grinhauz warmly recognizes, however, the invaluable support the ensemble has received from listeners.
This season, the group has decided to proceed with caution, given the unpredictability of the health situation. "We will schedule the concerts as we go along," says the veteran violinist and chamber player. "We already have fixed programs for the first two." The second concert, the date of which will be announced later, will feature a program for piano, violin and cello including Saint-Saëns's Trio No. 1 and Dvořák's Trio No. 1.
Grinhauz feels sanguine about the prospects of chamber music in Montreal: "The next generation is assured. We have very good young chamber musicians." He is also optimistic about the future of Musica Camerata, which he co-founded in 1971 with his wife, the gifted pianist Berta Rosenohl. These two are the only original members still in the ensemble. They are proud to have been able to sustain the founding vision of the group, which has always been to stress the importance of local composers and promote their discovery, often in Canadian premieres.
Musica Camerata Montreal presents its first concert of the season on Oct. 2 from 6 p.m. to 7:30 p.m. at the Chapelle historique du Bon-Pasteur.
This page is also available in / Cette page est également disponible en:

Francais (French)