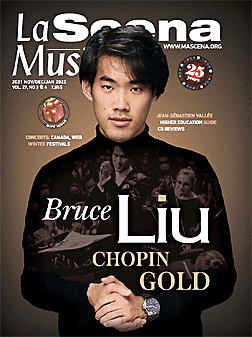 This page is also available in / Cette page est également disponible en:

Francais (French)
Montreal's Trio Fibonacci has cemented its reputation among the faithful concert-goers of Bourgie Hall. This year has something new to offer: the arrival of Meagan Milatz into the fold. The name of this virtuoso pianist appeared not too long ago on a list of 30 exceptional Canadian classical talents under 30. This year marks her debut with its two charter members, cellist Gabriel Prynn and violinist Julie-Anne Derome, both of whom first consolidated the trio's mission of dedicating itself to contemporary music from its early days in 1988 to gradually increase its focus on the masterworks of past piano trio repertoire, very much to the delight of Bourgie Hall attendees.
After having endured the lockdown for so long, Prynn is obviously excited at the prospect of playing in a live setting again. His enthusiasm about the hiring of Milatz is unreserved, and he is quick to laud her not just for her technical abilities, but for a strong ¬personal commitment towards chamber music repertoire. A highly respected soloist, she has amassed several credits guesting with orchestras across the land, as far as Edmonton and Calgary, and closer to us, in Sherbrooke and at McGill University in Montreal.
Trio +1
In the wake of its season opener on Oct. 4, the program that evening composed of Mozart, Haydn and Beethoven, the trio pursues in the same vein with its Dec. 4 outing entitled Schubert en plein cœur. Two works of the Viennese composer will be heard, Notturno for trio and Trio No. 2 in Eb Major.
Next up, on April 8, Fibonacci will revisit works of the minimalist school, the concert including excerpts of a Max Richter piece entitled Recomposed Seasons, as well as others by Einaudi, Nyman and Glass, with a world premiere of a piece by Québécois composer Marie-Pierre Brasset.

To round off its season, on May 6, the trio will be joined by the superb Montreal violist Marina Thibeault for a pair of romantic piano quartets.

"First up will be the sublime and tragic Brahms Piano Quartet in C Minor," says Prynn, "so finely interwoven with a thread of unrequited love towards Schumann's wife Clara. Then we will turn to Schumann himself with his Piano Quartet, one of the most performed works of his oeuvre, which contains so much of the eloquence and mystery surrounding its author."

When asked to look back at the beginnings of the group, its name borrowed from the famed Italian mathematician Leonardo Fibonacci, who inspired many a classical musician with his numerical sequence, Prynn recollects that: "At the onset, we dealt exclusively with contemporary repertoire, and we were in fact the only trio doing that. So we ¬rapidly created a niche for ourselves."


Thanks to the useful teachings of such great masters as Menahem Pressler of the Beaux Arts Trio, or the Alban Berg Quartet, the Trio Fibonacci has managed to build an enviable career abroad, with tours in Argentina, Brazil and Chile all the way to China and Japan, not to forget south of the border and overseas in Europe, even to distant South Africa. Over the years, this unit has premiered some 60 works of Canadian composers, recorded five albums, all of which display their abilities in tackling with aplomb the contemporary music repertoire, leading them to some very treasured collaborations with the likes of Pascal Dusapin, Henri Pousseur, Mauricio Kagel and Jonathan Harvey.
So Much to Choose From
Far from casting contemporary music aside, Trio Fibonacci is still engaged in it and keeps performing new works. "Over time, we just wanted to delve into the history of piano trios and play pieces that would speak to wider ¬audience," says Prynn. It only makes sense when all three musicians were all weaned in that tradition. As the cellist also points out, there are plenty of spoils when it comes to chamber music in Montreal, and he recognizes the support granted to all artists from the ¬various arts councils, especially so in recent times. "The ongoing assistance of the public and private sectors is very motivating when it comes to instill creativity and risk-taking, elements which are essential to all musicians. And audiences are an essential part of the picture as well."

As a man who wears several hats, Prynn has been duly recognized by critics for his efforts to uncover forgotten masterpieces. From 2016 to 2019, he served as a guest professor at the Ohio University, which enabled him to make a hop to Toronto for a performance at the St. ¬Lawrence Centre and detours to Merkin Hall in New York and over to France at the Musée d'Orsay for a joint venture between IRCAM and Radio France. He has guested at a host of major events throughout the world, from places as far as Aldeburgh in the UK to the Forbidden City in Beijing. His commitment to teaching also lead him to write Apprivoiser le violoncelle (taming the cello), a how-to book for teachers and students seeking to extend their knowledge of the instrument in the contemporary music idiom.
More on the Trio Fibonacci 's concert season: www.triofibonacci.com
Translation by Marc Chénard
This page is also available in / Cette page est également disponible en:

Francais (French)