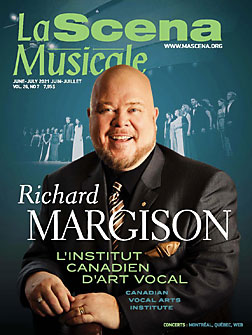 This page is also available in / Cette page est également disponible en:

Francais (French)
"Finally, we will have people in the hall!" So exclaims Marc Boucher, general and artistic director of Festival Classica, which is celebrating its 10th anniversary.
Under the theme "From Wolfgang to Amadeus," this edition will feature the participation of elite Quebec artists, who will give more than 20 live-audience concerts in the Roman Catholic parish of Saint-Lambert.
"The entire Festival Classica team is happy to finally welcome back its festivalgoers," Boucher said. "We missed them terribly. We are looking forward to this reunion, especially since, as relaxed regulations are announced, they will also be able to take the opportunity to explore downtown Saint-Lambert."
The opening event on Saturday, May 29 is Libertango, a concert marking the 100th anniversary of the birth of Astor Piazzolla featuring major vocal works by this master of tango nuevo. And to create a stirring finale to this special edition, Festival Classica will welcome the Orchestre Métropolitain under the direction of Yannick Nézet-Séguin. On the program at the Eric Sharp Arena in Saint-Lambert is one of Mozart's greatest masterpieces, the Great Mass in C minor for soloists, choir and orchestra.
Among the artists participating in the festival are Karina Gauvin, Arion Baroque Orchestra, Stéphane Tétreault, Ensemble Caprice, Valérie Milot, Luc Beauséjour, Élisabeth Pion, Pentaèdre, Stick & Bow, Denis Plante, Elvira Misbakhova, Nadia Labrie, Isaac Chalk, Benoit Loiselle, Antoine Bareil, Anna-Sophie Neher, Sophie Naubert, Antoine Bélanger, Marc Djokic, Chloé Dominguez, Olivier Godin, Florence Bourget, Marc Boucher, Antonio Figueroa, Cynthia Blanchon, Mathieu Lussier, the Ensemble vocal Arts-Québec, Jean-Philippe Sylvestre, Ilya Poletaev, Dominic Boulianne, Dominic Painchaud, Caroline Bleau, Matthias Maute and Yukari Cousineau, as well as festival director Boucher himself.) Concerts will be available from June 26 to July 11 as VIP webcasts reserved for donors to the festival's first crowdfunding campaign.
Pink Floyd in September
Boucher has also announced the presentation in September of the symphonic rock concert The Dark Side of the Moon by Pink Floyd. By way of explanation he stresses the philosophy of Festival Classica, which accepts all eras and forms of classical music: chamber music, music for orchestra and choir, baroque music, and classical music from other cultures. Festival Classica is also characterized by its efforts to meld pop music with symphonic orchestrations embodying the classical spirit. "Especially," he specifies, "when we judge that the sound materials are interesting enough to make 'classical adaptations'."
This approach cannot fail to bring new audiences to classical music. Festival Classica takes place from May 29 to June 22. www.festivalclassica.com
This page is also available in / Cette page est également disponible en:

Francais (French)