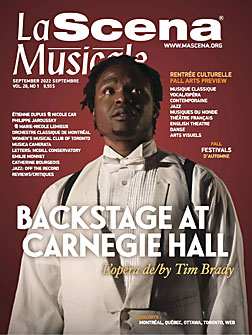 This page is also available in / Cette page est également disponible en:

Francais (French)
Cosmopolitan crossroads at Place des Arts
Of the many acts on tap for the PDA's Théâtre Maisonneuve program this fall are several world music shows, beginning on Sept. 4 and 5 with Iranian concert artist Homayoun Shajarian and the Siavosh Orchestra. Four days later, the activist ensemble Quilapayún from Chile will pay a return visit to Montreal on the occasion of its cross-Canada farewell tour, the final chapter of a 30-year history of performances in the city. On Oct. 17, Lebanese pianist Aleph and his orchestra will be on stage for a brand-new show that he will share with 15 compatriots, two of the more prominent ones being Dia and Yasmina. Five days later, there will be the first of two consecutive evening concerts of flamenco music played by Juan Manuel Fernandez Montoya, a.k.a. Farruquito, an event presented in the Arts and World ­series. This event has booked several other shows of interest such as the Soweto Gospel Choir, The Kingdom Choir and the spectacular Japanese drum ensemble Kodō. Legendary singer Enrico Macias makes a return visit to Montreal on Nov. 26 on the occasion of his six-decade career. Outdoors, on the Esplanade of the PdA, there will be six dance rendezvous taking place between Sept. 15 and 24. Hosted by Philippe Fehmiu of Radio-Canada, these events will enable participants to move their feet to the beats of live music and DJs, including some pointers on how to dance to the samba, disco and waacking, Guinean dance, Bollywood style, Latin dance and country.
Vision Diversité: MUZ at the TD Studio
The Rendez-vous des musiques métissées MUZ staged by Vision Diversité will run from Oct. 6 to 9 at the TD Studio (formerly known as ­L'Astral), right in the heart of Montreal's Quartier des Spectacles. Billed for its 12th ­edition are: Azara, Jabbour, Nadine Altounji, Rebecca Jean, Trüko, Andrew Wells-Oberegger, Damian Nisenson, Diogo Ramos, OKAPI, ­Sophie Lukacs, Wu-Sen & The Fam, Akawui, Mi'gmafrica, Mikha.elles, Syroko and KETSMY. Presented in partnership with the CBC French network's ICI Musique channel, Vision Diversité's final show will showcase a number of the Radio-Canada Revelations awardees in the ­category of hybrid/crossover musics.
Mundial Montréal: First Glimpses
Running from Nov. 15 to 18, Mundial ­Montréal has announced the following ­performers in its program: the traditional ­Korean percussion ensemble groove&; the Helsinki-Cotonou Ensemble, a multikulti Finnish-Benin funk group; the traditional Québécois folk and roots group Le Diable à Cinq; the tropical Lengaïa Salsa Brava band;  Toronto's Moneka Arabic Jazz; the ­alternative rock and Latin group Nohe & Sus Santos; the Polish female folk group Polky from Toronto; and the Swedish folk-pop band Symbio.
Cabaret acoustique @ Nuits d'Afrique
The program of the Nuits d'Afrique's Acoustic Cabaret evenings held at the Club Balattou will be ringing to the sounds of African pop on Sept. 1 with Cameroonian native guitarist Oluwa Banjo, followed next by Jamaican artist Julie Nelson, then by Ivory Coast multi-­instrumentalist Stéphane Béchio (a.k.a. Stef) on Sept. 3 and 4, respectively. Hailing from Burkina Faso is Kenzo (Sept. 8), a young singer-songwriter and third-prize winner of the Styli world music competition in 2019. On stage a day later will be the Brazilian native and Montreal resident singer-songwriter Bianca Rocha. Sept. 10 will be an evening of Afro-Caribbean grooves led by Roland Lebeau and Kwaliti. Next up, on Sept. 11, is Only the Righteous, a group featuring North American, Cameroonian and Cuban collaboration; its repertoire is  comprised of kompa, makossa and bend-skin numbers. Winding down the event on Sept. 15 is a performance by the Brazilian vocalist Isaac Neto, followed the next evening by Tajoa, a group from the Ivory Coast that plays festive music in the zouglou style brought to international attention by the band Magic System.
OktoEcho: Saimaniq plays in the park
Composer Katia Makdissi-Warren and her ­ensemble OktoEcho pursue their tribute to Inuit throat singing this fall with their ­enduring project Saimaniq. In the weeks to come, the ensemble and its featured singers Lydia Etok, Nina Segalowitz and Hélène ­Martel will perform outdoors in several city parks—Parc des Hirondelles (Ahuntsic-Cartierville) on Sept. 3 from 12:30-1:30 p.m., then at Parc Basile-Routhier the same day at 4 p.m.; Parc Ahuntsic on Sept. 11 at 2 p.m. and Parc Sainte-Odile at 6 p.m. This project will also be presented outside Montreal, at the Fête de la musique de Mont-Tremblant on Sept. 4. At this writing (late August), Saimaniq was starting a four-day stint at the Trad Montréal Festival. Scheduled to run to Sept. 4, it was to include a workshop open to the audience to teach Inuit throat singing and to participate in Les Grands Espaces, a ­playful work devised by the project's leader and ­composer. Last but not least, there will be a Dec. 9 indoor performance at the Pratt & Whitney Hall in Longueuil. The concert will focus on another of the composer's works, Trancestral, a blend of First Nations and Sufi music scored for OktoEcho and members of the SMCQ.
Centre des musiciens du monde: Horizons lointains
Running until Sept. 7, the annual event staged by this multicultural centre binding musicians of different traditions and their audiences cuts a wide swath of styles. Its success hinges on the participation of artists from diverse ­cultural backgrounds, members of the centre, and special guests, most of whom use native folk instruments ranging from the oud to the ukelele, the tar to the mandolin, the ­kamancheh to the tombak, and more.
Translation by Marc Chénard
This page is also available in / Cette page est également disponible en:

Francais (French)