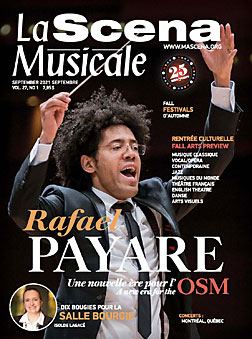 This page is also available in / Cette page est également disponible en:

Francais (French)
JEUNESSES MUSICALES CANADA
Salle Joseph-Rouleau de la Maison André-Bourbeau
La marmite ensorcelée
A concert that brings together classical, modern and original music that will enchant the little ones, who are invited to participate as sorcerer's apprentices in the creation of a sonic potion. Three to 7 years old. Oct. 24, 10 a.m.
L'expédition de la rythmobile : Theatrical concert
in which the percussionists Marton Maderspach and Bruno Roy create rhythmic patterns with unusual objects: balloons, rackets… and even trash cans! Three to 7 years old. Nov. 14, 10 a.m.
Un monde pour Noël
Around the world in songs and music to celebrate Christmas traditions from here and elsewhere, a JMC co-production with the ensemble ALKEMIA. Three to 7 years old. Nov. 28, 10 a.m.
Jazz-Noisette
The Nutcrackers of Tchaikovsky and the great jazzman Duke Ellington meet in this free adaptation of the traditional tale. Three to 7 years old. Dec. 12, 10 a.m.
PLACE DES ARTS
Festival L'Art en soi : La forêt enchantée
A lively family celebration in an open-air operatic ambiance, with participatory singing and animal mask-making workshops. For the whole family. Sept. 26, 10 a.m.
THÉÂTRE OUTREMONT
Chante Edmond !
In this children's opera by the company Sacré Tympan, Edmond loves to sing, much to the chagrin of his father, who asks him to keep quiet repeatedly. One day, exasperated, he asks him to leave the car. Five to 10 years old. Oct. 31, 11 a.m.
La légende de Barbe d'Or
Musical theatre from the company Les Fabulateurs. Determined to take revenge on a sea that threw him back on the shore of a volcanic island, the Manipulpe – a creature that is half-man, half-shark – will do everything in his power to ensure that terror reigns over the waters. Six to 10 years old. Nov. 21, 11 a.m.
This page is also available in / Cette page est également disponible en:

Francais (French)