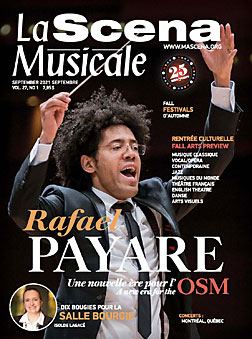 This page is also available in / Cette page est également disponible en:

Francais (French)
Place des Arts
intercultural crossroads
Soirée Cumbia
As part of its L'Art en soi program, Place des Arts invites us to a Cumbia soirée. The Ballet Raíces de Colombia and the Bumaranga group will take us on a musical journey through the Colombian Caribbean and its unique folklore enriched by pre-Columbian, Spanish and African cultures. Traditional percussion and flute are combined with a modern, electric touch. Sept. 17, 8 p.m. Esplanade of Place des Arts.
Pavlo celebrates Mediterranean music
Guitarist Pavlo Simtikidis (Pavlo) offers a recial with delightful Mediterranean sounds that combine folk styles from different cultures. This internationally renowned performer and composer is distinguished by the originality of his musical mix. Greek, Spanish, Latin, Balkan and other flavours are served in a contemporary pop rhythmic structure. The formula has earned him a welcome around the world. Nov. 22, 8 p.m. Théâtre Maisonneuve. www.placedesarts.com
Centre des musiciens du monde: À la découverte d'horizons lointains…
On the program of the Centre des musicians du monde is a series of free concerts (reservation required) at Saint-Enfant-Jésus Church du Mile-End every Sunday at 7 p.m.. Entitled À la découverte d'horizons lointains, the series is an invitation to explore remote musical territories as represented by artists reflecting traditions from Iran, Peru, Brazil and Argentina.
Dui Perse-Inca (Federico Tarazona and Showan Tavakol)
Sept. 19: Musical dialogue between two ancestral cultures bringing together the bewitching sounds of the kamancheh fiddle of Iran and the charango of the Andes. Manoel Vieira (piano). Sept: 26. Discover the rich and varied piano repertoire of Brazilian composers who subtly combine classical and popular languages ​​(Villa-Lobos, Gnattali, Guarnieri, Camargo, Gondim…). Amijai Shalev (tango quintet). Oct. 3: A concert that alternates between traditional tango music for orchestra of the 1940s and another facet of this eclectic musical genre with bandoneon solos (Piazzolla, Gardel, Filiberto, Melo, Canaro, Troilo).
www.centredesmusiciensdumonde.com
Vision Diversité: Music explored in three settings
Vision Diversité is mounting Ailleurs ensemble. Produced with SAT, the COOP Paradis, the P'tit Bonheur and the Théâtre Outremont, this show allows the general public to explore a multiplicity of musical universes including instruments and rhythms from around the world. The tour draws on three places – Montreal, Rimouski and Saint-Camille – and 13 artists. Sept. 19, 8 p.m. www.theatreoutremont.ca   
This page is also available in / Cette page est également disponible en:

Francais (French)