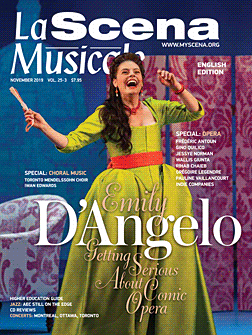 This page is also available in / Cette page est également disponible en:

Francais (French)
"Our mandate is to train the next generation and to strengthen the complementary expertise of the various components of the network of conservatoires to better serve our students across the province," says Nathalie Letendre, general director of the Conservatoire de musique et d'art dramatique du Québec. Letendre is guided by the main proposals of a strategic plan (2018-2022) approved by the Quebec government that focuses on various development projects.
One is the establishment of an orchestra drawing on all conservatories in the province. This project will provide space for ensemble music practice for students and lead to a first joint concert to be held in November in Trois-Rivières. The second, in the spring, takes place in Rimouski. Another pilot project in theatrical improvisation involving the drama conservatories of Montreal and Quebec City will be renewed this year.
Advertisement / Publicité
Letendre emphasizes the importance of working with the Conservatoire Foundation to meet the needs of different regions, in collaboration with the directorates of the network components. The idea is to focus on the characteristics that make up the personality of each of the conservatories. Orchestral conducting, for example, distinguishes the Conservatoire de Montréal. In Rimouski there are early-childhood centres to develop the awakening of music and arts in toddlers and classes dedicated to young people in disadvantaged areas in Val-d'Or.
It is vital to strengthen the presence of conservatoires in their communities. The strategic plan aims, among other things, to increase specialties and enhance the scope of courses and programs. Other priorities are to promote the development of skills allowing professional integration and improving the recognition of university-level courses to ensure the continuation of studies at higher levels. More stress will be laid on the success of alumni. Recent examples include filmmaker Monia Chokri (Coup de Coeur winner at the 72nd Cannes International Film Festival); actresses Anne-Élisabeth Bossé, Évelyne Brochu and Micheline Bernard; and pianist and composer Jean-Michel Blais, a former student at the Conservatoire de musique de Trois-Rivières.
This page is also available in / Cette page est également disponible en:

Francais (French)