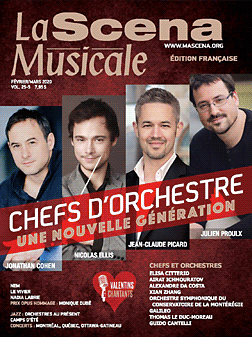 This page is also available in / Cette page est également disponible en:

Francais (French)
Appointed last year as chief conductor of the Orchestre symphonique de Longueuil (OSDL), violinist Alexandre Da Costa is very much delighted by the audience's response since taking over the rostrum a few months ago. "We've had full houses since our season opener," he enthuses. "I'm glad about that, for sure, but the challenge now is to maintain the momentum. To ensure that, you have to stay on top of things, day in, day out."
"It's one thing to put together individual programs that are fresh and exciting, but a whole other to uphold your patrons' interest throughout the season," Da Costa says. Of the OSDL's early season winners, the first summit meeting involving various orchestra associates, including conductors past and present, was a telltale sign of the new man's vision. Sharing centre stage that evening with Da Costa were Marc David, OSDL's previous chief conductor for 25 years, who has since been granted emeritus status, current resident conductor and composer Airat Ichmouratov and Xavier Brossard-Ménard, chorus master of the St. Lambert Choral Society.
Symphonic Improv and More
For the second half of the season, starting on Feb. 2, Da Costa has a bold musical stroke in store. Grégory Charles, Quebec's master of all musical trades, joins the orchestra for an evening of "symphonic improvisation." Intriguing indeed. Six weeks later, on Apr. 2, Christian Frohn, principal violist of the Vienna Philharmonic, appears as guest soloist in a program entitled Simplement Mozart.
For the 2020-2021 season, Da Costa promises an even more ambitious slate of concerts, some presented in non-conventional formats. Yet one need not worry, for none of them will be devised at the expense of audience expectations. To make do on his artistic choices, Da Costa hopes to be given some leeway, as it is his intention to demonstrate a new mindset shaping the work of modern-day conductors.
Da Costa's own mission is a very clear one: "On the one hand, it is the conductor's duty to present music that appeals. But on the other, he has to define a clear artistic vision and ensure a working climate that fosters good relations within the ensemble."
No Room for Cut-and-Paste
Falling back on the tried and true is not Da Costa's thing at all, nor are cut-and-paste approaches. By way of example, he sees no purpose in arranging pop tunes for symphonies. "I find that rather dreadful," he says, "nor is it the right way to attract young people to classical music." The main issue for him is content, which needs to be valued as much as the container, or its vehicle, the orchestra. If there is one thing that so marvelously characterizes the essence of classical music, it has to be this constant search for perfection, something that can be best pursued by dealing with that tradition head on rather than lifting from another.
Translation by Marc Chénard
Next OSDL concert dates

Feb. 20: Improvisation symphonique.
With guest Grégory Charles.
• Pratt & Whitney Hall, Théâtre de Ville de Longueuil, 8 p.m.
• April 2: Simplement Mozart. With guest soloist, violist       Christian Frohn. Église Sainte-Famille de Boucherville, 8 p.m.
This page is also available in / Cette page est également disponible en:

Francais (French)