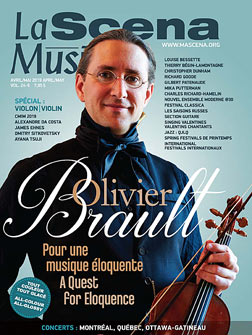 This page is also available in / Cette page est également disponible en:

Francais (French)
"An post-war and Soviet-era formula has often been used to train young musicians during musical competitions: train musicians as if they were Olympic athletes, ignoring that musicians are above all artists." Violinist and conductor Alexandre Da Costa does not mince words when it comes to highlighting the shortfalls of international competitions. Da Costa believes that these competitions are heavily centred on technical performance, eclipsing artistic and human dimensions. These generally shape the awarded musicians' international career.
"Most winners of these international competitions play at a high technical level," said Da Costa, winner of many national and international awards, including the 1999 Pablo Sarasate International Violin Competition and 2012 Juno Award for Classical Album of the Year. Da Costa understands the importance of competitions in preparing young musicians. "We must, however, focus more on what happens before the competition to guarantee that musicians are prepared to deal with pressure and tension, two qualities part of a professional musician's life," he said. "That is the true international competition award."
No guarantee of a career
Da Costa believes that international competitions exist mainly to give young musicians exposure to industry professionals. "Competitions are a springboard to an international career," he noted. However, there are so many that a victory is no guarantee of a career. "Young musicians need to know that the result is not necessarily the most important factor at a competition," he added. "It's the preparation stage."
Da Costa compares this to preparing athletes for the Olympic Games. There is one difference, though. "Many people imagine that winning an award at a competition is akin to winning an Olympic Games medal," he said. "Nothing could be further from the truth." Unlike Olympic events, where athletic performance is measured on objective criteria, musical competitions are based on artistic subjectivity. Objectively measuring artistic performances is difficult; qualitative aspects that make up the participants' performance at a musical competition need to be appreciated.
"At a competition, we focus on art and artistic sensitivity, both based above all on preferences," Da Costa said. Technical aspects, of course, are crucial. "When it comes to an international competition, the participants' technical capabilities are higher."
Off the Beaten Track
"Instead of making fantastic technicians out of artists, we need to prepare artists, improve their poetic sensitivity, encourage their creativity," Da Costa insisted. He proudly represents a new generation of musicians who dare to go off the beaten track. Given this violinist's own experience in seeing how competitions are run, he feels that participants are often faced with the dilemma of being disqualified because they want to be creative, even if this means slightly compromising technique. Participants are required to prepare themselves according to a philosophy that has underpinned international contests for many decades.
Classical Music "Superstars"
A student of the great violinist Zakhar Bron, Da Costa told us how he refused to get ready for a contest as his colleagues did during the Sarasate International Competition. "I imagined that musicians needed to show their imaginative side and choose obscure repertoire instead of working on technique, even if you went against professors' advice." He went on to quote Bron, his mentor: "All you have to do is play Tchaikovsky or Bruch, maybe even Sibelius. If you choose any other concerto, you'll lose." Rebellious, Da Costa wanted to show off his creativity. "I decided to play the Beethoven Concerto during the Sarasate competition – a concerto characterized by pure music," he said.
Because Da Costa chose to play Beethoven, he did not win the first prize in – he was the only finalist of six who did not perform Tchaikovsky. This experience encouraged him to pass along this message: "I am not a technician; I am a musician."
True to this artistic vision, Da Costa is working on implementing a musical competition with various partners. This competition "will not be a carbon copy of competitions centering on the obsession with technical performance," he warned. "I want this competition to appreciate the candidate's artistic personality."
The project will be linked to the Orchestre symphonique de Longueuil (OSDL). Da Costa has been the orchestra's artistic director and principal conductor since January. He holds out hope for this new project. "I want the OSDL to become filled with my appeal, which is the mandate that I have been given," the young conductor declared. He wants classical music to rediscover the great popularity it once had among the public, as if it were performed during the time of Wagner, Puccini, Beethoven or Mozart. He refers to these composers as "superstars," even if some purists might feel offended by such a term.
Translated and adapted by Dwain Richardson
This page is also available in / Cette page est également disponible en:

Francais (French)