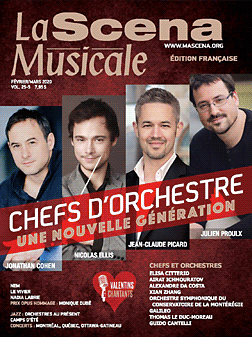 This page is also available in / Cette page est également disponible en:

Francais (French)
His favorite repertoire includes works by great Russian composers including Tchaikovsky, Rachmaninoff, Shostakovich, Prokofiev, Mussorgsky and Borodin. "It's in my blood. I grew up in Russia with this music," says composer and conductor Airat Ichmouratov.
He also admires romantics like Mahler, Strauss and Wagner: "The compositions of these great German musicians are enormously inspiring." This brilliant representative of the new generation is entirely onboard the current trend of composers finding inspiration in works from the romantic tradition.
Charms of Tonal Music
Ichmouratov affirms his preference for tonal music, like many composers of his generation. "Obviously, the audience really enjoys tonal music, which is very accessible," he notes. In this regard, this self-described neo-romantic calls to mind favourable comments made by listeners at home and abroad and takes great delight in the frequent ovations that greet the world premieres of his works. The audience's enjoyment encourages Airat to go ahead with his musical projects. The numerous invitations he receives from all corners of the world to direct his own compositions provide evidence, for this artist of Tatar origin living in Canada since 1997, that his career is progressing well.
The Meeting that Changed his Life
Recalling key moments in his career, Airat Ichmouratov gets emotional remembering his meeting with the great cellist and conductor Yuli Turovsky (1939-2013), who directed I Musici de Montréal for 30 years. "This meeting completely changed my life," he explains, underling the importance of his relationship with Turovsky to his professional development. He remembers the premiere of his work Fantastic Dances, which was commissioned by I Musici. Turovsky so enjoyed the work, as did the members of the orchestra and the audience, that he decided to record it immediately. The success of this work, one of Airat Ichmouratov's first recorded compositions, did much to boost the career of the conductor and composer.
He recorded his Symphony No. 1 ("On the ruins of an ancient fort") last summer with the Orchestre de la Francophonie under the direction of Jean-Philippe Tremblay. The world premiere of this symphony was given in September 2017 by the Orchestre symphonique de Longueuil under Marc David. As its name suggests, the symphony evokes the ruins of Fort Longueuil and draws inspiration from the life of Charles Le Moyne, Baron of Longueuil. This voyage through time reflects Ichmouratov's infatuation with history. In the same vein, his most recent collaboration with the OSDL, of which he is composer and conductor-in-residence, gave rise to the world premiere Peter the Great, a tribute to the founder of St. Petersburg. "Peter the Great was a complex character, a cruel monarch, but one who did much to develop Russia and its culture," explains Ichmouratov. This performance was among the highlights of the Sommet des chefs concert that opened the 2019-20 OSDL season.
The Klezmer Effect
Addressing the style of his classical compositions, Ichmouratov highlights one major source of his inspiration: klezmer. He cannot stop praising the specific aspects and universal range of this music: "Impressive, at once both joyful and sad, but always of a pure sincerity; this music is so very true." Ichmouratov fully endorses Shostakovich's words about the "powerful impression" that this Jewish folk music has had on him. "I never tire of taking delight in it. It has many facets. It can seem happy while being tragic. It is almost always like laughing through tears. This quality of Jewish music is close to my ideas of what music should be. Music should always have two levels."
This virtuoso clarinetist is delighted with the achievements of his klezmer ensemble Kleztory, which is celebrating its 20th anniversary with an impressive history including four recordings and more than 800 concerts in around 20 countries. The ensemble's next album will soon be released on the Chandos label.
Soon, his First Opera
Building on the successes of his multifaceted career, Airat Ichmouratov leads off this third decade of the 21st century with verve by embarking on new musical adventures. He has announced his first opera project, inspired by Victor Hugo's L'Homme qui rit. Its world premiere is expected in May 2023.
Among the forthcoming events on his agenda are world premieres: a Flute Concerto commissioned by Robert Langevin and Orchestre symphonique de Laval, on March 25; a Double Concerto for Violin, Cello and Chamber Orchestra, commissioned by Belgian violinist and conductor Michael Guttman, in spring 2021; a Trio for Viola, Cello and Piano commissioned by violist and conductor Maxim Rysanov, in December in Budapest; and an Overture commissioned by Daniel Boico and the MÁV Symphony Orchestra (Budapest) in October in Budapest.
This page is also available in / Cette page est également disponible en:

Francais (French)