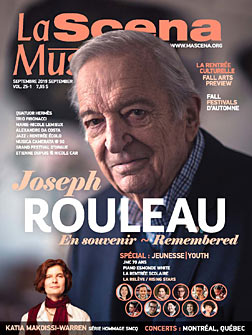 This page is also available in / Cette page est également disponible en:

Francais (French)
The Orchestre symphonique de Longueuil (OSDL) is preparing to enter a new era under the baton of Alexandre Da Costa, the unconvnetional 39-year-old artist taking over from Marc David, who conducted this musical institution con brio for 25 years. Da Costa promises a "symphonic turn" with the 2019-20 program, which comprises musical experiences that attempt fusions of classical music and expressions that are clearly in tune with the times.
"It's a great responsibility, but it's also a great opportunity for me to open up the OSDL's program to something that reflects me the most," said Alexandre Da Costa, perfectly aware of the challenges this turn in his professional life entails. He told us how, since taking on the role last January, he has expressed his wish to establish "a bolder program in regard to the blending of different types of music with a revamping of the profiles of the invited artists, while taking the artistic desires of today's audience into account." He feels buoyed by the will to inject a new dynamic into the orchestra and by his great joy of seeing his first experience as principal conductor and artistic director happen in his own country.
"For me, it's a tremendous gift," this young conductor says. With no bitterness he adds: "Until this point in my life, people would say that I had more of a flair for satisfying people outside my country." On this subject, he recalled the happiness he had in an Australian university as head of a high-level classical music department, which allowed him to put his artistic direction skills to good use.
Sommet des chefs and a special visit
Discussing the highpoints of the 2019-20 OSDL program, he notes the opening "grand" concert on Oct. 3, Sommet des chefs, with conductor emeritus Marc David and the OSDL's composer-in-residence, Airat Ichmouratov, as guest conductors and with the Société chorale de Saint-Lambert under the baton of Xavier Brossard-Ménard and the 438th Tactical Helicopter Squadron. Da Costa promises "excellent music with passionate musicians" and lingered on the exceptional quality of the guests, especially Gregory Charles, whose productions and creations he praises for demonstrating, according to him, great ingenuity and excellence that demand respect.
In addition, the new artistic director announced the special visit of Christian Frohn, principal viola of the Vienna Philharmonic, for the Simplement Mozart! concert on April 2. This will be the first engagement in Canada for this artist, who, according to Da Costa, is "at once a representative of traditionalism in classical music at its highest level and a star of this new generation of talent."
Blending pop and classical
He also underlined the Grand concert de Noël on Dec. 5, with the QW4RTZ pop group and soprano Giorgia Fumanti, artists who straddle pure classical music and pop music. "The border between one type of music and another is less and less clear," Da Costa says. He specifies that this concert will nevertheless be largely symphonic, notably with Tchaikovsky's The Nutcracker. "This will highlight the virtuosity of the OSDL and the great versatility of the members of this orchestra as well as that of the invited artists. I'm not comfortable playing in a rigid environment."
This characteristic has greatly inspired the concept of Improvisation symphonique avec Gregory et Alexandre, which will be presented on Feb. 20 with Charles at the piano and Da Costa as violinist and conductor. Da Costa is convinced that the audience will take immense pleasure in attending this musical experience, which will consist in giving the orchestra a guiding principle around which there will be symphonic improvisation, giving free rein to the creative spontaneity of the participating artists. Charles's virtuosity on the piano will not be overlooked.
Other notable performances in the Stradivarius series: Les huit saisons d'Alexandre on Nov. 14 with Da Costa, conductor and soloist, and Joël Legendre, narrator; the Les quatre derniers lieder concert with Marie-Josée Lord on Jan. 30; and the Roméo, Juliette et Napoléon concert on April 30 with Jean-Philippe Sylvestre at the piano and with the Royal 22nd and the 438th Tactical Helicopter Squadron.
We will appreciate the artistic diversity of the OSDL season, especially with the non-series concerts organized at Club Dix30 in Brossard: the family concert Pierre et le loup; L'orchestrarium de Monsieur Albert in collaboration with Les productions Mémo on March 22, with Pénélope McQuade (narrator), Da Costa (conductor), and Airat Ichmouratov (guest conductor); and, finally, the Gala branché au Club under the theme of Stradivarius à Vienne on May 21.
Translated by Isabel Garriga
This page is also available in / Cette page est également disponible en:

Francais (French)