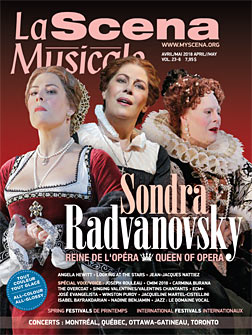 This page is also available in / Cette page est également disponible en:

Francais (French)
"I wasn't expecting a career," Kiran Ahluwalia says from New York via telephone. "I just wanted to take one year out of my life and follow my passion."
"I was scared of the future that came with climbing the corporate ladder," she says.
A trip to her native India to study music proved to her that she wanted to pursue this passion even further. One year wasn't enough.
This Indian-Canadian singer-songwriter-composer moved to Canada with her family when she was 10. Having started her formal musical training at 5, she continued her studies. They have been a driving force in Ahluwalia's life.
Seven albums after her recording debut in 2000, Ahluwalia now holds two Juno awards. She then wrote the song Saat, meaning "seven" in Urdu, to combat religious intolerance.
Performing and recording Saat was only a beginning. Ahluwalia's desire to take things further led her to conceive LOVEfest, a festival that juxtaposes music and dance of varied religious faiths.
"I wanted to open the door for Canadians," she explains. Striving to demystify the Sikh and Muslim religions, she will bring her LOVEfest show to three venues in Ontario this spring.
"It is really hard to accept what you don't understand" Ahluwalia continued. After a series of intolerant acts towards Sikhs across North America, she wanted to challenge the depiction of religion as a source of trouble, when it is really a source of hope. Ahluwalia sees LOVEfest as a forum for discussion within religions as well as a chance to open doors to sharing with others.
There will be a pared-down version of LOVEfest in Montreal, in which Ahluwalia shares the stage with Algerian singer-songwriter Souad Massi.
"We really wanted to bring the show to Montreal," says Ahluwalia, "we're looking forward to the chance to do more work together."
Two years in the making, LOVEfest features Ahluwalia, Massi, Bhai Kabal Singh Group – a group that has only sung in Sikh temples before – and Yasser Darwish, an Egyptian dervish.
LOVEfest plays in Oakville on April 12, St. Catharines on April 13 and Toronto on April 14. The Montreal show is in the Théâtre Outremont on April 17. Tickets are available online at www.kiranmusic.com/concerts.
This page is also available in / Cette page est également disponible en:

Francais (French)